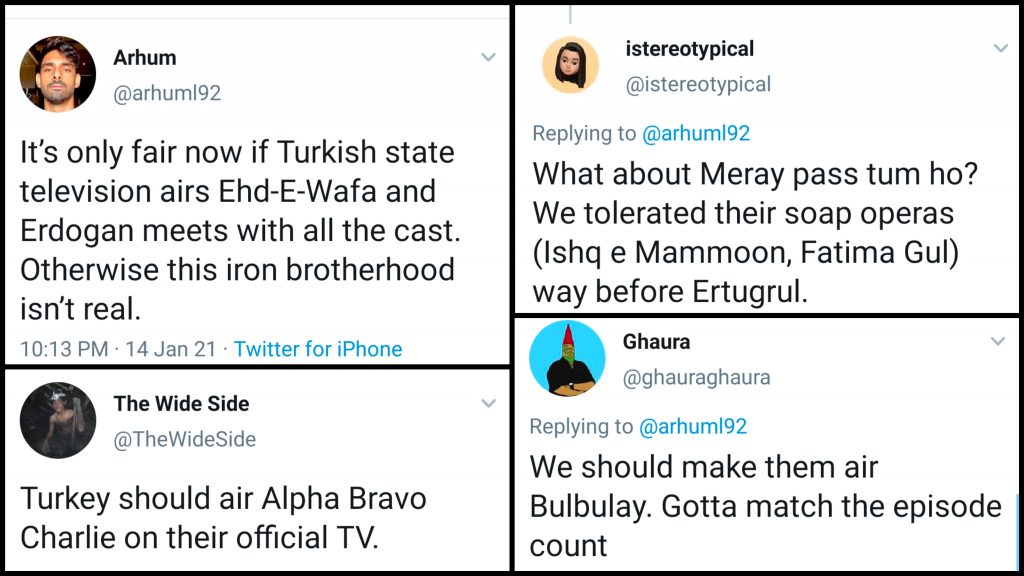 2020 was the year for Ertugrul in Pakistan, the series came and conquered the hearts of the citizens breaking all records!
And to make it even, Pakistanis have suggestions on what Turkey should air, starting with Ehd e Wafa:
It's only fair now if Turkish state television airs Ehd-E-Wafa and Erdogan meets with all the cast. Otherwise this iron brotherhood isn't real.

— Arhum (@arhuml92) January 14, 2021
YES, YES AND YES!
Turkey should air Alpha Bravo Charlie on their official TV. https://t.co/vq5U2jF4xn

— The Wide Side (@TheWideSide) January 15, 2021
Fair enough:
We should make them air Bulbulay. Gotta match the episode count

— Ghaura (@ghauraghaura) January 14, 2021
JEEEE!
Ye jo match karni hai, wo episode count hai?

— H™ (@MahatmaaGanji) January 14, 2021
MPTH, yes!
What about Meray pass tum ho?
We tolerated their soap operas (Ishq e Mammoon, Fatima Gul) way before Ertugrul.

— istereotypical (@istereotypical) January 14, 2021
Oh boy, it'll be a massive hit!
@NidaMubasher Dastaan!?🤔

— 𝓶𝓲𝓼𝓱𝓮𝓵 (@mishelahmed) January 15, 2021
Haha, same!
I just want them to issue via on arrival on Pakistani passport

— Mona khan (@MemoonaRasheed2) January 15, 2021
Inko dekho zara:
I want them to give citizenship easily to Pakistanis.

— آصف محمود (@AhDi_1280) January 15, 2021
Some weren't too amused:
Never never ever.
Though Turks too going going through identity crisis but our obsession has no parallel. https://t.co/Qm5BqV2DKm

— 𝕾𝖍𝖆𝖍𝖎𝖉 𝕽𝖊𝖍𝖆𝖓 (@SShahidrehan) January 15, 2021
Yeh bhi theek hai:
Brotherhood shall not be conditional https://t.co/nmonst1PTa

— Adi (@AlphaStance) January 15, 2021
Ma'am, do you want war?
I recommend Kaaf Kangna. https://t.co/OtSzGXW791

— Saman Tariq (@stariq88) January 15, 2021
Haina?
Waisey, Turkish dubbed Alpha Bravo Charlie would get lots of traction. https://t.co/nYP8BTRzD6

— Bae Faiz (@antifatwa) January 14, 2021
People weren't okay with Ehd e Wafa:
Ehd e Wafa was such a shit drama sorri not sorri https://t.co/41FFuzqNV4

— 𝙚𝙨𝙝𝙪𝙬𝙪 (@escentrixa) January 15, 2021
Some thought we didn't have anything to match Ertugrul:
The reciprocation will only be fair if our drama or for that matter film industry has churned out any similar worthwhile production which has similar global following. Till then, no need to whine.

— Ahson Tariq (@AhsonTariq) January 15, 2021
People were sharing how Turkey and Pakistan are collaborating on a series of their own:
pakistan and turkey are working on a project together about turk lala a pakhtun origin man who went to ottoman empire to fight in the ww1

— Zakria (@Zakr1a) January 14, 2021
They are collaborating for a historical series. It will be released in 2023. If we survive till 2023 then In Sha Allahul adhīdh ll definitely watch it. pic.twitter.com/cc781SvHqM

— Sayyid Hāshim al-Hussaini (@HussainiSayyid) January 14, 2021
They are collaborating on a Historical drama. I hope it's of the same scale as Filinta and Paytihat AbdulHamid. You can argue on content and propoganda but scale of the show 😍

— Zainab. (@znb91) January 14, 2021
🙄
Toh kya Erdogan ne hame kahan tha ke Ertugrul chalao

— سید امر موسیٰ خان(SyedAmarMusaKhan) (@xa_PAKHTOON_yam) January 15, 2021
What series would you recommend if Turkey was to air Pakistani content? Let us know in the comments below!