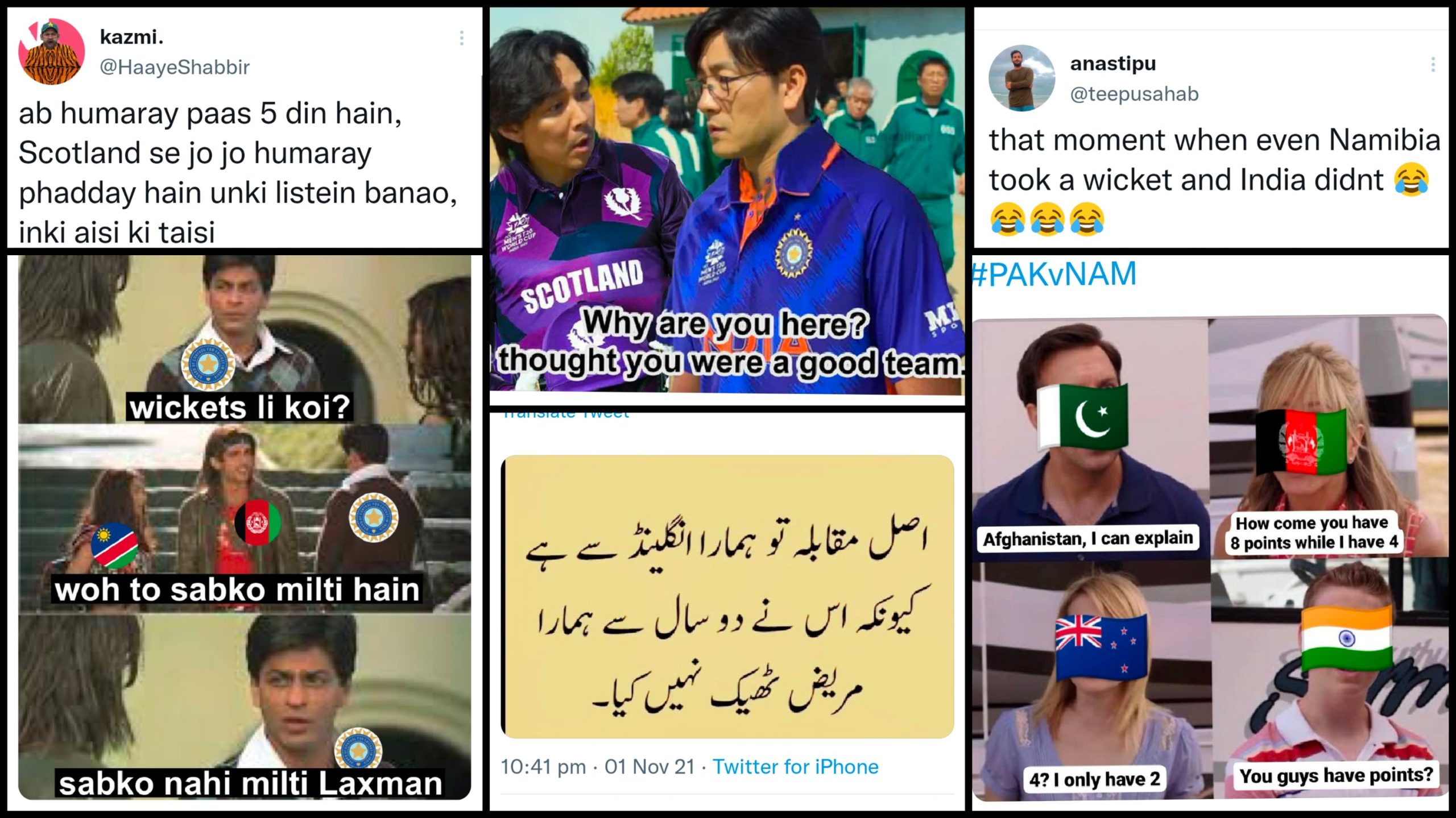 Team Pakistan is at an all-time high this season in the T20 World Cup after it became the first team to qualify for the semifinals by winning every match they've played so far in the tournament.
The team also managed to score the highest runs in the tournament so far against Namibia. And celebrating the team, Twitter has been having the biggest meme fest since the last few days:
This is the one🤣#PAKvNAM pic.twitter.com/SXQ7WZuQjQ

— 💭 م (@remusloopinn) November 2, 2021
Bring it on!
ab humaray paas 5 din hain, Scotland se jo jo humaray phadday hain unki listein banao, inki aisi ki taisi

— kazmi. (@HaayeShabbir) November 2, 2021
Hahaha!
Taken off reddit🤣 pic.twitter.com/kkc47tPhAK

— Pranjal 🇦🇫 (@Pranjal_vas) November 2, 2021
🤣
Bengladesh officially out of the T20 World Cup 2021 pic.twitter.com/MhO7AZFPla

— akrama (@AkramaMianoor) November 2, 2021
Semi-finals mei!
Pakistan to big 3 after going into semi finals pic.twitter.com/SeKSVi8zaI

— berbaad kacchay 🩲👻🪐 (@mahobili) November 2, 2021
Shots were fired!
that moment when even Namibia took a wicket and India didnt 😂😂😂😂

— anastipu (@teepusahab) November 2, 2021
😏
Rizwan at the death overs : pic.twitter.com/AShqVlJhkK

— Zak (@Zakr1a) November 2, 2021
People had it all planned 😈
https://t.co/b2Y02bAMgQ pic.twitter.com/2vtzP7lDG3

— Saad (@OverLord_Xd) November 2, 2021
We feel you guys!
Itna underdog hone ki aadat hai, jab team zyada dhulayi ker rahi ho tou doosron per tarass aanay lagta hai

— Dawar Butt (@theLahorewala) November 2, 2021
Tbh, it's Babar's world that we're living in:
Babar Azam back at number one in ICC T20 Rankings.

— Mazher Arshad (@MazherArshad) November 3, 2021
Quick fix!
Therapy is too expensive. So I watch Pakistan's T20 World Cup matches.

— Oshaz (@ThisIsOshaz) November 2, 2021
Indian media always giving us gems!
Iss liye mai Pakistan ke har match ke baad mai indian media ka take sunta hun, buhat maza aata hai. pic.twitter.com/xHWfD0898d

— nma (@namaloomafraaad) November 2, 2021
Swag!
Pakistan team waiting for others to qualify pic.twitter.com/aHYDrRPBM9

— Jasir Shahbaz (@LahoreMarquez) November 2, 2021
😭🤣😭
unki hi meme unkay moon pe pic.twitter.com/gzRKdBGuTB

— billo bandri (@cocainaaaa) November 2, 2021
Warms our hearts!
The past ten days have been unbelievable madness for every Pakistan cricket fan. Not in my wildest imagination could I have foreseen Pakistan being the first certain entry to the semis. Congratulations 🇵🇰

— nma (@namaloomafraaad) November 2, 2021
True 😂
Jab ooper se score hua parra ho aur team ko Hafeez ki koi khas zaroorat na ho tou hafeez buhat dangerous batsman ban jata hai

— nma (@namaloomafraaad) November 2, 2021
Jo baat hai!
*batsmen scoring 10-20 runs*

Rizwan and Babar in every match: pic.twitter.com/cJcEp9IHOf

— anastipu (@teepusahab) November 2, 2021
Savage!
LMAOOOOOOOOOOOOOOOOOOOOOOO INDIA GETTING SLAPPED LEFT RIGHT pic.twitter.com/NVChaDaGxE

— aزmaر (@khannnazmar) November 2, 2021
🤷‍♀️
Sarfraz laughing at the fact that Namibia will still be ahead of India after this loss

— Arhum (@arhuml92) November 2, 2021
One after another, the team is breaking records!
And today @iMRizwanPak surpassed @imVkohli and became the batsman with highest T20i average i.e 52.66

— Shoaib Akhtar (@shoaib100mph) November 2, 2021
CHUP!
"World Cup '99 wali feels agai hain" pic.twitter.com/msLZZo3YGF

— Abdul Ahad Jawaid (@abdulahadjawaid) November 2, 2021
👀
Is it even fair for Pakistan to have 11 players when one of them is Hafeez? Should be forced to play with 8 it 9 to make it equal for other teams.

— Ahmer Naqvi (@karachikhatmal) November 2, 2021
Yar 😂
HAHAHAHAHAHAHAHAHAHAHAHAHAHAHAHAHAHAHAHAHAHAHAHA pic.twitter.com/BdqT1JSOcP

— Main Abdul Majid Hoon (@ComicsByMajid) November 1, 2021
It is what it is!
Pakistan is playing so well so that we don't think too much about 138 ka petrol.

— Shumail (@Shumyl) November 3, 2021
Are you enjoying the tournament and the savage memes? Because we certainly are!