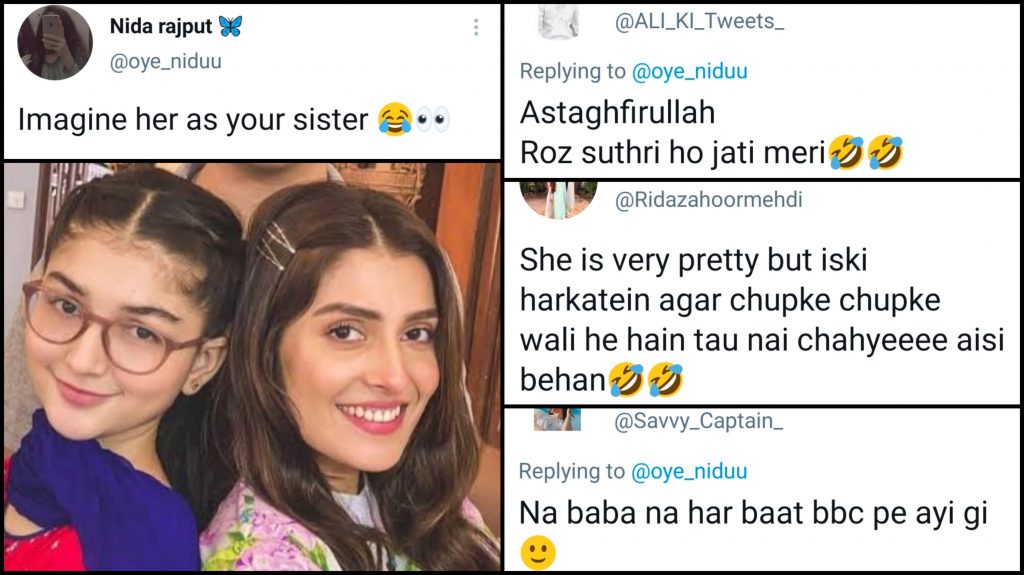 Chupke Chupke has clearly taken the drama fanatics by storm! Trending almost everyday on the internet, fans adore the serial. And one of the fans wants to know what it'd be like to be siblings with Mirchi:
Imagine her as your sister 😂👀 pic.twitter.com/Zv9KDjss7I

— Nida rajput 🦋 (@oye_niduu) May 7, 2021
Played to perfection by the very talented Areesha Sultan, here's what netizens had to say!
Mirchi News Network.
Koe secret secret nae rahga agr Ye sister hojaye ksi ki b or aag lag jaegi sary ghr me iski harkatun ki wjhse😅😅 https://t.co/HzwTJanqFL

— Dekh Yawr🇵🇰 (@ZakiaAly1) May 7, 2021
She had quite the fans already!
Itni cute Guriya behan hi ho sakti hai Aur woh bhi Itni samajhdaar, zara interview daikho is ka,didn't saw such confident kid since I started watching Tv

— Ahmed Nawaz (@AhmedNawazAZ) May 7, 2021
Haha, facts!
Na baba na har baat bbc pe ayi gi🙂

— Mannu (@Savvy_Captain_) May 7, 2021
No maar, only pyaar!
Ik Rakh k lgao gi main Tumhy mirchi ki bachi😂 https://t.co/rlMdpkdzn9

— RAMADAN ✨❤️ (@Pakistanii_kuri) May 7, 2021
Mirchi x 5? 😱
I already have 5 like her 🙂 https://t.co/xP1n8Ft1DS

— Nimra ✨🌻 (@nimrafication) May 7, 2021
Halka nai leliya Mirchi ko?
اس کا بھی میں وہی حال کرتی جو میں اپنے بھائی کا کرتی ہوں 😭😂😭😂 https://t.co/wL9YEGz6p9

— Maryam 🇵🇰 مریم (@maryam_wb_iuh) May 7, 2021
Haha!
Sister asi ho koi masla naii It would be a Pleasure☺️
But jasa character chupke chupke may yeah play ker rahin han wasi sister ho phir baray maslay ho jayn gy😂

— 𝓑𝓐𝓢𝓘𝓣 𝓘𝓺𝓫𝓪𝓵40 (@BasitIqbal40) May 7, 2021
😂😂😂
Phr ghar me ye mery khilaf chugliya hi krti rhy gi

— Qureshitweet(💕حضرت مُحَمَّد ﷺ کی امتی) (@Qureshitweet99) May 7, 2021
Chai kahan se agayi beech mei?
Imagine krny sy ye behen mujhe iftari mein chae thori bna k de gi🌚💔

— Afaq Faizan Awanツ (@Quarntined_soul) May 7, 2021
😋
ناں بھئ۔ اس نے تو ہر بات کا سٹیٹس لگا دینا ہے

— Mumtaz Ahmad Khan🇵🇰 (@MumtazA13995898) May 7, 2021
Hahaha, man be spillin' facts!
Astaghfirullah
Roz suthri ho jati meri🤣🤣

— ALi~✨💞 (@ALI_KI_Tweets_) May 7, 2021
Same!
Sorry meray ghr meinalready aik mirchi hai😭

— Deeba (@Deebahaani) May 7, 2021
Not like abhi roz nai ho rahi hoti chhitrol 😂
Roz chitrol ho rhi hoti phr to 😂

— Iqra Bhatti (@alienhunnn) May 7, 2021
Jo baat hai!
Fassad hongy fassad 😂😂😂

— Amoooo 🙂 (@ZAna__Ali) May 7, 2021
Desi households mei tou bilkul nai hoti 😭
Aray ni yaar kch privacy b hoti 😂😂😂

— I'mAsmaA (@i_masmaa) May 7, 2021
What do you think about the reactions Mirchi has been getting from fans? Let us know in the comments below!