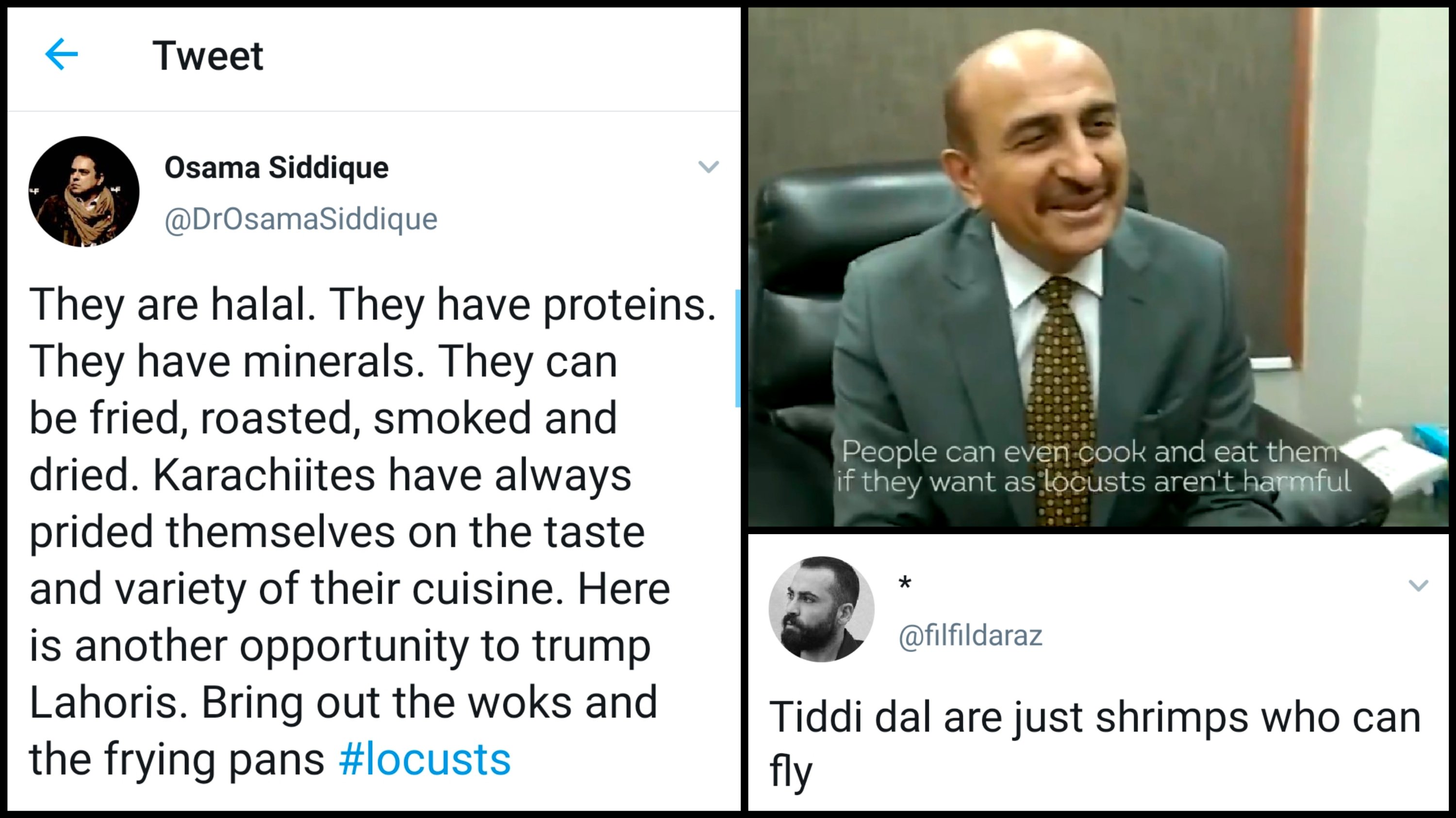 From the last 2 days, Karachi has been getting massive swarms of locusts passing through every corner of the city. Frantic, the citizens turned to the ministries responsible, and the minister of Agriculture Sindh had some very interesting things to say:
According to the minister of Agriculture, the citizens should rather add these free flying proteins to their biryanis, karhais and BBQs instead of getting scared of them. And the internet is skeptical about it!
وزیرِ زراعت سندھ انکل اسمٰعیل راہُو صاحب کی خدمت میں دامِ درمِ قدمِ سُخنِ تحفۃً ہدیۃً، دل کی اتھاہ گہرایئوں سے "کرسپی فرائڈ ٹڈا بمع رس بھرے لیموں اسپیشل چائنیز ریسیپی" پیش کرتے ہیں، قبولیت کا شرف بخش کر اعزاز بخشیں، شکریہ#Karachi #LocustSwarm #Locust pic.twitter.com/hmhvJAhHCZ

— Masood Mirza (@masood_619_) November 11, 2019
People were hoping for the locusts to stay out of our biryani:
Dear locusts,
We like our biryani with chicken and aloo better. So a locust biryani is out out of question. Please leave Karachi asap. Thank you. #Karachi #insects #locusts

— Hamna Baig (@Hamxx4) November 11, 2019
Tiddi karhai has been making rounds in the city already!
My chickens are going to gorge themselves on these! And Tiddi Karhaai is already making the rounds in some parts of the city 👇 pic.twitter.com/UDNvS0UqEF

— Urooj Zia (@Farmwaali) November 11, 2019
Taking advantage of the situation:
People of #Karachi have been urged to make BBQ, Karahi & Biryani from the Locust. 🤦🏽‍♂️ https://t.co/OsGJ0cIzTp

— Syed M. Saad Ahsan (@saadahsan) November 11, 2019
People were giving tips on how they taste better lightly toasted:
It may sound funny but locusts, grasshoppers and white ants are eaten as delicacies in many parts of the world. In Africa, they are eaten raw. Nutritionally they are full of proteins. So if you are ok with the antennas, eyes and other stuff, try it lightly toasted 😜#Tiddi

— Asma Ali Zain (@asmaalizain) November 11, 2019
Tiddi ka shorba bhi bana saktay hain:
You can hear a guy order a serving of tiddi ka shorba https://t.co/9j5UinPHQ3

— RAK (@RazaAliKhan_) November 11, 2019
Let the games begin!
They are halal. They have proteins. They have minerals. They can be fried, roasted, smoked and dried. Karachiites have always prided themselves on the taste and variety of their cuisine. Here is another opportunity to trump Lahoris. Bring out the woks and the frying pans #locusts https://t.co/2965cF6lq4

— Osama Siddique (@DrOsamaSiddique) November 11, 2019
Shrimps who can fly 😂
Tiddi dal are just shrimps who can fly https://t.co/LfQQjKUXyh

— * (@filfildaraz) November 11, 2019
Who needs tomatoes when you can have them tiddays?
https://twitter.com/zoekhan/status/1193929176035811334?s=19
If this Hassan is your friend, AVOID eating at his place:
Take advantage of locust attack in Karachi. You can invite your friends over because eating 🦗 is halal.

— Hassan 💯 (@realmhassan) November 11, 2019
'Ek bar aazmayish, bar bar farmayish:'
#Locusts #Karachi ٹڈیوں سے خوف نہ کھائیں بلکے پکا کر کھائیں ، بار بی کیو بنائیں ، کڑاہی پکائیں ، بریانی تیار کریں اور مزے اڑائیں pic.twitter.com/KHIsgupFQF

— sanjay sadhwani (@sanjaysadhwani2) November 11, 2019
And while many were having a kick out of it, some were actually concerned:
Once again, the Locus Swarms have infested Karachi. While the matter is being trivialized by Ministers of the Sindh Govt., this has potential to spread quickly across the Province/parts of the country. Farmers must be worried!
– are the locust warning stations still operational?

— Syed M. Saad Ahsan (@saadahsan) November 11, 2019
And just in case you are still skeptical on the consumption of locusts, someone even posted the fatwa:
ٹڈی کھانے کے لیے حلال ہونے بارے میں مستند فتویٰ حاضر ہے
#Locusts Fatwa for consumption of#Karachi pic.twitter.com/EGCQhPjgTp

— Mohammad Mansoor (@Mansanpk2009) November 11, 2019
Some knew what exactly caused this fiasco:
I blame tik tok for the locust fiasco in Karachi.

— K-Hanif (@KJHanif) November 11, 2019
What are you cooking with them locusts then? Let us know in the comments below!