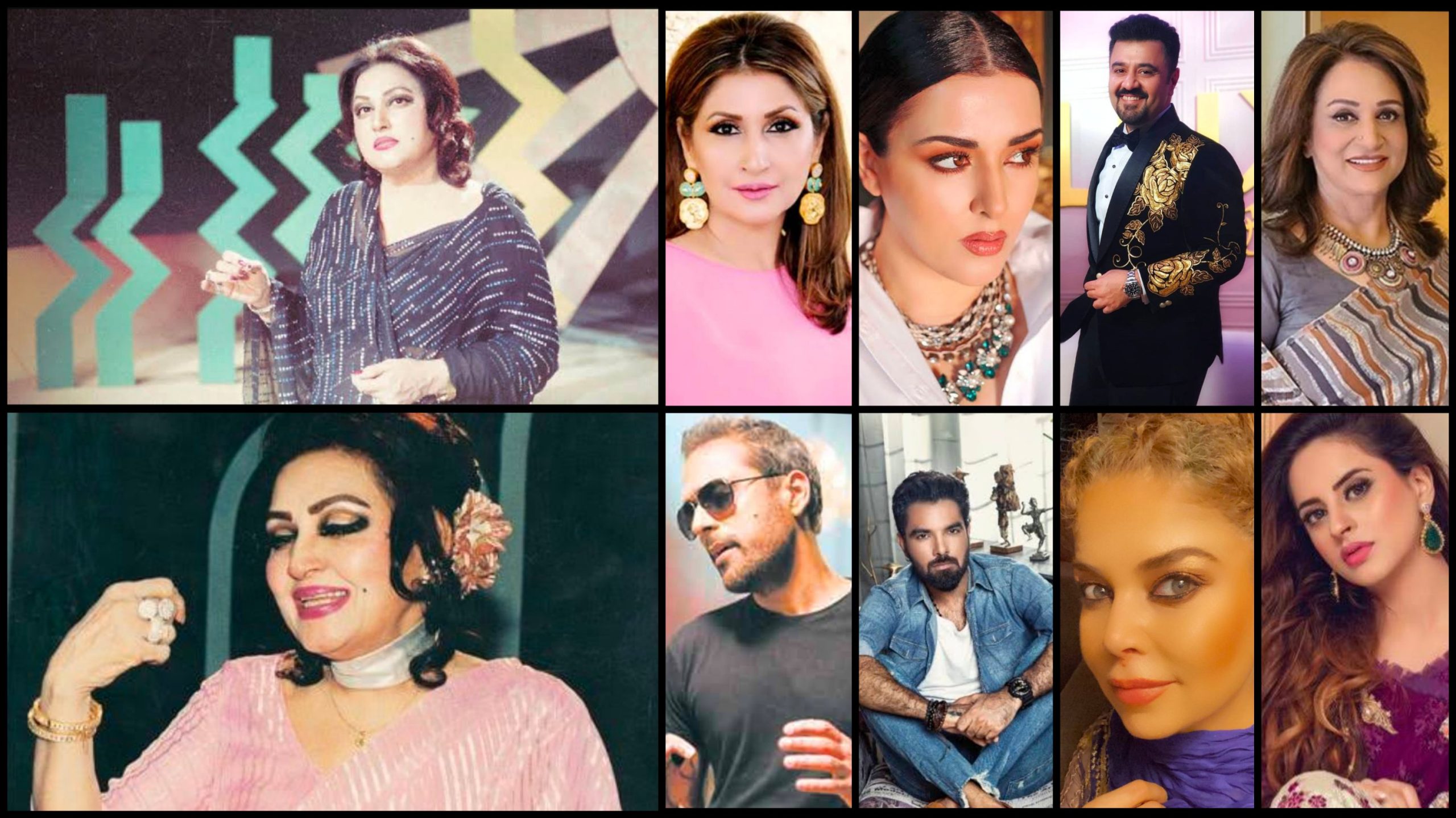 Ali Azmat has never shied away from sharing what's on his mind but things went a little too far after he made insensitive and demeaning comments on Malika-e-Tarannum Noor Jehan.
In a clip that's now been circulating on all social media platforms, the singer can be seen bashing Noor Jehan questioning her time on-screen: "You put on a show, you would see Noor Jehan draped in a saree, with heavy jewellery and over-the-top makeup. We would get irritated by Mai and think why would they make us watch this kofta."
Being a Junoon fan, i am embarrassed… pic.twitter.com/qt36TzE7Ye

— فاطمہ عرفان (@fatimairrfan) October 19, 2021
His comments irked fellow celebrities and family of the iconic singer, here's what they've had to say. Taking to Instagram, Noor Jehan's daughter Mina Hassan shared concluded, "Not all primates evolved to become better creatures. Some regressed to lower life forms, faded into irrelevance; invoked cheap theatrics to grapple with the fame lost and lived out their remaining days consumed by their insecurities."
Her granddaughter Natasha too took to Instagram and called Ali Azmat's remarks 'disgraceful utterance:'
Her grandson, Ahmed Ali Butt found Ali Azmat's remarks to be in bad taste:
Seasoned actress Bushra Ansari too emphasized on watching ones mouth when they speak of legends:
"اپنی زبان کو لگام دیں'اپنی اوقات میں رہیں اورشتر بے مہارنہ ہوں "
بشرٰی انصاری کا علی عظمت کوملکہ ترنم نورجہاں کےبارے میں ہتک آمیز بیان پر کرارا جواب-آج کے نیو پاکستان میں#AliAzmat #BushraAnsari #MadamNoorJehan pic.twitter.com/zuN3qX5Mtp

— Ashfaq Alvi (@AshfaqAlvi) October 22, 2021
Bilal Maqsood from Strings posted a picture of Noor Jehan to his Instagram captioning it 'legend:'
Veteran actress Mishi Khan was utterly shocked at the disrespectful comments:
Yasir Hussain took a dig at Ali Azmat's remarks and it's savage!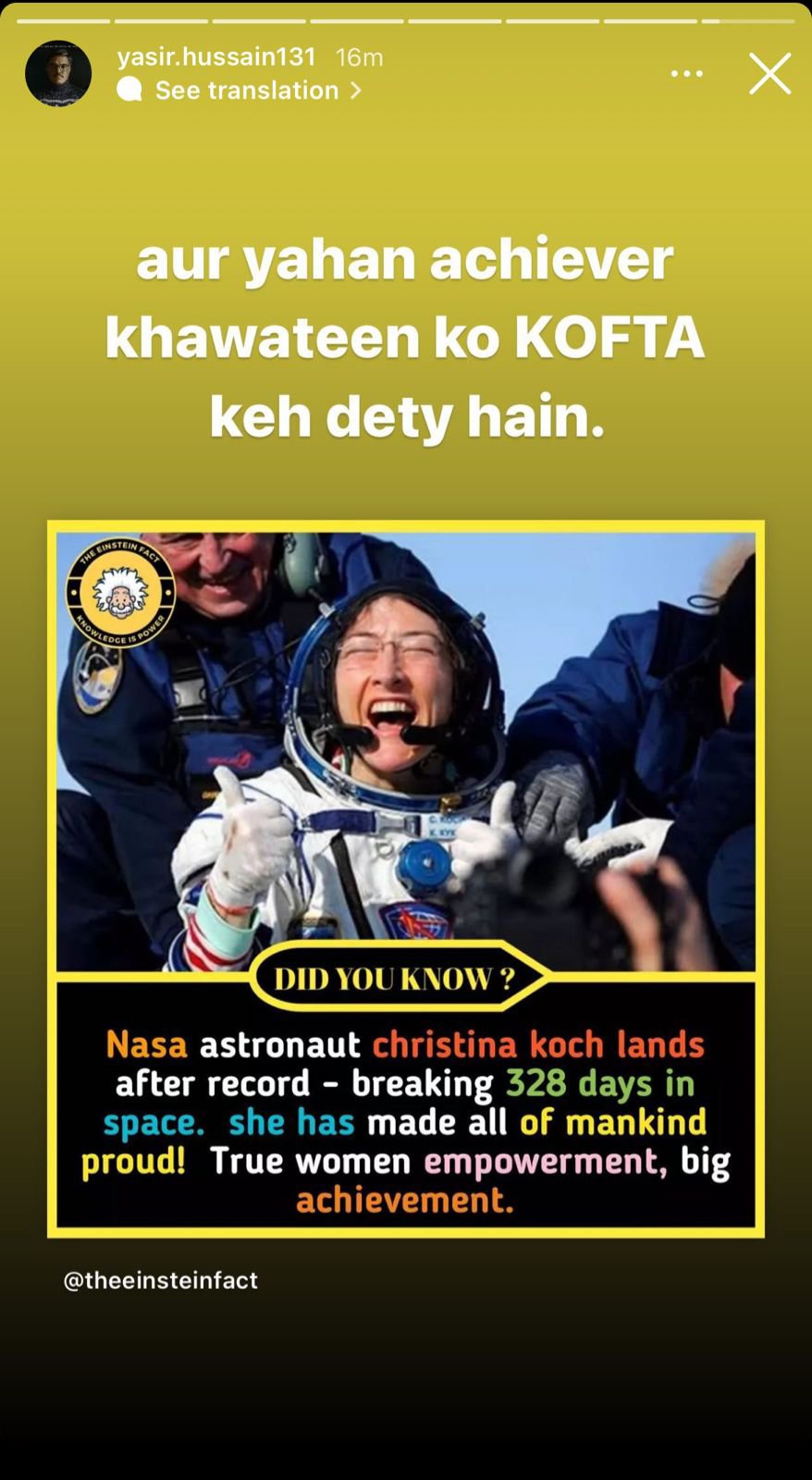 Artist Zeb Bangash took to Twitter to share her love for Madam Noor Jehan's voice:
The inimitable, beautiful #madamnurjahan. I have often wondered how one voice could be blessed with so many extraordinary qualities. Your beauty and Leah at nurtures us everyday. Thank you for the music 🎶 ❤️🧿 pic.twitter.com/B5pVOL2Vdp

— Zeb Bangash (@OfficialZeb) October 21, 2021
Actress Amna Malik also shared how the callous remarks upset her: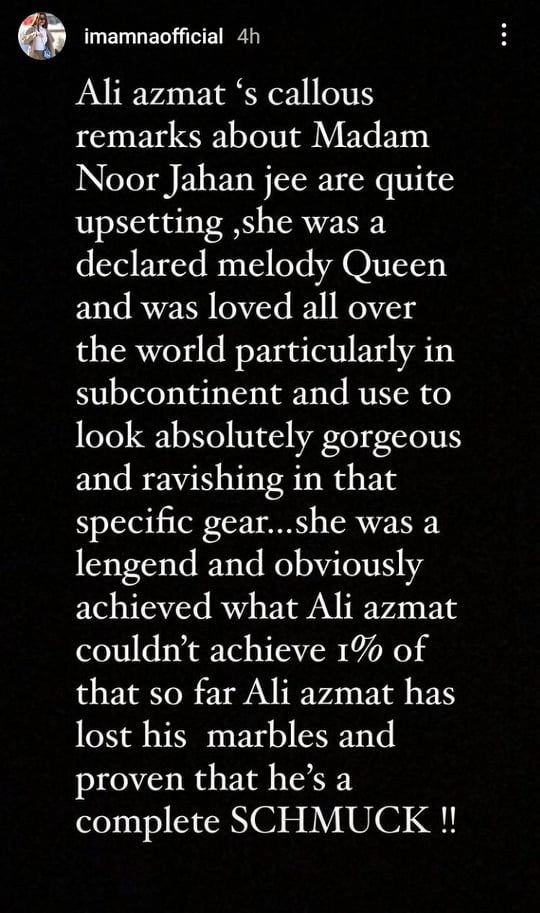 Actress Fatima Effendi Kanwar called Ali Azmat out for not respecting the legends even after their death: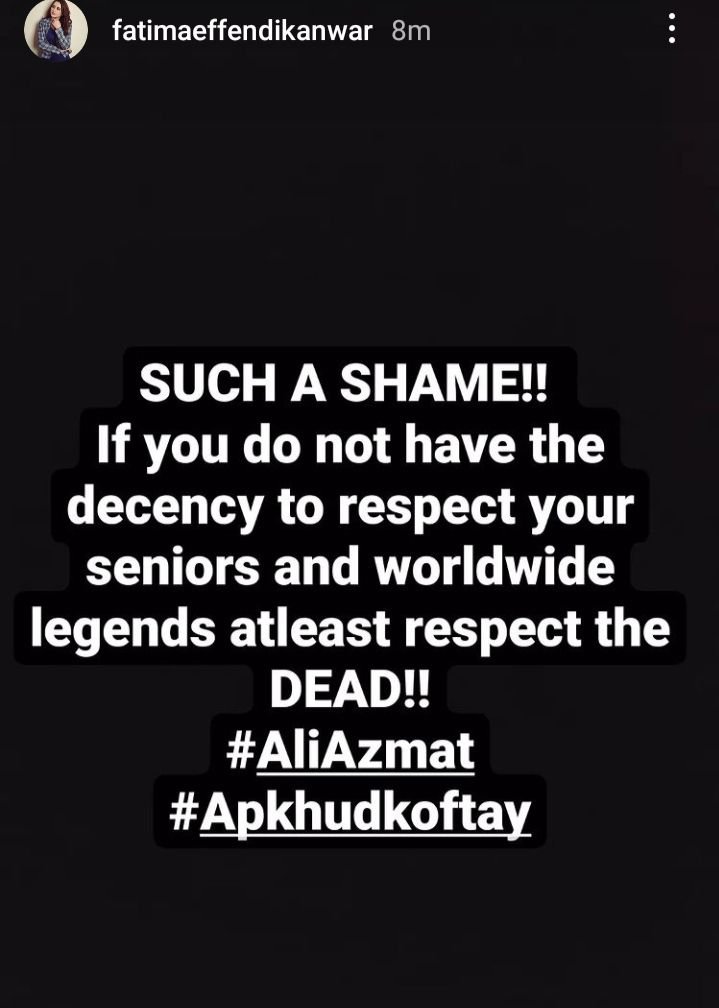 Actor Faizan Sheikh too shared how Ali Azmat shouldn't expect this generation to respect him if he cannot respect legends: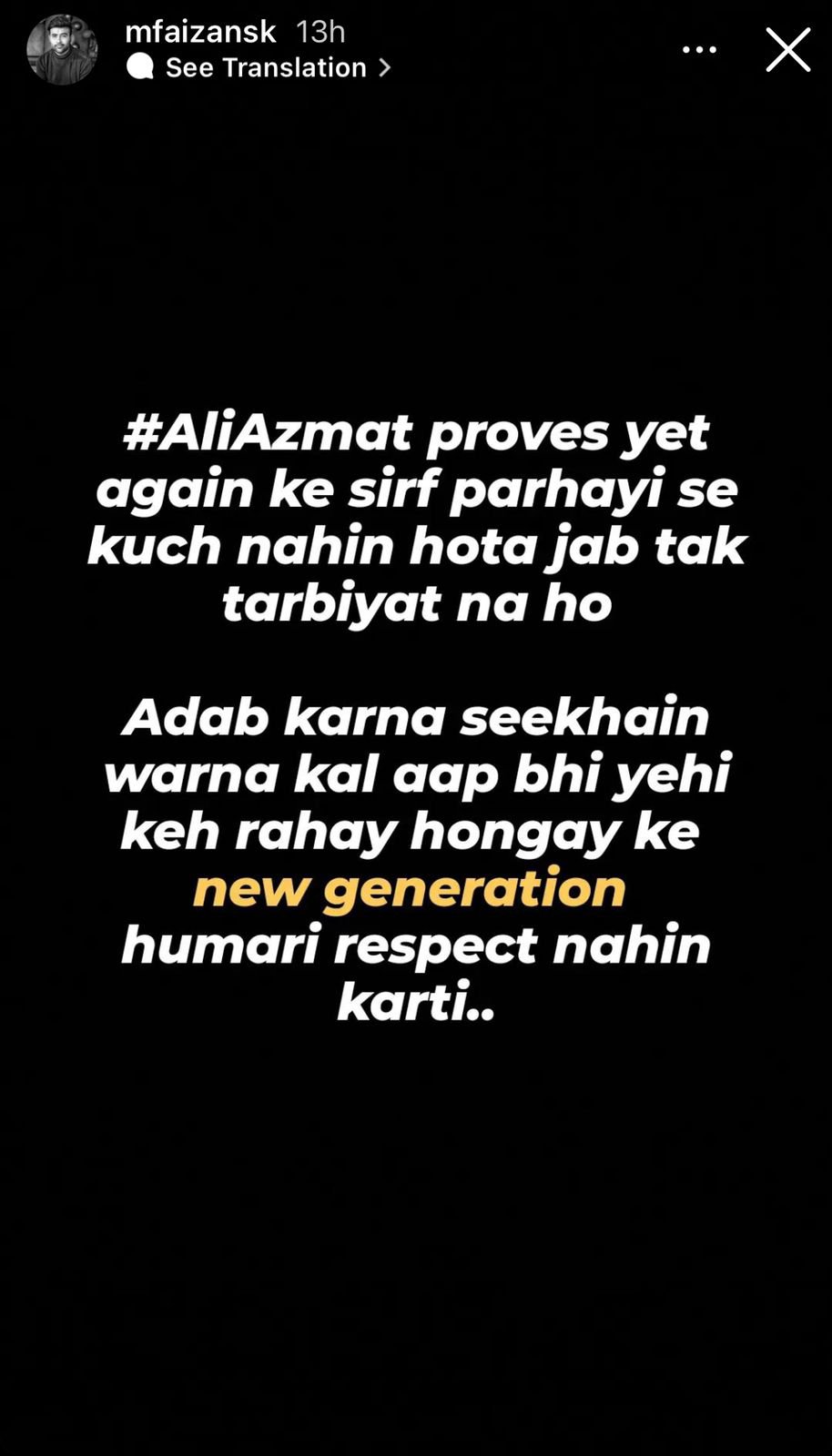 Journalist Mehr Tarar took to Twitter to share how Ali Azmat's comments are crass and pukey:
I was not a big fan of Madam Noor Jehan when I was in school, but there was not one person around me who didn't think she was utterly magnificent, and one of the best singers of the subcontinent. Comments of Ali Azmat, a singer himself, on MNJ are ugly, crass, pukey. And shameful

— Mehr Tarar (@MehrTarar) October 22, 2021
She further went on to share how Madam Noor Jehan was a true diva in every essence:
Madam Noor Jehan is an icon, a legend, an inspiration, an institution, one of Pakistan's most important, most loved artistic assets. The range of her voice, the beauty of her classic songs, her lovely saris, her very lovely face, her wicked sense of humour, her utter humility😍💖

— Mehr Tarar (@MehrTarar) October 22, 2021
Somehow Asim Azhar too was dragged in the debate after people mistook one of his tweets as a dig:
If you don't respect the art, the art won't respect you.

— Asim Azhar (@AsimAzharr) October 21, 2021
He later clarified that it had nothing to do with the recent occurrences: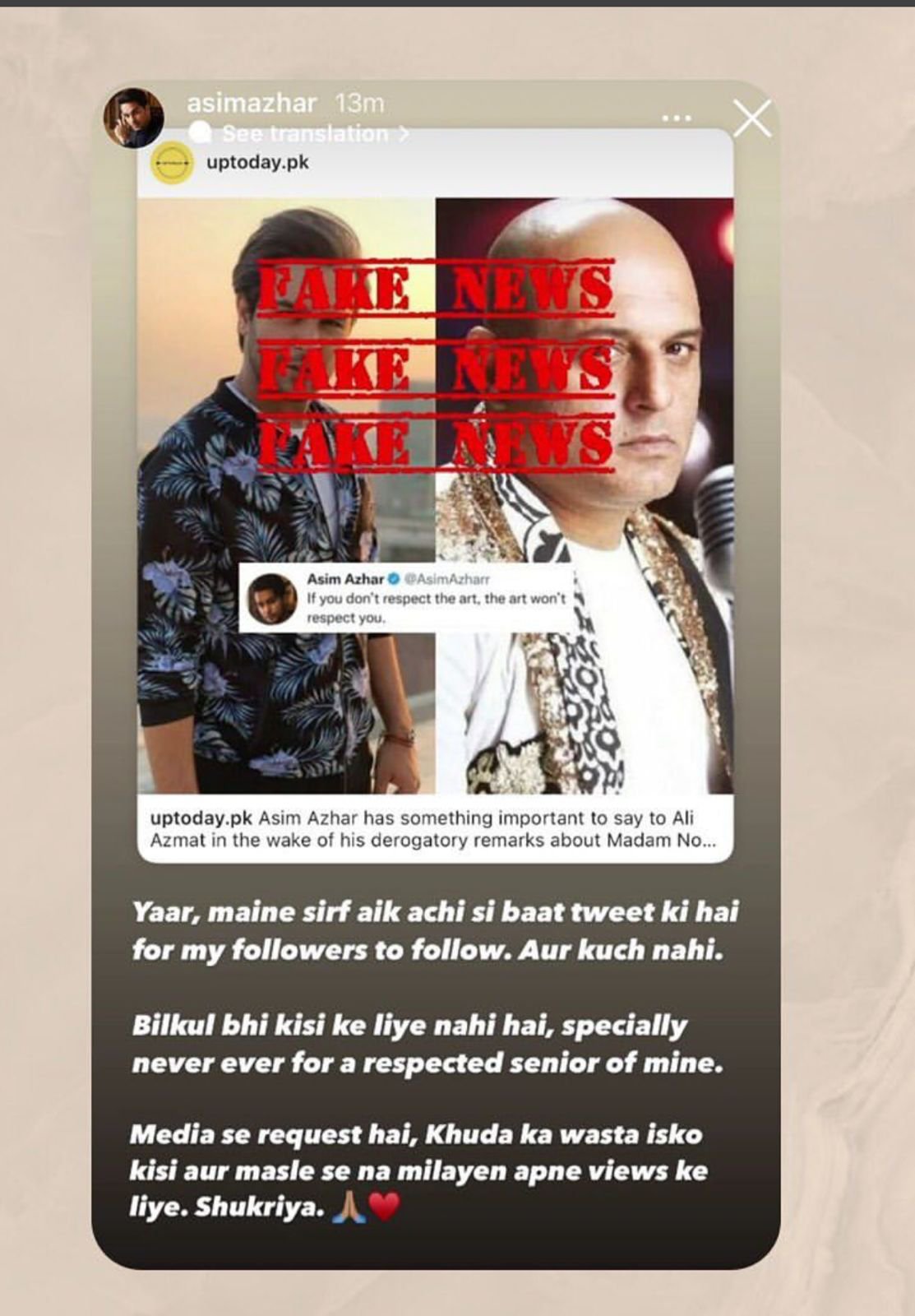 And while the celebrities were busy picking sides, Fareshteh Aslam gave everyone a quick reminder that we should learn to co-exist with differing POVs:
Netizens too were hurt after Ali Azmat's remarks and had a lot to say:
Between Ali Azmat and Noor Jehan, I think it's easy to say who looks more like a Kofta. https://t.co/oawRIMGVdY

— م (@KharroosWayne) October 20, 2021
Shots were fired:
#AliAzmat seems to have lost his mind at old age. A man who copied led zeplin and has only a handful of hits to his credit, he's not even worth the dust of legend Noor Jehan. pic.twitter.com/fqZKJrhGmM

— Nauman Shafi (@NaumanShafi) October 22, 2021
Spot on!
Those offended by Ali Azmat's misogynistic, age-shaming and bodyshaming comments for Madam Noor Jahan: I request you to be a better person than him & please do not call him "Ujra chaman, Tinda Ninja, Paata Dhol or Sasta Hulk".
Warna hum mein aur uss mein kya fark reh jaye ga na.

— Khadija Abbas (@TheKhadijaAbbas) October 22, 2021
And while fans were hurt, there were some who came to defend Ali Azmat:
1/2
Having an opinion is everyone's right. But being a celebrity,expressing your opinion comes with a responsibility b/c celebrities have fans who follow them & read what they say.
Yes, l'm disappointed in Ali Azmat but that doesn't mean i cancel him for expressing his feelings.

— فاطمہ عرفان (@fatimairrfan) October 21, 2021
We can hide behind 'seniors ki respect' but the reality is that school/college kids of that era actually found thos sari clad, over made up, noor jehan on ptv very annoying! Why should he not say what he felt?

— Josephina Khattab (@JosephinaKhatt1) October 22, 2021
As people remain divided on the matter, tell us what you think in the comments below!