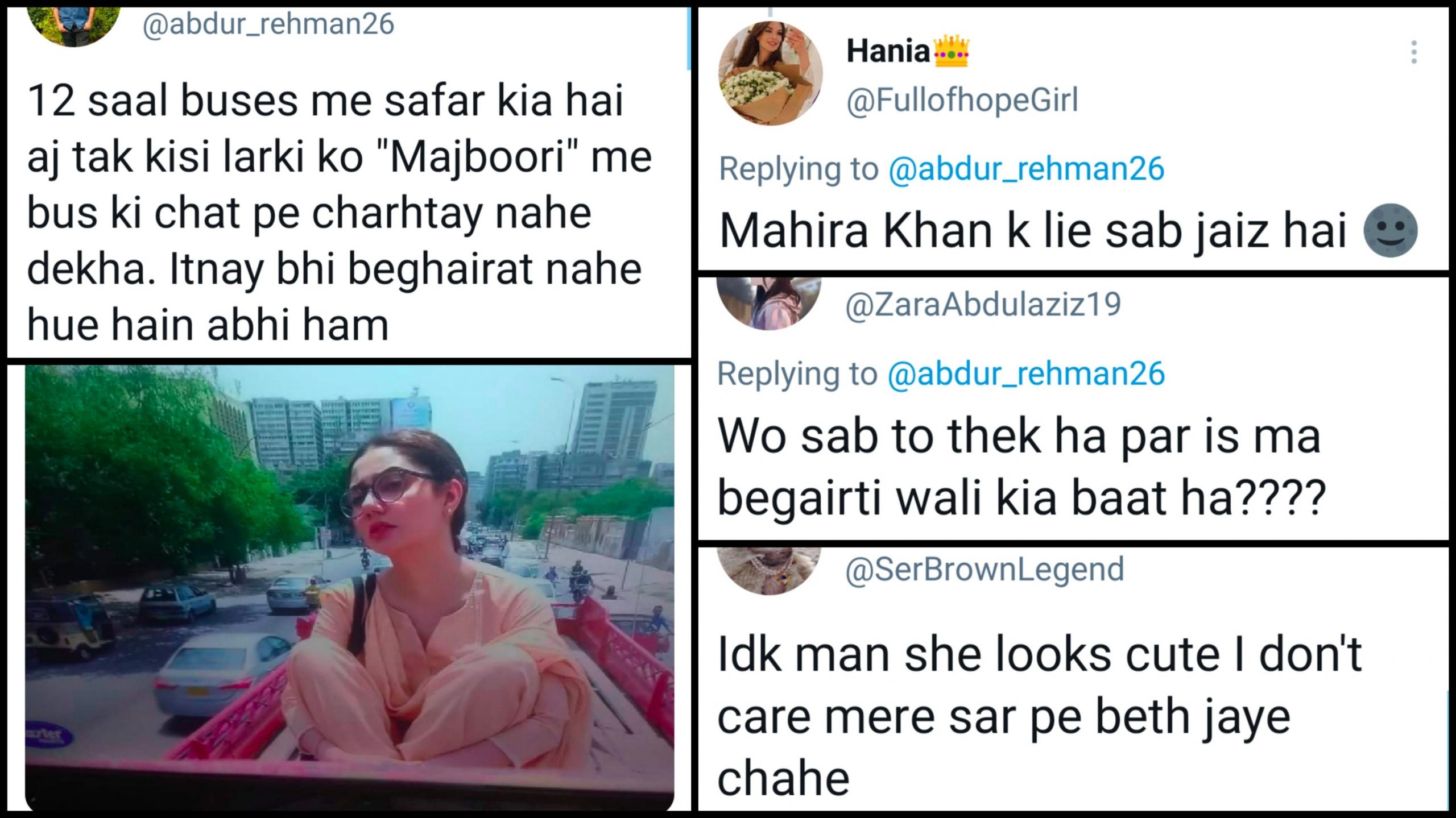 With what seemed an otherwise promising episode of Hum Kahan Ke Sachay Thay, one scene in particular has the netizens feeling a little unsettling.
Life transitions!💔
Ost is already my favourite now!#WelcomeBackMahira#humkahankesachaythay pic.twitter.com/B578bPlpBy

— 𝑯𝒖𝒎𝒆𝒓𝒂 𝒁𝒂𝒇𝒂𝒓 (@humerazafar_) August 1, 2021
To reach her university in time, Mehreen climbs on top of a public bus, and while others loved the scene for the parallel that it drew between her luxurious lifestyle back in the day to her current life. Some people had a problem:
12 saal buses me safar kia hai aj tak kisi larki ko "Majboori" me bus ki chat pe charhtay nahe dekha. Itnay bhi beghairat nahe hue hain abhi ham pic.twitter.com/kOXQ6KdHvc

— الکاظمی (@abdur_rehman26) August 2, 2021
Exactly!
It was a parallel between her luxurious life as a child and her struggle as an adult. Ghairat kahan se aa gayi? Genuinely confused. https://t.co/TCv3srpz0h

— not mahnoor (@mahnooroonham) August 2, 2021
This scene wasn't done to show begairiti, it was more like her recalling when she use to travel in her father's car. It was to show how she still remembers these small things. Also? What's Beghairiti in sitting on top of bus? https://t.co/KPxP8Uka1K

— abi (@nczenie_) August 2, 2021
The scene didn't make sense to many:
this scene made me cringe so hard. what even was that? didn't even make sense. https://t.co/npuzl7UZRh

— gul bakaoli (@mournvita) August 2, 2021
Women were also questioning the scene:
Lol 10 mins main dusri W11, G10 ajati hai, chatt pe kon larki jati hai jahan already 10 12 bandy bethy hoty hain https://t.co/McsfHoVYUr

— Fatemah 🌞 (@fatimabashir211) August 2, 2021
People were sharing their own experiences:
5 saal hogye dhakay khatay huye lekin ye b sach hai k kbhi esa ni hua k seat na mili ho. i respect all the men , apni seats ladies ko de dety hn,khud khray ho k safar krna pre but ni inko feminism ka shoq hai, braaabrii chahtin hai ,khayein dhakkay,yehi hona chye in k sath😂 https://t.co/hGjYmiit3U

— Mahroosh❤️ (@DrMahroosh) August 2, 2021
People were not amused!
Yar kasam se sab se chuss scene tha yeh. I have seen people left their seats for women so that they can sit. Lekin hmari society main aisa kabhi nai hua k chat pe bth jae.

— fizzah 🇵🇰🇵🇸 (@BhattiFizzah) August 2, 2021
Fans were sharing their reactions:
Hahahahah abhi main yhi drama dykh rai thi or jab main ny yh scene dykha i was like wth 🤣🤣

— SHEIKHNI 🇵🇰🍴 (@oyesheikhni) August 2, 2021
People were calling it unrealistic:
Lol, I do agree that this scene was totally unrealistic. Ajj tak maine kisi larki ko bus ki chat per naho dekha, conductors larko ko utarwa k upae charha dete hain agar larki ki jagah na ban rahi ho 🤦‍♀️
This scene was just to appease burgers

— Kinza Sheikh (@kinzashek) August 2, 2021
People were confused:
Ajeeb! bhai idhr bus wala ladkon ko utar deta hy bus sy… ye ajeeb society portray kr rhy hn

— suCC (@viral_bacteria) August 2, 2021
People had suggestions:
Is se acha yeh dikha dety k gate peh latak k khary hai ,
May ne khud 13 saal bus may travel kiya hai or gate peh 2 k khary hony ki jaga hoty hai may 3 hoty thy

— kenchiii ✂️ (@SanaaaKhaan) August 2, 2021
They did!
They really made her sit on Bus Roof 😭 pic.twitter.com/72V4SKhlan

— Aisha Mumtaz (@ashirm90) August 2, 2021
Suffer kerne ka safar:
Han lekn Conductor ki jagah yani bus k gate py khari ho k "suffer" kia hai men ny https://t.co/hX0H1Slkw8

— LEENA AFRIDI (@i_amleena) August 2, 2021
She literally asked to borrow money for her inhaler in the next scene showing how broke she was:
Seat na milnay pay rickshaw me jaya ja sakta tha lekin nai bus ki chat pay bitha k aurat ki "suffering" dikhani thi https://t.co/ZkCpxvlgZr

— ✨ (@chaayeparatha) August 2, 2021
Facts!
Aaj tak actresses ko jo kuch draamon aur movies me kerte dekha he vo sab asal life me Pakistani larkiyo ko kerte dekha he?

This is just dramatization, its not real.
Her cheez me gherat/begherti q aa jati he is qom k aadmiyon me?

Jahan aani chaheye wahan nahi aati bus#Pakistan https://t.co/uTV1DF3QqV

— Sadia Sheikh (@iSaadiaSheikh) August 2, 2021
Yar 😂
Aur bhai bus ki chath pe bethny k bd ghr waly nhi pehchanty ye uni blkul tayar pohanchi.

— Imran Shah Khan (@likhoimran) August 2, 2021
Many felt the same way:
I literally said the same while watching it yesterday 😅😅

— AbdullahT🇵🇰 (@AbdullahT786) August 2, 2021
What did you think of the scene? Let us know in the comments below!