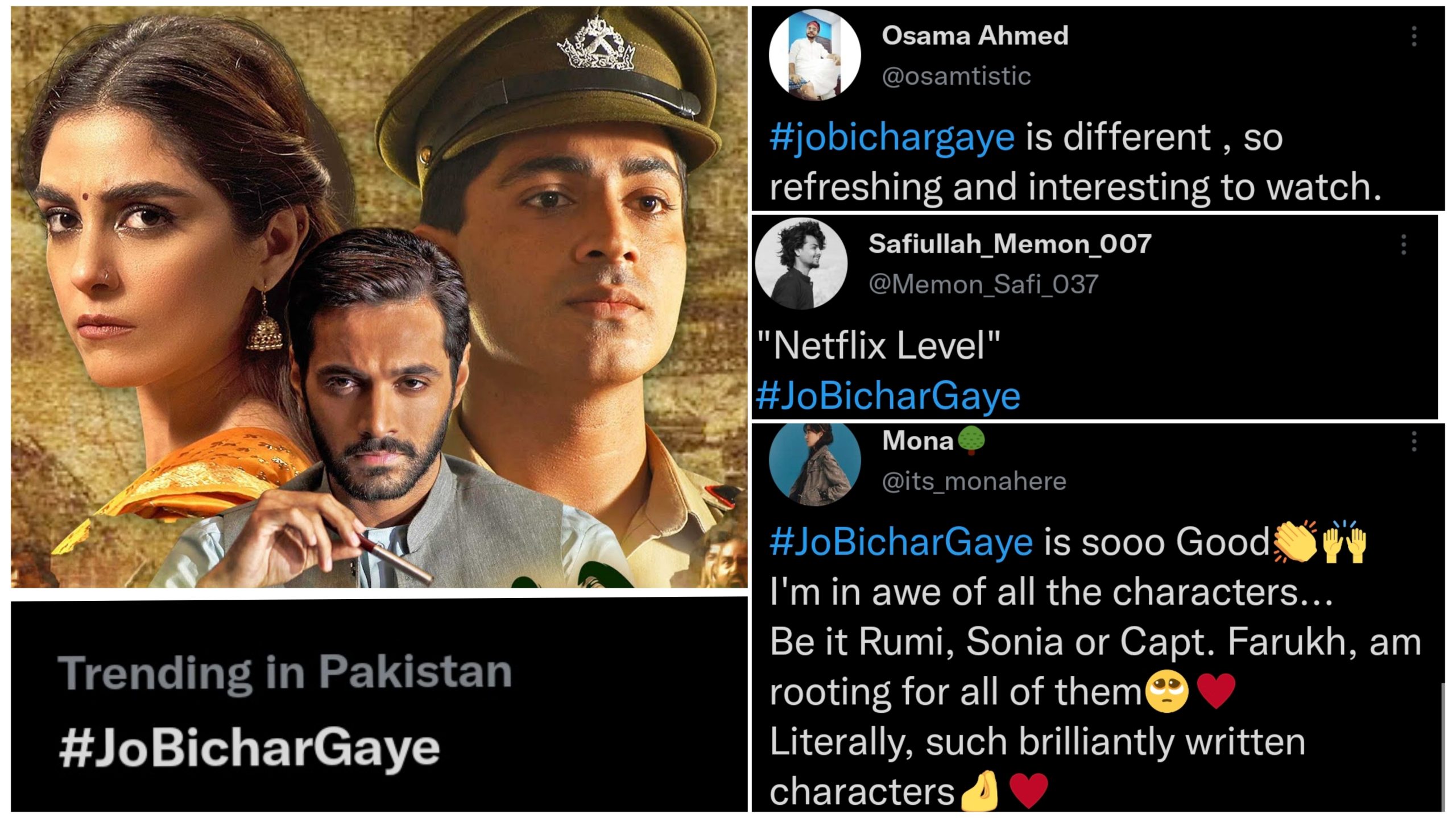 You can tell how much people really love a drama if it's still one of the top trends on Twitter 2 days after it's episode aired, which is the case with GEO's super fresh narrative Jo Bichar Gaye.
With Rumi seeing his own revolution turn into mutiny, the drama has truly left us speechless in it's treatment of the subject and in portraying the way people struggled back then. The cast too has done impeccably well with debuts that have left us impressed and Wahaj and Maya's intense roles as Rumi and Sonia, the drama is a treat to watch. And we're not the only ones impressed by it, tweeple too have been lauding the drama and the actors as they trend the hashtag #JoBicharGaye on Twitter:


And here's what they've got to say!
What BRILLIANT debuts!!! #JoBicharGaye pic.twitter.com/FuZOXxCmGA

— I want uncut Harry Potter Movies 🇵🇸 🍥 (@harrypotter_pak) January 17, 2022
🥺🥺🥺
forgot rumi-sonia, forget farukh-sonia, i love these two😭😭 #JoBicharGaye pic.twitter.com/BtvhYfU93K

— momina 🇵🇰 (@theobsessedbear) January 17, 2022
Ah, we know right!
he's such a tragic character –

[ #jobichargaye ] pic.twitter.com/BPaBufHhor

— r. (@phooIsekhushboo) January 17, 2022
🔥
Just look at them😩🤍Chemistry at its peak!!
Shipping them so hard😭
•#JoBicharGaye #WahajAli #MayaAli pic.twitter.com/Ir4uniDwED

— sam•🥀 (@THEIR_Majestyy) January 17, 2022
It broke us!
That last scene just shattered my heart!!!💔#JoBicharGaye pic.twitter.com/tF6bP0yGlO

— Zaini ♡ (@ss_xaini) January 17, 2022
Shots were fired:
I doubt you people's sanity and choices if you're not watching Jo Bichar Gaye.#JoBicharGaye pic.twitter.com/PnUxfrXZKo

— Minha A. Khan (@_Minhaw) January 17, 2022
My this tweet is wholeheartedly dedicated to those who are not watching #jobichargaye 😊❤ afsoos ka mukam hai😂 pic.twitter.com/AjGiA8Ac8r

— Salman azhar (@manay_azhar) January 17, 2022
People were obsessed with the OST:
Obsessed with this song. Please tell me there's a longer, full version. #JoBicharGaye #PakistaniDramas https://t.co/Rzx3MUBQpe

— SophiaQ (@SophiaAQ) January 17, 2022
People were living for it:
#jobichargaye is different , so refreshing and interesting to watch. I'm lovin it thats it,,,, ❤️‼️

— Osama Ahmed (@osamtistic) January 18, 2022
Pls pls pls!
PROTECT MY MAN AT ANY COST
CAPTAIN TAKE ME HEART PLEASE #jobichargaye pic.twitter.com/vup4IajimN

— Marve (@marvethefangirl) January 13, 2022
That's Wahaj for you:
I was honestly suprised and astonished after seeing this bit,and i had to rewind to see properly as to who was speaking. Wahaj's accent here was so on point, he sounded like a pure bengali here! I felt so proud.😭💥
#WahajAli #JoBicharGaye @iamwahajali
pic.twitter.com/lyauTuxMsp

— f.🌻 (@floralfairyflsa) January 14, 2022
Do you see the contrast of emotions between these two scenes? He's portrayed all shades of Rumi so effortlessly. That's Wahaj Ali for you#WahajShinesAsRumi #JoBicharGaye pic.twitter.com/2zVJ0CgZzK

— Amna (@sortadreamyy) January 16, 2022
And he's served!
Another episode to witness a spell binding performance by #WahajAli as Rumi, his inner conflicts reflecting on his face, the silence in his words, but his eyes speaking of all the dismay in his hope, the tearing apart of all those well etched dreams! #JoBicharGaye tonight 8pm pic.twitter.com/jaKDwBmoTR

— Jiya 🦋 (@Wahaj_stanx) January 16, 2022
People found it to be Netflix worthy:
"Netflix Level"#JoBicharGaye https://t.co/l1ohKSipbE

— Safiullah_Memon_007 (@Memon_Safi_037) January 18, 2022
People were also sharing how necessary this narrative was:
We really needed these type of dramas to unveil truth and tackle enemies propaganda.#khaabtootjaatayhain#JoBicharGaye

— Usama (@730usama) January 18, 2022
#JoBicharGaye finally a classy drama after decades!!!

— عین (@Pr1ncess17) January 18, 2022
Have you been keeping up with Jo Bichar Gaye? Let us know in the comments below!