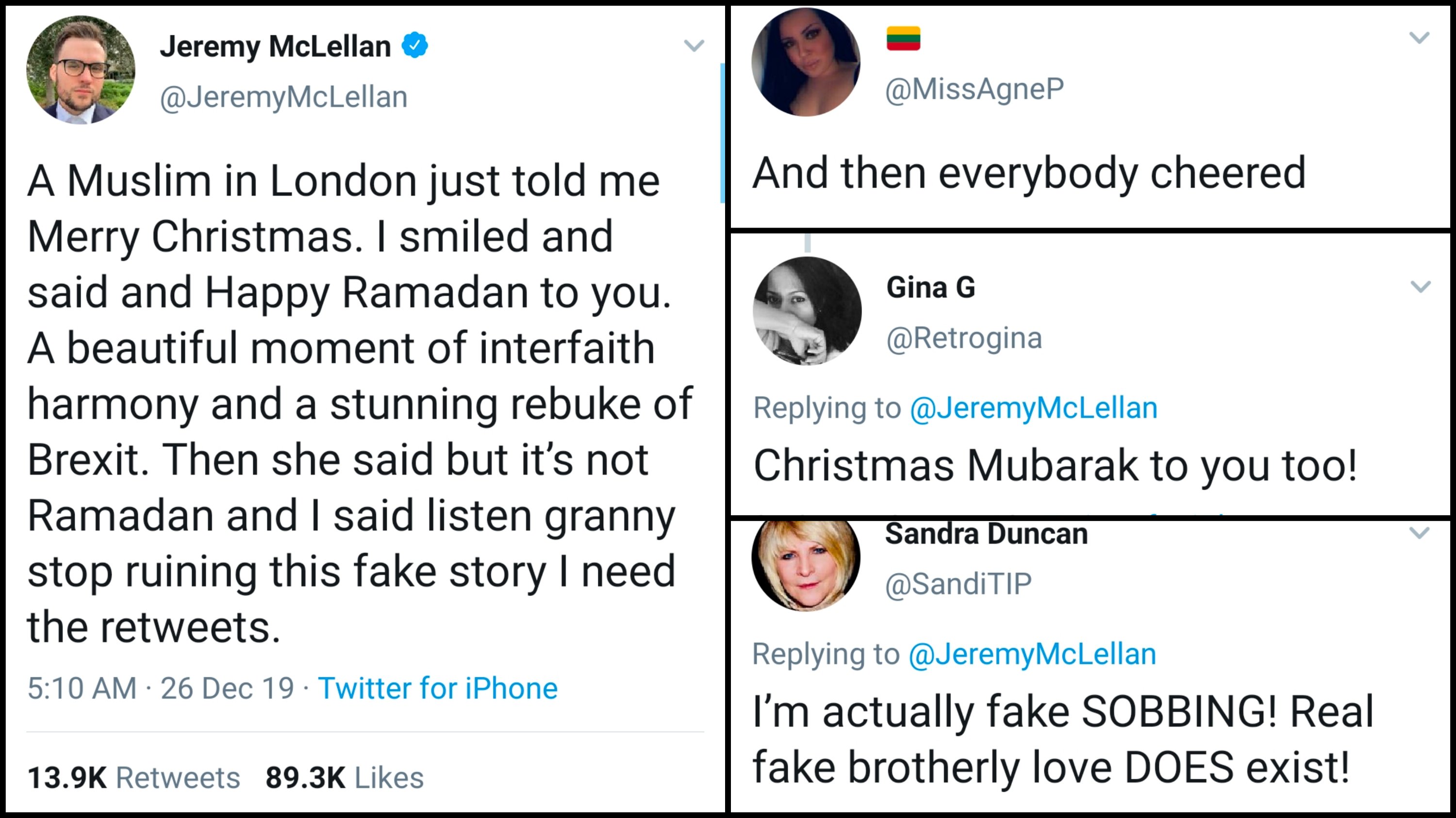 Jeremy is our absolutely favourite Pindi boy who lives for biryani just like us! And as Christmas just went by, everyone was putting up sweet stories of how people from other religions were celebrating with them.
And Jeremy being Jeremy, jumped on the bandwagon with the most honest story ever:
A Muslim in London just told me Merry Christmas. I smiled and said and Happy Ramadan to you. A beautiful moment of interfaith harmony and a stunning rebuke of Brexit. Then she said but it's not Ramadan and I said listen granny stop ruining this fake story I need the retweets.

— Jeremy McLellan (@JeremyMcLellan) December 26, 2019
And the netizens were playing along:
It's a Christmas miracle! Wait whu pic.twitter.com/HewpJzoavV

— Fernando (@fernsbags) December 26, 2019
Some were sharing legit stories:
Many years ago l went from the Cumbrian coast to inner London for a job. Very worthwhile and it opened my mind to difference. I had never spoken to a Muslim or a Jew and had seldom met a Black person. I got a Christmas card from a Muslim, l was humbled.

— Bill Kirkbride (@HUMBLEBILL) December 26, 2019
Haha, he sure did!
— Paul McClain (@pauld_mcclain) December 26, 2019
Okay:
I'm a Muslim and i said merry Christmas to
lots of my friends yesterday,they wish me Ramadan moubarak During* Ramadan .

You can tell a true story too mclellen , there are many ☝

— Hüş 🌸🐤 (@kHoshgeldin__) December 26, 2019
Ziada ho Raha hai ab :p
And everybody on the street stopped walking and applauded.

— Kevin Wilson (@kevinwilson16) December 26, 2019
Nope!
Already banned from diwali gatherings, you're on your way to be banned from Ramadan Iftars and Christmas dinner next year boy 🤨

— YASSER HASAN (@_yasserhasan_) December 26, 2019
Dead 😂
My Muslim friend brings me his empty beer bottles to turn in for the deposit.

— Bill Dirks (@Billslawnspray) December 26, 2019
Same!
I'm mad that I fell for this until the plot twist

— Gabrielle Simone (@yoursaturnsiren) December 26, 2019
We do too!
God I love twitter 🤣 https://t.co/5A045Txytc

— Pseudo Singh (@shakesofpear) December 26, 2019
Some were getting creative with the new year wishes:
Merry Ramadan Year https://t.co/hSJOCVhRTb

— Mubashir (@Abdulshir) December 26, 2019
Karma might hit Jeremy right in the face…
Now, when you see him in late April or May next year, say "Happy Ramadan" to him and see if he replies, "And Merry Christmas to you."https://t.co/pcU0J3nhZY

— Ira "Senate Rules & 3 Impeachments" Goldman 🦆🦆🦆 (@KDbyProxy) December 26, 2019
I'm sure Bollywood will:
Ah make a movie on this already! https://t.co/tKq4dHDBGL

— Shree (@LolLolLand1) December 26, 2019
No one did 😂
I did not see that coming … AhhHahaha https://t.co/0PlG7RIzFM

— c nalley (@HawksMsSonics) December 26, 2019
Oof, the shade!
can't believe this is going viral on Diwali 🙏

— Jeremy McLellan (@JeremyMcLellan) December 26, 2019
What do you think about the tweet? Let us know in the comments below!