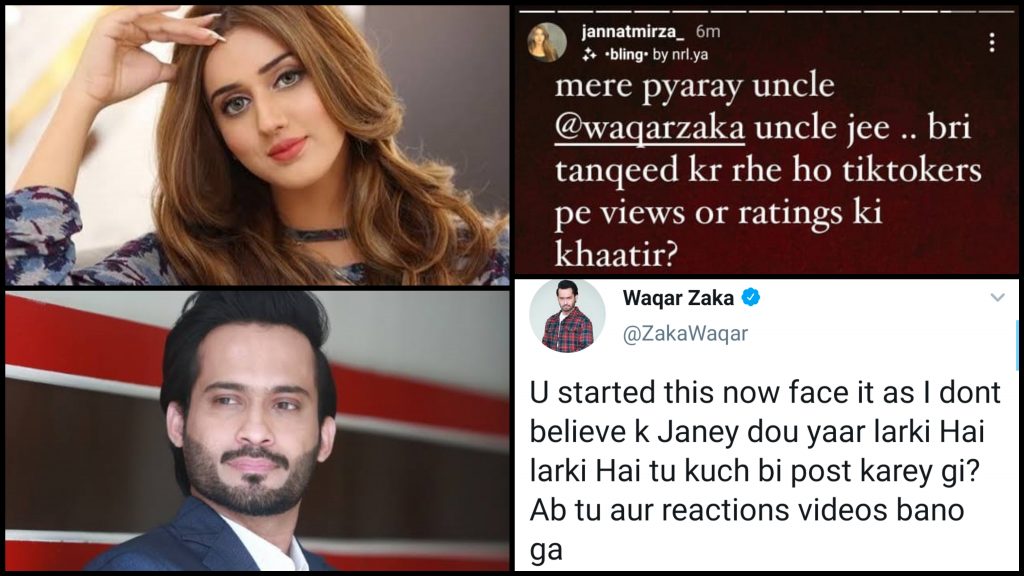 With the recent ban on Tiktok, Waqar Zaka has been reacting to cringe-worthy tiktok videos on the internet, supporting the ban and roasting immoral and indecent content:
One after another, he's released 8 episodes so far. And in retaliation, tikroker Jannat Mirza lashed out at him on her Instagram stories, venting how she's deeply hurt by the backlash: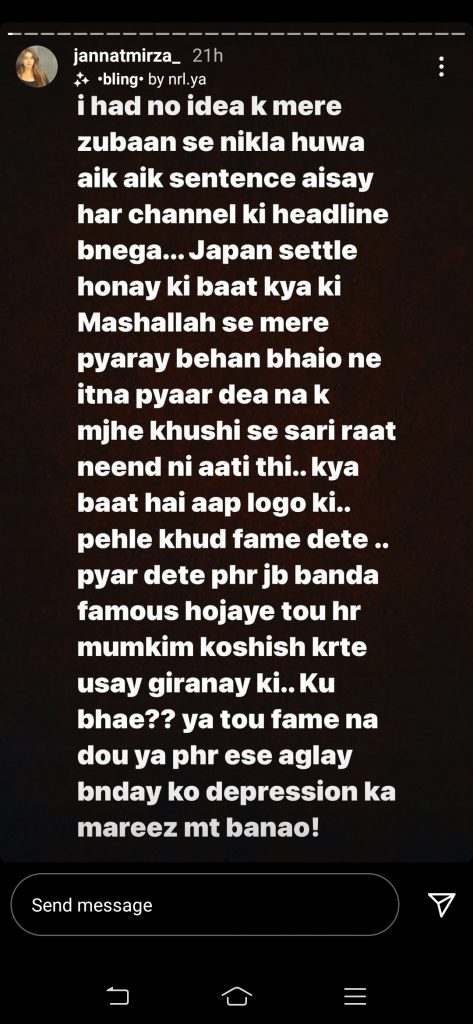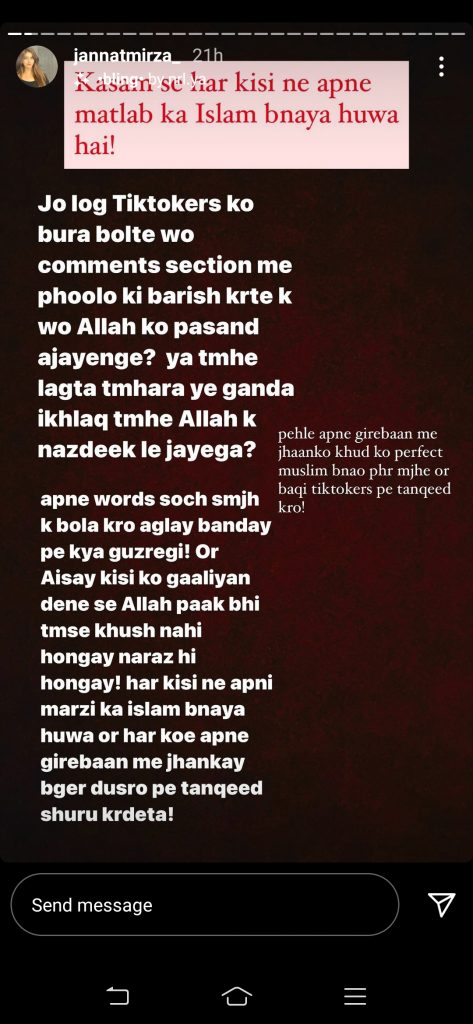 She also called him an 'uncle' in a now-deleted story: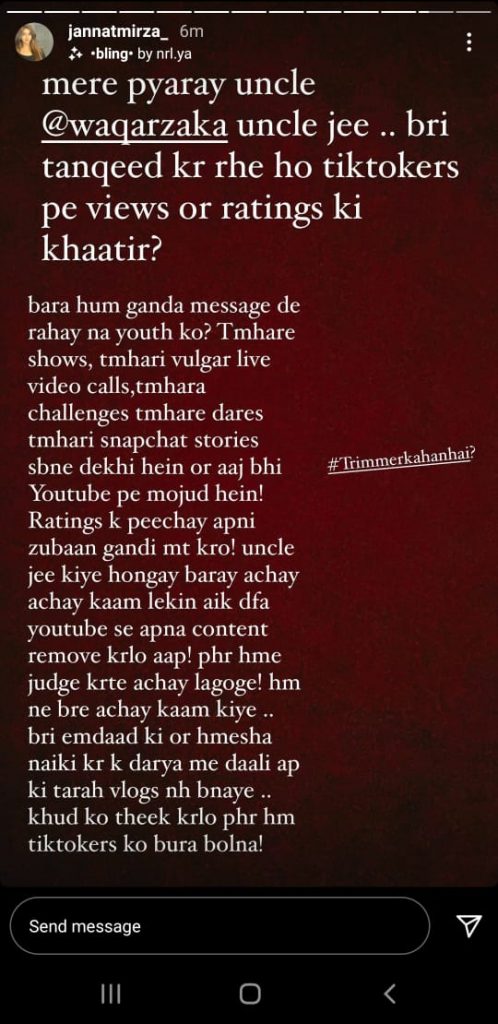 Jannat then shared a post throwing shade at Waqar Zaka and others who were criticising her, telling them to use their brain before speaking: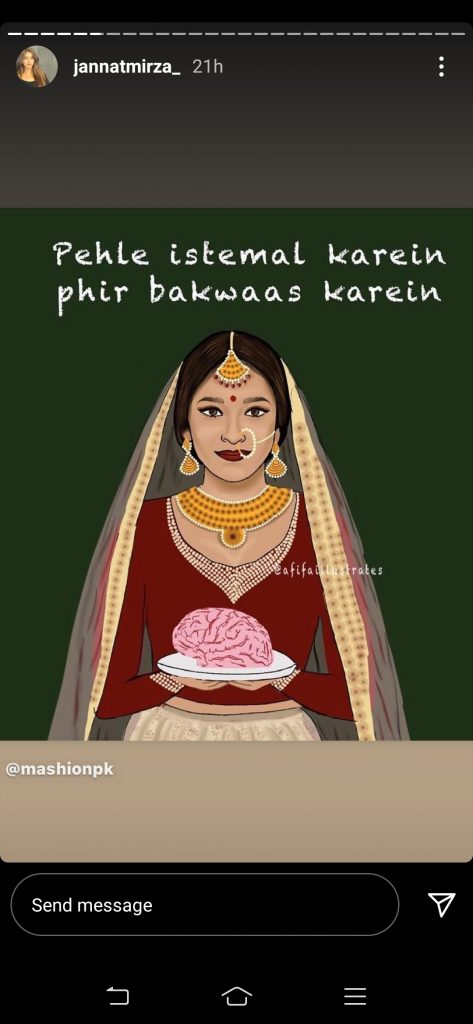 Offended at being call an uncle, Waqar Zaka retaliated with a reaction video featuring Jannat Mirza, calling her #ChachiLasori:
U started this now face it as I dont believe k Janey dou yaar larki Hai larki Hai tu kuch bi post karey gi? Ab tu aur reactions videos bano ga https://t.co/OlmPT9AT84

— Waqar Zaka (@ZakaWaqar) October 17, 2020
In the video Waqar Zaka can be seen challenging Jannat Mirza to match him in terms of the noble work he's done. And netizens, have a lot to say!
Going great 👍
Best wishes with you ❤️
Koi toh hai glt ko glt kehny Wala 🙂 @ZakaWaqar https://t.co/QJ1eJeU3PA

— ST❤️ (@Taniii_Must) October 17, 2020
People had questions for Jannat:
Sir Ask Janat Mirza this question
When Ali Khan Tik Tokker insulted the girl, called her black and satirized its color , why didn't she condemn it? She took million of followers from Pakistan and went to Japan and Now she is taunting Pakistanis that we have a small mindset

— Doctor Strange 👔👑 (@iDefender_Pak) October 17, 2020
People were anticipating Jannat's reactions:
Jannat mirza: pic.twitter.com/SweIWwEDaw

— MANGO ⚡ (@maazeyyy) October 17, 2020
People were with him:
Bilkul sahi ker rahai hai ap mt chorna in ko pakr ke rakna

— Idreeskhanpakhtoon (@Idreeskhanpakh3) October 17, 2020
People wanted him to continue:
Yeh cheeeeeeeezzzzzz 😆🔥 she could ignore it like others did konsa es akeli ko roast kia..pr nae waddi star bn k call ni kharkani the japan sa ..now deal with it …carry on bro @ZakaWaqar ❤

— Rose (@Rose02676659) October 17, 2020
People were lauding him for his videos:
great work sir !!

— Alia Ashraf (@AliaAsh50073159) October 17, 2020
People were furious at Jannat:
If Pakistanis have such a small mindset
So delete the account with 10 million Pakistani followers. Create a new account with only Japanese followers.
Because we are small minded people according to you. Indians are open minded people so you created an account on Indian Tik Tok

— Doctor Strange 👔👑 (@iDefender_Pak) October 17, 2020
And while people were supporting Waqar Zaka at large, others were disappointed:
Aap ko aik aqalmand aadmi samajhta tha, afsos ke me ghalat tha

— ZISF Nerd🇵🇰 (@zisf98) October 17, 2020
People were calling him cancer:
Tiktok banned but a new cancer emerged.

When Govrt. has banned tiktok then y this Scum #WaqarZaka is highlighting Tiktok & criticising Old Tiktok videos?

Trust me this Man waqar zaka is cancerous to Paki youth and culture. Just to gain followers he is spreading this sheeeet! pic.twitter.com/KWdYCLUcmn

— Romee Yousafzai (@Himmel__1) October 17, 2020
People wanted him to focus on other tiktokers as well:
Hahahaha phr bi jannat par atteck ho raha ha chor do osa jo ajeeb log ha tik tok par onha pakroooo jasy megan naila jutt or bi bhtt ha

— Fiza Malik (@FizaMal63940469) October 17, 2020
What do you think about this ongoing tiff between the two? Let us know in the comments below!