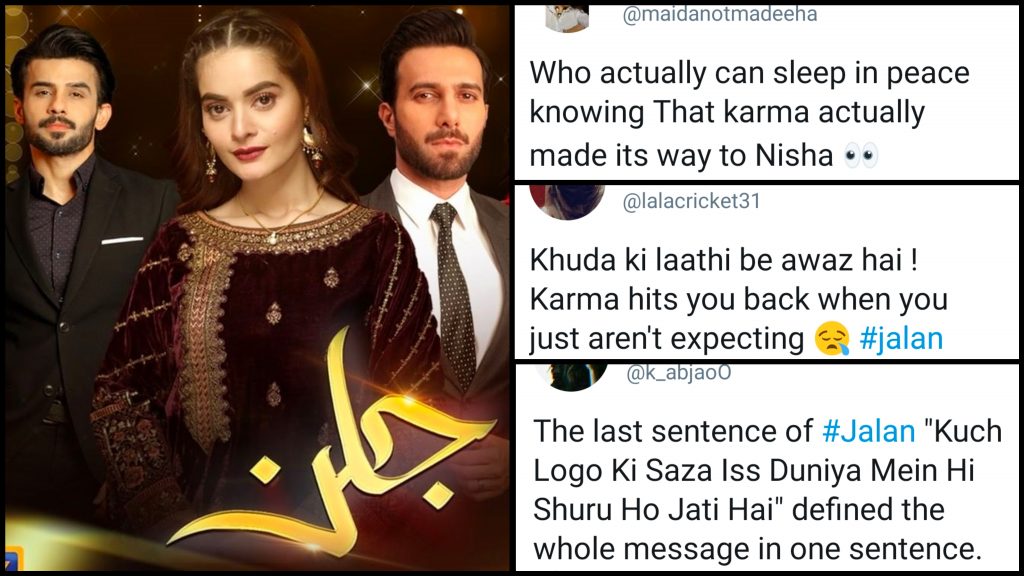 Jalan has been one of the most controversial dramas this year, despite being banned and un-banned by PEMRA, the drama did not lose its audience, thanks to its gripping and bold plot.
With the drama coming to a fitting end, netizens are expressing their love for the drama:
Today's episode of #Jalan hit me so hard.

Today's dialogue was sooo powerful. I am AWESTRUCK

"Gunnah Badah Ho Tou MAUT Bhi Aasani Se Nahi Milti"

Remarkable ending #jalan pic.twitter.com/mCHn6oeMtV

— Hamzah Bhuta (@Hamzah_Bhuta) December 16, 2020
Jo baat hai:
The end of every evil is always bad😈🔥#Jalan pic.twitter.com/FpbIf6YpPm

— 🐥Miss Malik🍩🎀 (@Tweety_Sweety10) December 16, 2020
Minal's best performance to date!
She did amazing acting🤩❤️#Jalan #Nisha #MinalKhan #Jalanteam #Trending pic.twitter.com/gGCq1N9eWK

— aimal_fantasy (@FantasyAimal) December 16, 2020
People were calling it a blockbuster!
#jalan is surely be missed 🔴
What a blockbuster serial with a intriguing story plot . pic.twitter.com/HWJo3OcIGo

— 🇵🇰 او Sa ما (@osamtistic) December 16, 2020
Yes!
these precious smiles- 🥺💗💗💗💗💗
.#HajraYamin #FahadSheikh #Jalan pic.twitter.com/ZVwoCgmPn9

— malaika ' 🍫 (@malaikakhhan) December 16, 2020
🙋‍♀️🙋‍♀️🙋‍♀️
Who actually can sleep in peace knowing That karma actually made its way to Nisha 👀#jalan #MinalKhan

— مائدہ (@maidanotmadeeha) December 16, 2020
We weren't expecting it either!
Meenu died because of Asfi. How can someone live with guilt as enormous as his? He had to die.
(Didn't expect it though).#Jalan

— Zartash Chaudhry (@ZartashChaudhry) December 16, 2020
We definitely will!
#trending #minalkhan #jalanteam #jalan #nisha
Welll, We will miss you Nisha ❤ pic.twitter.com/HJ6CCVL38Y

— Nimra salam (@NimraSalam2) December 16, 2020
People were satisfied with the ending:
I wanna say that it was a tremendous script by @SidraSahrImran ! in which she totally justified the ending. How can we forgot the names of the brilliant actors like #MinalKhan , #FahadSheikh , #EmmadIrfani #AreebaHabib #HajraYamin and #NadiaHussain ❤️ 🔥 #jalan#JALAN pic.twitter.com/Y7iFfC8NaI

— 🇵🇰 او Sa ما (@osamtistic) December 16, 2020
Best ending & best message
TIT FOR TAT#Jalan pic.twitter.com/Z9YVhX9JPw

— MZ (@maizeesays) December 16, 2020
I'm totally satisfied with the ending of jalan💯💯
Lots of love @MinalKofficial you're acting is superb bohat achay se iss dramay ke har ek kirdaar nay apna hissa ada kiya.#jalan #nisha #lastepisode #jalan

— Goodsaying (@HunainaaA) December 16, 2020
People were looking forward to more dramas like jalan:
Wow! #JALAN outstanding👏
Loved that drama so much , need more dramas like this👏
Congratulations To the entire team specially @fahadmustafa26 the producer sahab ♥ pic.twitter.com/eZdcT4i1Wg

— Տąⱳҽɾą_F ||🦋 (@Sawera_Nazeer) December 16, 2020
Beshak:
This is a lesson to everyone not to destroy someone's house

Jo Kisi Ka sath bura karta Hain Allah us Ka badla Duniya ma hi lia laita Hain 🥺

Jalan Last episode
Amazing ending pic.twitter.com/gfFzyF6Czs

— Farheen Ishfaq (@FarheenIshfaq5) December 16, 2020
What goes around, comes back around:
Finally the controversial drama ended remarkably.
dialogues were on point
"kuch logo k gunahon ki saza is duniya me hi shuru ho jati ha"
Indeed, what goes around comes around ✌
Makafat e Amal💯#JALAN#lastepi pic.twitter.com/tjY0yPDLy8

— Iqra (@BariIqra) December 16, 2020
People loved it!
And it endss… Against all odds #jalan is the most successful serial of the year and manages to hold a very special place in our hearts❤️

Now can't freak'in wait for #Dunk and #Aulaad… I know you always give us best possible dramas! @fahadmustafa26 producer sahab👑💕

— Areebaa. (@areebafahadian) December 16, 2020
No one does!
I don't even feel bad for Asfand 😒😒#Jalan

— -Zeïnab.⌁☍ (@McGoonergall06_) December 16, 2020
Some, however, were disappointed with the ending:
Jalan last episode was shit, so fucking disappointed I was invested af tbh

— ق (@sparklybitxh) December 16, 2020
People thought the ending could have been better:
Ending of Jalan was shit. They should've at least shown what psychological problem Nisha had.

— Nafi🇵🇰 (@nafi_ldn) December 16, 2020
What did you think about the ending? Let us know in the comments below!