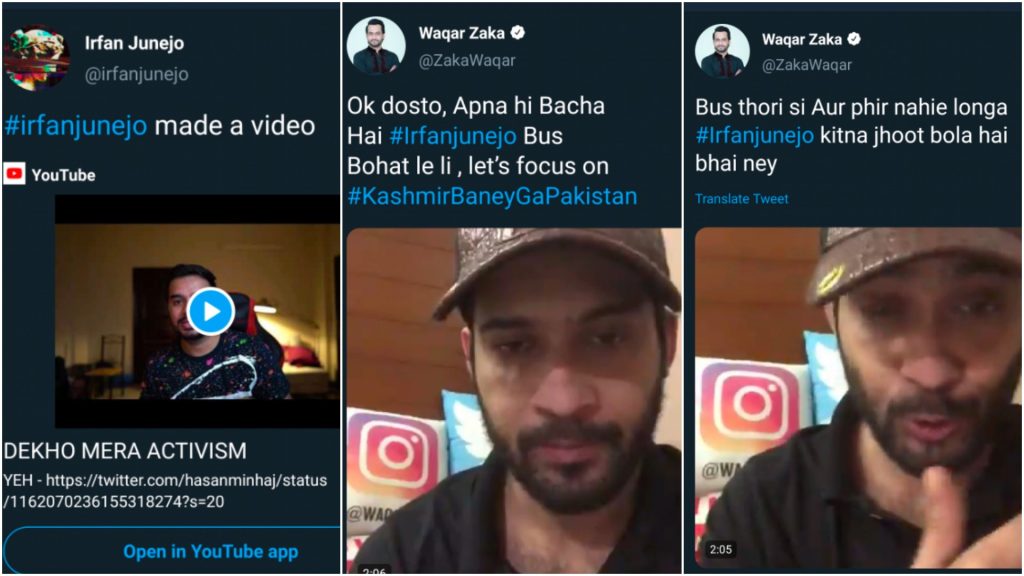 Irfan Junejo has been trending on number 1 on Twitter because he refused to make a video on the Kashmir dispute as requested by his followers. People were calling him out and cancelling him. As a response, Irfan Junejo did make a video, however it still wasn't about Kashmir as followers thought.
In his video, Junejo talks about how he was bullied by fans and other influencers for not making a video on his channel. He also said how he had learnt from his mistakes in the past and made it a point to not upload religious content on his channel.
He also called out people on the so-called cancel culture, and how despite being cancelled he has only grown since the whole controversy. Junejo also added how his video would have made no difference on the issue and how he chose to pray for Kashmir instead of making a video.
Known for calling out people on their wrong-doings, Waqar Zaka took notice of Junejo's video and made an entire video accusing Irfan Junejo of using this situation as an advantage to gain followers:
In his video Waqar Zaka also points out how the number 1 trend on twitter, which should be Kashmir, is actually Irfan Junejo. He also went on to say how ranting about it on Twitter was unnecessary because his fellow YouTubers who haven't spoken up about the Kashmir issue have stayed quiet about it.
Waqar Zaka made another video soon after the first one, coming at Irfan Junejo and calling him a blatant liar who according to Waqar has lied about his content being monetized and the numbers that he had quoted in the video:
Waqar can also be seen mocking Junejo by mimicking his way of speaking. After posting both thr videos, Waqar then retweeted a meme of him owning Irfan Junejo:
#Irfanjunejo #Achasorry I fan requested to retweeted , and I will if the meme is a good one :p https://t.co/8HAfmY28aY

— Waqar Zaka (@ZakaWaqar) August 18, 2019
People wanted Irfan Junejo to apologize and move on:
@irfanjunejo kindly say sorry and finish this matter

— Talha (@1__talha) August 18, 2019
Many stood confused:
Waqar Bhai. Confusion barha Di humari. @irfanjunejo kehta hai uski apni valid reasons Hain. 😨

— Faizan Qadeer (@faizanqadeer2) August 18, 2019
People were also supporting Junejo on his video:
What you said in the video was something that you felt, and no one has the right to force something on you! Each and every Pakistani is devastated and truly hurt because of what's happening in Kashmir or with Kashmiris and the way they are acting is their way of reacting.

— Nabihafatima (@Nabihafatima7) August 18, 2019
While some thought he had become arrogant:
oh the arrogance!

— Ali Baloch (@maXes_MB) August 18, 2019
What do you think about this little tiff between Waqar  Zaka and Irfan Junejo? Let us know in the comments below!