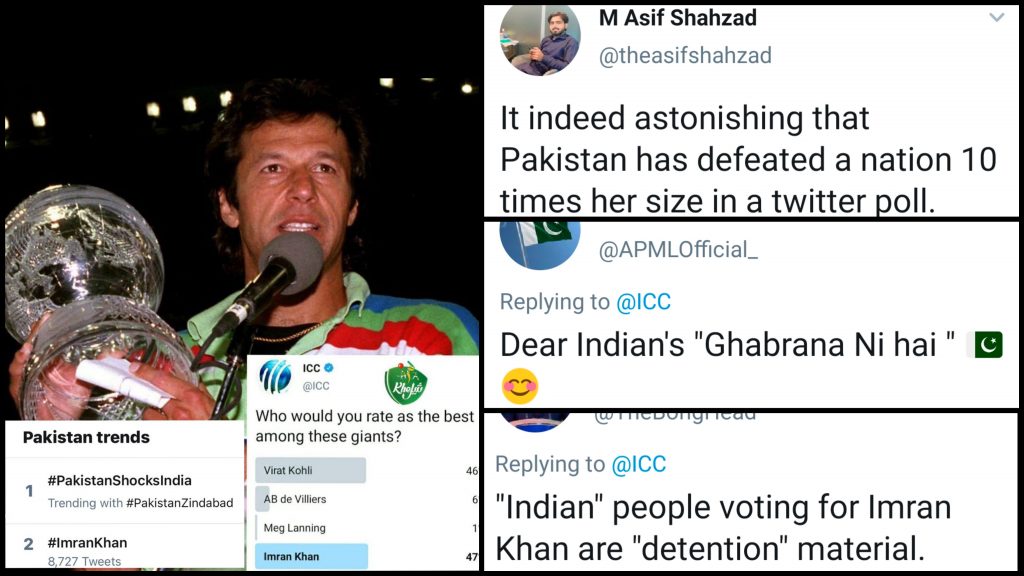 It's never a dull day on Twitter! The International Cricket Council ran a poll asking fans to vote for the best captain, the options included Imran Khan, Virat Kohli, AB de Villiers and Meg Lanning:
Who would you rate as the best among these giants?

— ICC (@ICC) January 12, 2021
And ever since the poll began, Pakistanis and Indians took it upon themselves to turn it into a war, asking fellow citizens to vote for their respective captains, and the results have shocked the Indians!
They are shocked ✌✌✌ we did it Pakistan ❤❤❤#PakistanShocksIndia pic.twitter.com/Fc7cvtvKnW

— Talat (@MeTalatK) January 13, 2021
Hahaha, bilkul nai ghabrana!
Dear Indian's "Ghabrana Ni hai " 🇵🇰😊

— Pakistan First (@APMLOfficial_) January 13, 2021
Oops 👀
"Indian" people voting for Imran Khan are "detention" material.

— Wasim (@TheBongHead) January 13, 2021
There were speculation of a possible dhandhli:
How did that change in last second, Kohli was leading till 11.45 am with 47% and suddenly within 1 second it changed?

— Johns. (@CricCrazyJohns) January 13, 2021
From both sides!
This poll is rigged !! 🙂 I was observing it closely till -1min #ViratKohli was leading!! How can 1 percent increased in few nano seconds?? https://t.co/g78liNyuA8 pic.twitter.com/XivMzCBjmM

— Prem (@PremSha23719235) January 13, 2021
Pakistanis were accusing Indians for using bots:
Thank you Indians, for using bots even though you're ten times more than us in population. pic.twitter.com/qr4s4o6Lrx

— Mariam's Madness (@MaddyForLabour) January 13, 2021
But the results were loud and clear!
Despite 50K+ bot votes polled by indians, we did it 💪🏻

🇵🇰 Zindabad pic.twitter.com/Zkm46THUCq

— Raja Akhlaq Janjua (@IamRajaAkhlaq) January 13, 2021
Challenge nai karna humain:
Dear Indians,
Pakistanis can do everything in 30 seconds, like MM Alam shot down five Indian planes in just 30 seconds. pic.twitter.com/RDeft2OxQE

— Hussain (@mushwani2018) January 13, 2021
Indians were tagging BCCI to have the poll deleted 😂
Bsdk @BCCI paise maar inke muh me aur poll delete krwa 😡 https://t.co/bhXOiZ3ei3

— Rahul Tomar (@XAER_18) January 13, 2021
Good scenes!
At the last moment #imrankhanPTI
kicked out #Kohli like this #PakistanShocksIndia pic.twitter.com/8YBXxPpKor

— Mahnoor Baloch (@imMahnoorBaloch) January 13, 2021
That's Imran Khan for you!
Khan played his last match in 1992 and this result after 29yrs shows that he is the only giant. #PakistanShocksIndia pic.twitter.com/Lxq1Xc0E2D

— Eimaan (@Cynosure100) January 13, 2021
People were in disbelief at the win!
It indeed astonishing that Pakistan has defeated a nation 10 times her size in a twitter poll.

Congrats Pakistan #CongratsPMIK#PakistanShocksIndia pic.twitter.com/PUUmoG8TDx

— M Asif Shahzad (@theasifshahzad) January 13, 2021
Ali Zafar too was celebrating the win:
The skipper @ImranKhanPTI. https://t.co/zTaorAacZR

— Ali Zafar (@AliZafarsays) January 13, 2021
He will always have a very special place in our heart!
#PakistanShocksIndia
The great leader who said goodbye to cricket 25 years ago is still ruling the hearts of cricket fans

A leader is always a leader https://t.co/97fUy5bs7s

— Ujala Raza😈☠️ (@patriot_ujii) January 13, 2021
People bought back the iconic nahi-hota-tujhse-chase video:
It's time for this video again. PM Imran Khan wins the most participated poll in @ICC history I believe. #PakistanShocksIndia pic.twitter.com/caaNErX12v

— Jibran Ilyas (@agentjay2009) January 13, 2021
The one and only!
Choice of the world. #CongratsPMIK https://t.co/QDNBBHQkfn pic.twitter.com/rTG4HsPy6v

— Dr. Irza (@Ahtweeted) January 13, 2021
Love was pouring in:
#ImranKhan One of the best cricketer and finest prime Minister of Pakistan. pic.twitter.com/Hwf9sQBo9J

— Robert Winston (@ImRobertWin) January 13, 2021
Fans were ecstatic!
From the history of cricket to the present political era, no one has been born in the world to compete with Imran Khan.😌😉 Khan is khan.🥀😇#PakistanShocksIndia #ImranKhan pic.twitter.com/fjnWPKLNDT

— Uman Malik (@U_3322) January 13, 2021
No:
#CongratsPMIK#PakistanShocksIndia#ImranKhan

Indian Would you like to express your views or emotions? pic.twitter.com/VUK0H8FVnN

— Uman Malik (@U_3322) January 13, 2021
Yes!
#PakistanShocksIndia
Coz this nation will always be #BehindYouSkipper

— Mariam's Madness (@MaddyForLabour) January 13, 2021
Some felt like the poll wasn't fair:
In all fairness, the poll doesn't fully reflect the massive differential.

Imran Khan is inarguably the greatest cricketer and skipper to emerge from Sub Continent.

Kohli deserves lots of respect but it is unfair to pitch him against the original King Khan.#PakistanShocksIndia pic.twitter.com/wARPSAcmsi

— Zartaj Gul Wazir (@zartajgulwazir) January 13, 2021
Some found it to be disrespectful:
It was disrespectful to PM Imran Khan to be compared to Virat, PM played in an era in which we saw the true legends of the game! He was the one who ppl admired & looked up to in that particular era.
Anyhow #PakistanShocksIndia https://t.co/xC7Kk5j6Ed

— Jhanzaib Bey (@Jhanzaib_S) January 13, 2021
What do you think about the poll? Let us know in the comments below!