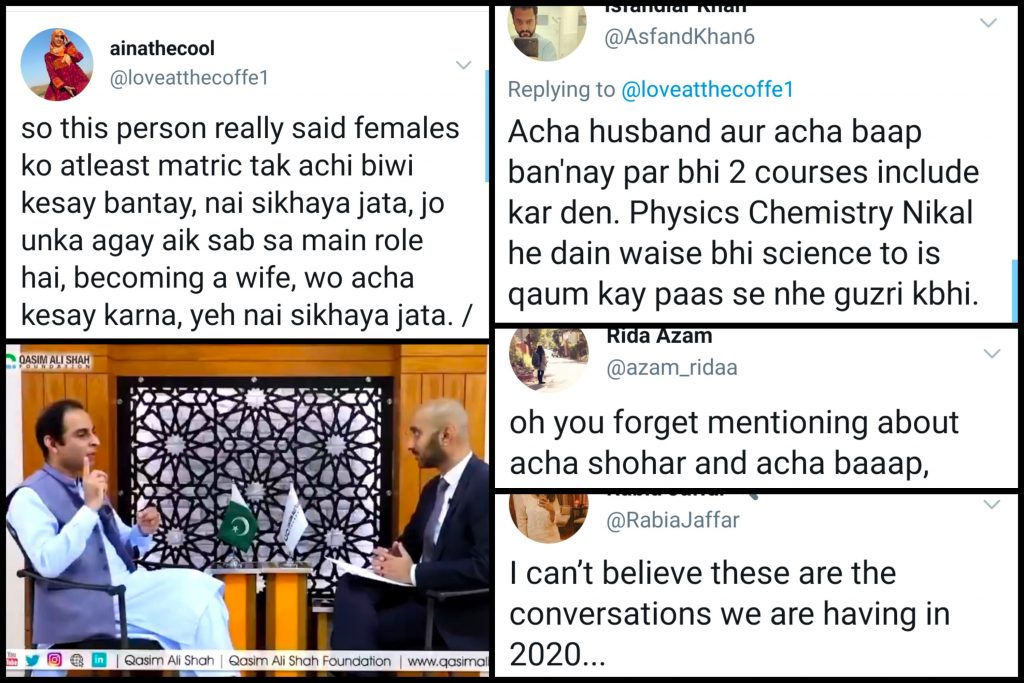 In a society where marriage is considered the ultimate goal for women, motivational speaker, author, trainer and educator Qasim Ali Shah, added to the pressures on women after he demanded that all girls be taught 'how to be a good wife' in schools till 10th grade, and no, we're not exaggerating!
so this person really said females ko atleast matric tak achi biwi kesay bantay, nai sikhaya jata, jo unka agay aik sab sa main role hai, becoming a wife, wo acha kesay karna, yeh nai sikhaya jata. /1

— ainathecool (@loveatthecoffe1) November 1, 2020
can imran Khan pls introduce a new subject perfect wives 101, when we study that, boys can go for games class, qk wo tou perfect hain 😍

(also i stopped listening to this vid after this, so idk how he concluded but qasim ali shah im throwing your books out ) pic.twitter.com/KuR7OrHcTj

— ainathecool (@loveatthecoffe1) November 1, 2020
The video clip has made people furious and people have a lot to say!
Acha husband aur acha baap ban'nay par bhi 2 courses include kar den. Physics Chemistry Nikal he dain waise bhi science to is qaum kay paas se nhe guzri kbhi.

— Isfandiar Khan (@AsfandKhan6) November 2, 2020
People shared how both the genders should be trained on being good spouses:
Lol, good one. But joke aside, we should have something to teach our youth how to become a good husband and a good wife as well. Both departments need lot of work in our desi house holds

— Saima mustafa (@sbajwsa71) November 3, 2020
Exactly!
why not teach men to be better people since Pakistan faces very grave issues such as rapes, honor killings, acid attacks, domestic violence, forced marriages then why not teach men to be better husbands, fathers, humans, and citizens? https://t.co/bCINtlVgbO

— Bugvi. (@mansoorayy) November 2, 2020
Shots were fired!
😡Itni si soch ,ajeeb jahilana pan hai, aurten inki nazron mai sirf baby making aur baby caring machines hain, inko sambhalen aur inke bachon ko, apni maa ke paas hi rehlen agar itne maslen hain to🤢

— •Sarah• (@looptyloopp) November 2, 2020
People couldn't believe the absurdity was real:
I refuse to believe this https://t.co/ZQwePYrIXy

— Asmash (@AsmaJak) November 3, 2020
Ridiculous!
I can't believe these are the conversations we are having in 2020… https://t.co/ue1WRDbncs

— Rabia Jaffar 🔍 (@RabiaJaffar) November 3, 2020
True!
Boils my blood man,seeing the number of retards seeing and agreeing with this type of shit,we're done https://t.co/H0WrWTL8dK

— Hamza (@hahahahhamza) November 3, 2020
Jo baat hai!
We should have classes on parenting and it should be for both mother and a father not just for the mother. We need better parents not just better mothers. Similarly we need better spouses not just better wives. Rather we need better husbands more than better wives https://t.co/q5pjEgi7Io

— Saad (@OverLord_Xd) November 2, 2020
People were appalled to hear him say women had only 2 goals in life:
I feel ill.
School for Sexism: How to be the perfect, obedient 1950's housewife for your man-child husband whom you were shackled to against your will.

He really had the audacity to say a woman's two ultimate roles in life were motherhood and being a wife. 😶 https://t.co/hdMwaJPAni

— Miss Chanandler Bong (@MaddieWali) November 3, 2020
🤷‍♀️
oh you forget mentioning about acha shohar and acha baaap, https://t.co/RxsDadFjXa

— Rida Azam (@azam_ridaa) November 3, 2020
Yeah, they're unreal!
The expectations loser men have from women in this country 🤦‍♂️🤦‍♂️🤦‍♂️ https://t.co/0aiGC4ywFy

— Satan (@6_Satan_) November 3, 2020
People found the video embarrassing:
this country gets more embarrassing day by day https://t.co/eKfz84pKk2

— Hamza Hussain (@hamjewhussain) November 2, 2020
People were fuming!
Poora mulk pedo hai. Kids get done with Matric at 15/16 years of age and this cumstain is discussing how they should know the art of being good wives.

Pakistani mard sarey kay sarey pedo hain. https://t.co/SjYvoxjufQ

— Eurus (@Hexatiouz) November 2, 2020
None!
he talking as if boys are taught how to be better husbands and better fathers in schools etc etc or let's just not talk about the genders here can anyone tell me if their school or any educational institution they go to taught em how to be a better person?https://t.co/DTrQzlmpNM

— moe (@canyonmoe) November 2, 2020
I mean…
If being a good wife means to be obedient to a husband, submissive to his needs, desires, likes & dislikes, create a life revolving around that of the husband, then we may as well throw education out of the window & instead tie a leash around girls' neck & hand it to husbands. https://t.co/mj9WSxoV9Y

— Sundus Saleemi (@SundusSaleemi) November 2, 2020
Nope, our sons are 'perfect:'
Someone remind them, men are the reason problems like domestic violence exist in our society, but do we teach our sons how to treat wife like a wife? No https://t.co/mZM8CTbS4d

— noororo✨ (@noorulfajarr) November 2, 2020
People wanted him to get help for himself:
@QasimAlishah786 This is the freedom and mental health you always mentioned?
Go to Psychiatrist Please. https://t.co/VderOYVDOV

— اوشال کوسو (@OushalK) November 3, 2020
😂😂😂
Mo-tatti-vational speaking: https://t.co/PSaXWgAj1P

— Abbasi (@flaminh0t_) November 2, 2020
People were just not ready to take his bullshit!
HAHAHAHHAHAHAH in this country women do 95% of the emotional AND domestic labour and you're saying women need to be taught to be better wives and mothers. Lmao men need to step up to be better human beings tbh more than sons and father.
Fk this motivational speaker bullshit https://t.co/SB0MwryWu0

— disgruntled pelican (@mianfaseehat) November 2, 2020
What do you think about Qasim Ali Shah's sexist comments? Let us know in the comments below!