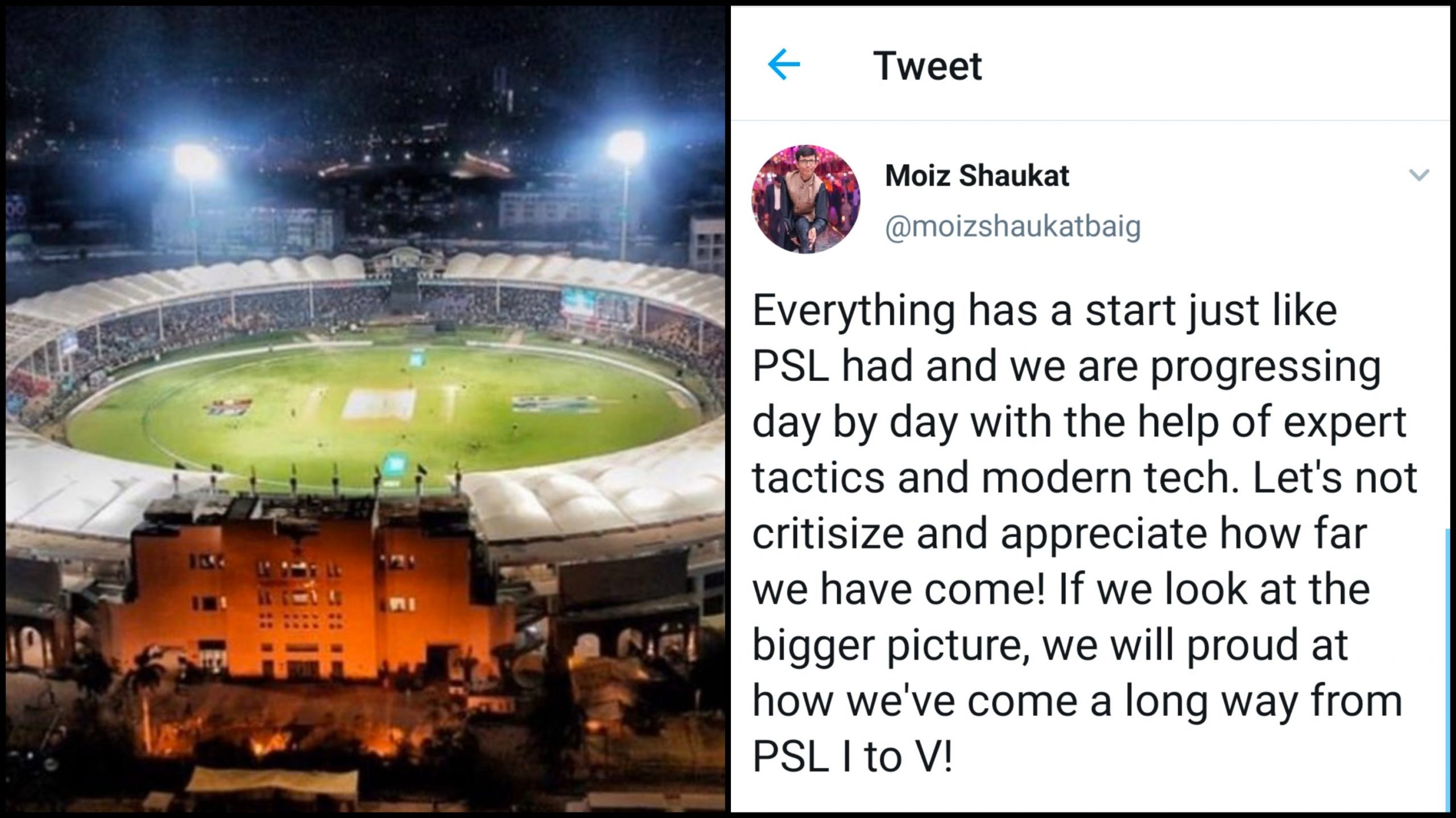 Ever since PSL began, people have been criticising everything about it, from it's official anthem to the opening ceremony, to the host and what not! But amidst all the negativity, there are many who are absolutely loving every bit of it:
Everything has a start just like PSL had and we are progressing day by day with the help of expert tactics and modern tech. Let's not critisize and appreciate how far we have come! If we look at the bigger picture, we will proud at how we've come a long way from PSL I to V! pic.twitter.com/4rpKRFuTCA

— Moiz Shaukat (@moizshaukatbaig) February 20, 2020
People were loving the opening ceremony:
Those who are criticizing the opening ceremony are those who can see just negative things abyyy yaar isn't it enough that cricket is back in Pakistan peacefully after the years and we are hosting the whole PSL, appreciate kro yar#PSL2020 #CricketComesHome #PakistanZindabad pic.twitter.com/jWCjTRA0l7

— TAYHREEM ✨🇵🇰 (@tayhreem) February 21, 2020
Many were lauding the efforts of the police:
Sindh Police has been working tirelessly and potentially unpaid overtime so I'd like to thank them for their services for managing PSL in Karachi.

— Puffin Man (@junaidakram83) February 22, 2020
People were also loving the fact that the game was raising awareness!
With great power comes great responsibility and I think its an incredible initiative to spread awareness about cancer among children by the PSL management.
Today the players, commentators wore golden ribbons for the cause. pic.twitter.com/EIaIVOJuos

— . (@Choisaaab) February 22, 2020
People were missing Najam Setji:
Sir we miss you, Surely PSL vision belongs to you. We always appreciate your sincere efforts to betterment in PCB. pic.twitter.com/r7cqPBqGZk

— Affan (@affanfilms) February 20, 2020
Some wanted people to be more accepting of change:
WHAT IS WRONG WITH THE CURRENT PSL ANTHEM?

PEOPLE SHOULD STOP BEING AN ASS ON EVERY TRIVIAL MATTER AND LEARN TO APPRECIATE!

THIS WHOLE "ALI ZAFAR SHOULD MAKE NEW ANTHEM" IS A FUCKERY.

LEARN TO APPRECIATE CHANGE AND STOP BEING INTOLERANT ON EVERY OTHER THING.

Rant over.

— 🙊 (@KindledSpirit_) February 22, 2020
People were sharing their love for the new anthem:
I really appreciate the new PSL anthem tho especially Arif Lohars part

— Husn Hai Suhana (@Fatmounh) February 20, 2020
Many were sharing how PSL gave opportunities to many:
💥PSL Opened Ways For Artists Too 😂

💥Lets Take A Moment & Appreciate Pakistan Cricket 🏏 Board 🎉 #PSL5ComesPakistan

— Saeed Cricky 🏏 (@SaeedCricky) February 20, 2020
For some it was the first step to hosting big events:
You all so elite. Not liking desi stuff.
Gotta appreciate. They have worked hard for it.
It's season 5, but that's a beginning. Many more to come in our country. Insha'Allah 🤲

— Wohi 🤸‍♀️ (PSL 🖐) (@Razavidotcom) February 20, 2020
People were lauding international players for coming to Pakistan:
I appreciate ur passion nd thnk u frm heart u support Pak cricket in difficult circumstances. Even in the last years u came to play some matches in Pak Now u will play all PSL in Pak. Thank u, U came to play in Pak nd told the world that Pak is a safe for sports.@thePSLt20 #PSLV

— Syed Fakhar Abbas (@Fakharhuyar) February 15, 2020
Some were appreciating the government for their efforts:
We highly appreciate current govt 🌹and enforcement institutions🌹 for bringing back PSL and snow Sports in Pakistan🇵🇰.We have lovely cricket crowd✌❤ #PSL2020

— Talib Mallick (@TalibMallickPAK) February 21, 2020
People were even loving the graphics:
I have to say the ANIMATION of #psl intro is so good 👌🏻 #PSLV #PSL2020

— Faria (@FariaSays) February 22, 2020
People were urging others to appreciate cricket coming home:
People need to realise this is the first #PSL happening in Pakistan and we as people need take a break and appreciate the effort rather then keep saying shit about the PSL. tournament was not evn started we started shit about the PSL. BC apni cheez ko appreciate kro continued…

— Hamlet (@TheGreat420) February 21, 2020
We heartly appreciate the participation of other countries, Now time to focus on PSL #KabaddiWC2020

— Osama Sheikh (@OsamaSh83899673) February 16, 2020
Live and let live:
Match dekhay enjoy karai n appreciate PSL a plat form to upgrade Pakistan on the 🌍 globe
Let's focus on making our country strong

— Aayat Khan (@AayatKh42331038) February 21, 2020
Some were crediting the army and other agencies:
#PSL is back at home and the credit goes to our beloved #PakistanArmy and other law and order agencies just take a moment and appreciate them ❤️❤️#PakistanZindabad#PSL5

— Dr psycho 😒 (@berozgarpsycho) February 20, 2020
People were happy to see PSL coming back!
Thanks @RealPCB_Live security system and @pid_gov for bringing psl bck home and give us happiness..although opening ceremny cannot fulfill our expactions but phir b this is Pakistan event.we must appreciate all of them they try their level best to entertain us #PSLOpeningCeremony pic.twitter.com/4eYiHPDWRL

— Usman KHAN (@UsmanKH41443831) February 21, 2020
People wanted everyone to stop talking about the negatives and look at the positives:
Instead of trolling we should appreciate first ever psl season held in Pakistan and doesn't matter how was the opening ceremony we should be happy that it is happening in Pakistan💚#PSLComesHome #PSL5

— وقاص (@I_waqasmanzoor) February 20, 2020
Jo baat hai!
PSL is about cricket not about ceremonies. Pura saal jo log cricket nahin daiktay woh keh rahay hain is psl may woh baat nahin 🤦‍♀️ Khuda ka wasta hai kuch acha ho raha ho toh appreciate kerna seekhien #PSLV #PSL5 #psl Start toh honay do Bhai!!

— Faria (@FariaSays) February 20, 2020
How have you been liking the PSL? Let us know in the comments below!