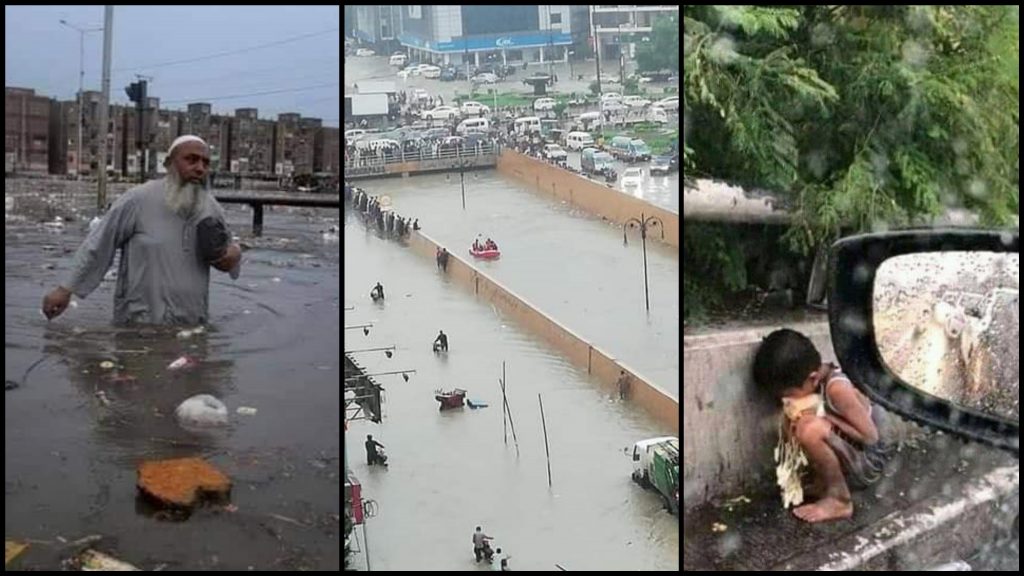 It's heart breaking to see the city that generates more than 70% revenue being ripped apart by record breaking rains. It's citizens worried and scared for their lives and their belongings as the city continues to be butchered at the hands of heavy rains.
Astonishing views of this raining days same are enjoying and same want helps.#KarachiRain pic.twitter.com/DYVfz8KgwJ pic.twitter.com/mTrJAYoOWh

— yaseen (@janyaseen34) August 27, 2020
The crisis prompted the provincial government to declare an emergency in the province. The heavy rain which began pounding the city early Tuesday morning continues to storm drains and dozens of other choked drains still overflowing, 3 bodies were also found in Gujjar nullah earlier:
The sitaution of tipu sultan nullah near baloch colony bridge… never happened before.. thank u sindh govt jiye bhutto 😡#KarachiRain #KarachiNeedsAttention @AajKamranKhan @MazharAbbasGEO @MaddyWithKhan @MusaNV18 @MashwaniAzhar @Hammad_Azhar @mubasherlucman @SaeedGhani1 pic.twitter.com/l1STWrZ0jy

— Muhammad Savaiz Khan (@Savaizkhan21) August 27, 2020
The situation here in sector 16/A BUFFER zone the linkage nala of (gujjar nala) overflowed pic.twitter.com/ti57E1UoTN

— مـــــــــدثرحـسین (@mudassir436) August 21, 2020
Low-lying areas in the city have been suffering major damage as they still hadn't fully recovered from the rains earlier, the rains today have only made it worse:
Furniture Market.Aram bagh#KarachiRain #Karachi #KarachiRains pic.twitter.com/oSX9GOw9n1

— Faisi (@Faisi_Says) August 25, 2020
This is DHA Phase 6 Karachi. What is happening in the low lying areas of KHI today is devastating yet once again.
Testing times for Karachiites yet again!
No doubt Allah tests those he loves the most.#KarachiRain #KarachiSinks #RainEmergency pic.twitter.com/MEBgRxWMCs

— Ali Haider Zaidi (@AliHZaidiPTI) August 27, 2020
Karachi #KarachiRain pic.twitter.com/lDGRWiLaXV

— Murtaza Ali Shah (@MurtazaViews) August 27, 2020
There has been no light in Korangi, Karachi since morning and these people have been tirelessly taking out water from there homes. I request to please pray for them and for the people of Karachi#KarachiRain #Karachi pic.twitter.com/c4ocfDMX5L

— Hafsa Abbasi (@HafsaAbbasi20) August 27, 2020
3 Talwaar #KarachiRain #karachirain #Karachi pic.twitter.com/wSUxf87wD0

— Halaat Updates (@halaatupdate) August 27, 2020
Rain water enters inside residential areas in DHA Phase VI.

VC: Nadeem Arif#TOKAlert #KarachiRain pic.twitter.com/J6K5vKBzcu

— The Times of Karachi (@TOKCityOfLights) August 27, 2020
Citizens are fearing for their lives:
The craziest rainfall I have seen in decades. DHA is completely flooded, Karachi will be destroyed if this continues for another hour. Ya Allah madad!

— nma (@namaloomafraaad) August 27, 2020
People who were out during the rain faced extreme difficulty as their vehicles broke down, some filly immersed, some barely floating. Their engines will seize, body will rust and years of savings will go down the drain:
Meanwhile in #KarachiRain pic.twitter.com/WRSQGAZvri

— Siasat.pk (@siasatpk) August 27, 2020
I feel bad for the car owner 😔#KarachiRains #KarachiSinks #جہاں_نالاگندا_وہاں_بھٹوزندہ pic.twitter.com/FAEXCutBmb

— 🦋 'ن' خ (@nailatanveer) August 25, 2020
Situation in Karachi at Nagan chowrangi. Waqt agiya hai Karachi wale sab nikle aur bhutto ko bilawal house se bahar nikal kar sarak per latka den pic.twitter.com/9omD6YLRsd

— Shazè (@Shazorasious) August 25, 2020
The main roads and underpasses are a sad state of affairs in themselves cutting off access:
URBAN FLOODING IN KARACHI
⚠️⚠️⚠️ Stay home stay safe everyone 🙏 #KarachiSinks #karachiRain pic.twitter.com/6Hi54pITJc

— Asim Jofa (@asimjofa) August 27, 2020
Shar-e-faisal right now.
Shame on sindh government #KarachiRain pic.twitter.com/h9FhWHD2KZ

— Syed Ali (@SyedAli92487344) August 27, 2020
Operations at different ports in the metropolis were mostly suspended after record monsoon showers left them inundated, bringing the cargo/shipping handling to a halt:
#KarachiRain : Port Right Now! (Aug 27, 2020)

🔴 Subscribe Our YouTube Channel : https://t.co/XuTCOL1CWx
@JUSTNewsHD | #KarachiRain #Karachi #Rain #rain pic.twitter.com/KRhGMJIkXR

— JUST News (@JUSTNewsHD) August 27, 2020
Graveyards are another story, with heart wrenching videos of graves sliding one after another:
#KARACHI: Gizri #Graveyard and this time it's even worse this is gate no 4.#Karachi #KarachiRain pic.twitter.com/7dYIrIKizP

— Anisuddin (@Anisuddin86) August 25, 2020
Stray animals suffer:
Just saw 3 dog swimming and cry for help. Please help stray animal of karachi they are also suffering.
#KarachiRain

— Safoora Ahmed (@SafoorAahmed) August 27, 2020
It's been nothing less than a nightmare for the citizens:
This rain is a nightmare. Our ground floor is flooded. The first floor constantly dripping rain water in. No electricity & no way we're touching anything to turn the generator on. No gas. An absolute nightmare through and through 😳

— Khizra (@KhizM) August 27, 2020
Heart breaking:
No electricity, no dsl internet, moving furniture and laying down a bunch of towels everywhere as rain water is flooding in from all corners of the house, and on top of that, I have an interview on Zoom in half an hour. Just another day in the life of a Karachiite.

— Faisal (@OneAndOnlyCFC) August 27, 2020
And while the rain wreaked the city, people were finding ways to be prepared beforehand next time:
You know this is not about cleaning gutters, right?
Fixing Karachi flooding means mass relocations, razing homes & shops, compensation, restoration of waterways, rebooting entire informal property market. Political & economic costs. Can't be done without consensus.

— Nazish Brohi (@Nazish_Brohi) August 25, 2020
Aameen!
اللّهُمَّ صَيِّـباً نافِـعاً
May Allah make this rain beneficial
May Allah make things easy for those who are suffering because of this heavy rainfall
#KarachiRain

— Sumaiyaaa 🇵🇰 (@dezaster_here) August 27, 2020
Every year hundreds of people die, thousands become homeless and nothing ever comes out of the situation, Karachi sheher subka, magar Karachi ka koi nahi?