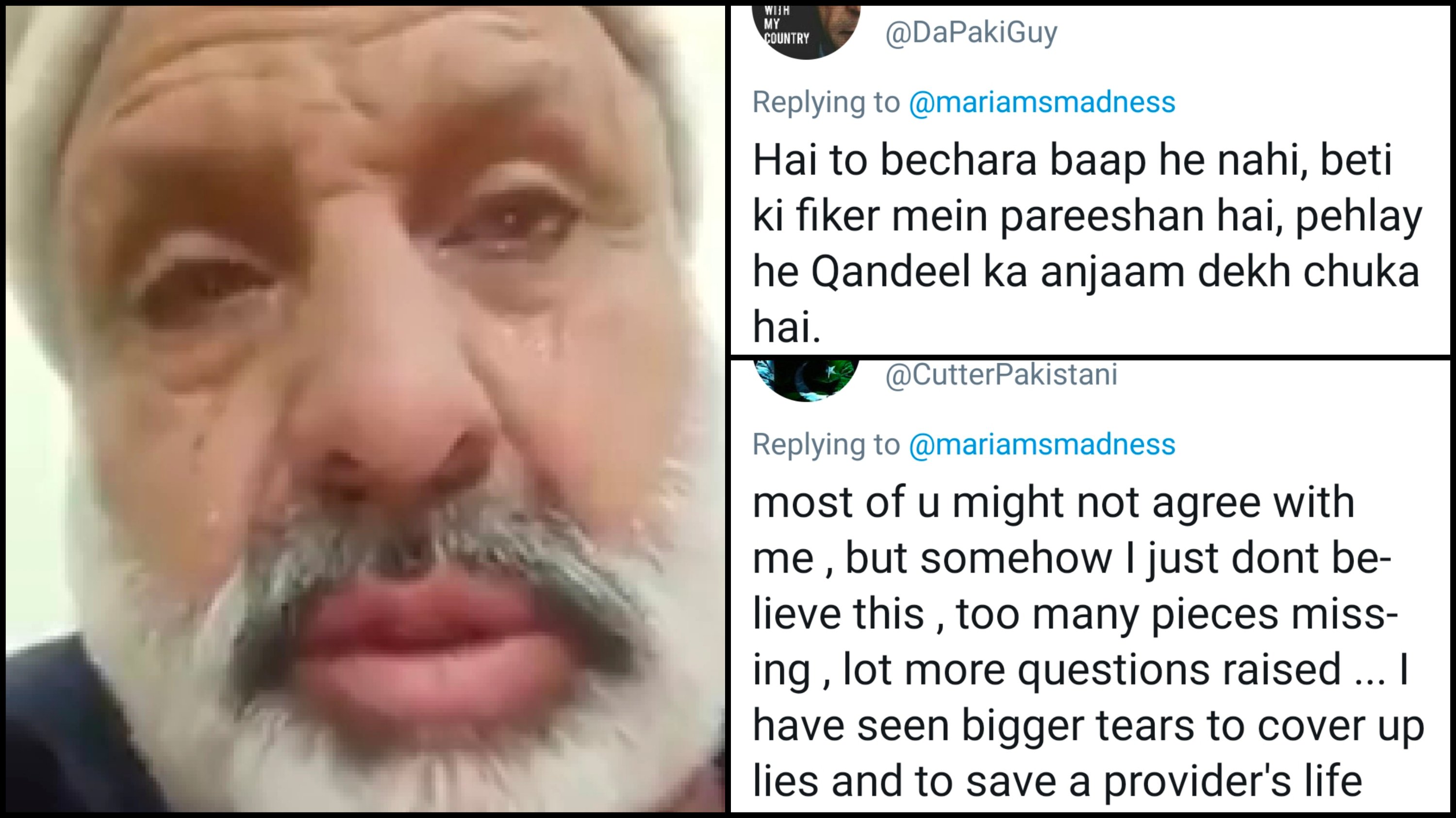 Tik Tok star Hareem Shah has been quite the centre of attention ever since she filmed videos in the Foreign Ministry of Affairs. Hareem has been surrounded by many controversies lately, from leaking private videos to a hundred fake accounts tweeting out one video after another, there's no stopping.
Following the recent leaked clips circling on social media, Hareem's father took to internet to apologise for her daughter's actions:
Heartbreaking to see Hareem Shah's father in tears in his video message, apologizing saying he is ashamed of his daughter's behaviour.
"Hum dushmani kar laytay haen lekin logon ki izzat nahi uchaltay." pic.twitter.com/VSotrVQH58

— Mariam's Madness (@mariamsmadness) January 2, 2020
The man can be seen crying throughout the video and hopes that people will forgive her for all the hurt and inconvenience she's caused them. The video garnered mixed response from the netizens:
ALLAH sbko naik aulad dy jo maa bap ko burhapay main na rulaye

— Farhan Haider 🇵🇰 (@FarhanSpeakss) January 2, 2020
Some were worried that this might turn into a case like that of Qandeel Baloch's:
Hai to bechara baap he nahi, beti ki fiker mein pareeshan hai, pehlay he Qandeel ka anjaam dekh chuka hai.

— 🄰🅁🄽🄾🄻🄳 🇵🇰 (@DaPakiGuy) January 2, 2020
Many were heart broken at the helplessness of a father:
مجھے اس بندے کی لاچاری نے رُلا ديا ھے ، خدا نا خلف اولاد کسی کو نہ دے

— AmarramA (@amar_ishaq) January 2, 2020
People were feeling sorry for Hareem's father:
Feel sorry for this poor guy.

— waqas (@waqasm20) January 2, 2020
Some shed tears with the father:
Awwwwwwww.. mein bhi ro rahi houn..

May Allah give uncle patience and protect him from this hardship, may Allah give hareem and us all guidance and may we be the coolness of our parents eyes ameen
Some hardships are written, they're tests. May we stand w/ him w/ compassion ameen

— Sicily (@NadiaPTI) January 2, 2020
literally my heart is crying for him! He is respected man of our society but our surrounding environment is destroying the whole new generation. Respect!

— Moonlight Eagle (@MoonlightEagle) January 2, 2020
People were sending prayers:
Shattered beyond words! May Allah have mercy on this man. Rarely you see such naked pain.

— Naeem Muhammad (@mnaeemaz) January 2, 2020
Some were using the situation as an example for social media ruining families:
He is a father. Respect him. A classic case of how careless use of social media can ruin families..

— BabaYaga (@11BabaYaga11) January 2, 2020
Some were of the opinion that it was too late for an apology:
A bit late. Innit?

— @tomejones1 (@tomejones13) January 2, 2020
Some weren't convinced:
most of u might not agree with me , but somehow I just dont believe this , too many pieces missing , lot more questions raised … I have seen bigger tears to cover up lies and to save a provider's life

— #iBleedGreen (@CutterPakistani) January 2, 2020
Why am I not affected?
Why do i think he's complicit?
Why do I think this is another act?

— s bad (@sindbad40chor) January 2, 2020
Some thought Hareem may be suffering from Schizophrenia:
Probably she is suffering with a mental health condition called "schizophrenia" involving some breakdown of relationship between her thought, emotion & behaviour, leading to faulty perception. She needs medical help but sadly ppl in Pakistan have no understanding of her situation

— Matters? (@azadi_matters) January 2, 2020
People think there's more to the story:
I have full sympathy with this old man!!! But how's it possible that he was totally unaware of his daughters actions. She must be unavailable from her home for long. She must be visiting with lots of money in purse. For me quite strange but Allah reham karey sab par

— JeenaK (@Jeenakabir) January 2, 2020
Some just didn't get thr point of the video:
So whats ur point?.mtlb k usne jo kiya wo thk tha or uspe parda dalna chahiye tha?.for remainder.she started by telling aj ik or expose hoga and made list of it ..agr uska baap ansu me he to beti ko smjhay ghar bthaay khula chora wa he yr idhr kuch ni rkha jao bae beti smbhalo https://t.co/EkYHyS27Zh

— Husnain (@alihusnain230) January 2, 2020
People were praying that the situation doesn't turn out to be like Qandeel's:
I pray that she does not end up like Qandeel Baloch 😳 She really stupid https://t.co/3hHH3RfNLQ

— H (@Hasnaat_) January 2, 2020
She's so stupid, teasing some powerful politicians. Don't wanna witness another Qandeel Baloch episode smh https://t.co/dM3L4QySQJ

— Ahmed (@AhmedDamn) January 2, 2020
Some thought he was threatening to kill her:
By the word qurbani is he threatening to kill her
This is insane

— Usman Hanif 🌐 (@second_chapter) January 2, 2020
Some were calling it a drama:
Not buying this shit! Enuff of this drama https://t.co/ZppIJ9iJ8H

— Mr_Lad (@MrLad7) January 2, 2020
Just Topi & drama

— BlackMamba (@HaroonSarfrazJ) January 2, 2020
Some thought he had exposed himself:
Really? That's heartbreaking for you? Not the part where he's proud he didn't send his daughters to college? Wish people were equally zealous about the men she exposed. https://t.co/4zZkFMqA6J

— Farhan Janjua 🏳️‍🌈🇵🇰🇩🇪 (@FarhanJanjua) January 2, 2020
People had questions:
Why is he referring hareem shah
Isn't her name fiza Hussain

— [email protected] (@greenredchilly) January 2, 2020
I don't understand the meaning of this video and why is he calling her Hareem Shah

— Syed Hasnain Kamal (@SyedHKamal) January 2, 2020
Some has theories that the girls were being 'used:'
I can feel the pain and I pray may Allah show both of these girls the right path and come back home. They are being used. We can forgive them. I am not sure who are behind them and what is their motive. I was happy @mubasherlucman was using the word 'beti' for both yesterday

— Syed Fraz Ali (@syedfrazali) January 2, 2020
Aameen:
Allah ham sab ka dono jahan main parda rakhain or hamary gunaho ko maaf farma Allah SWT ham sab ki izzatain mehfooz rakhain

— عظیم باچا علیزئی (@azeembaacha) January 2, 2020
What do you think about this scenario? Let us know in the comments below!