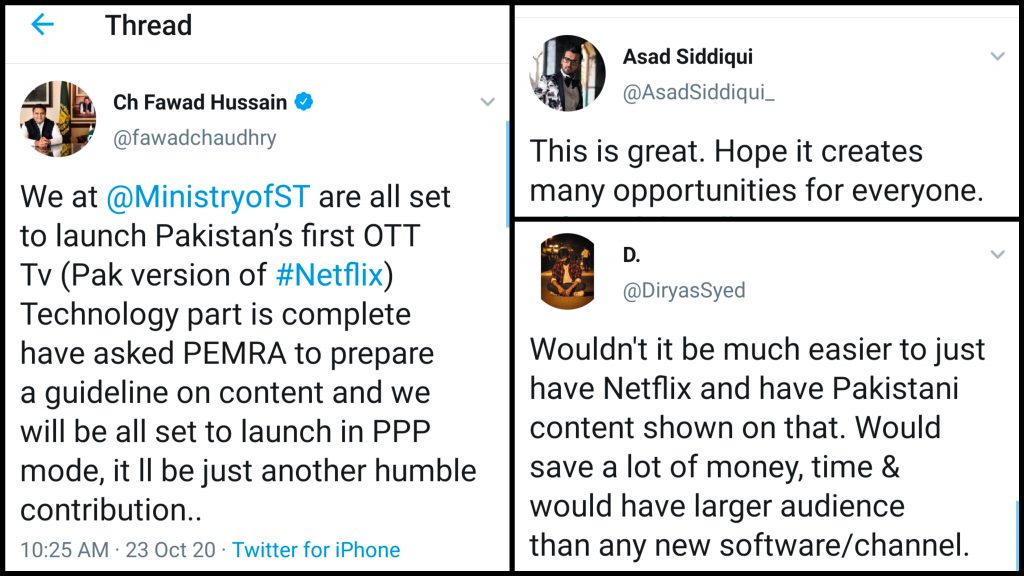 Judging the popularity of content streaming apps like Netflix and Amazon Prime, Pakistan will soon be launching its very own app (OTT TV) for people to stream their favourite content online as revealed by the minister of Science and Technology, Fawad Chaudhry:
We at @MinistryofST are all set to launch Pakistan's first OTT Tv (Pak version of #Netflix) Technology part is complete have asked PEMRA to prepare a guideline on content and we will be all set to launch in PPP mode, it ll be just another humble contribution..

— Ch Fawad Hussain (@fawadchaudhry) October 23, 2020
And the application has Pakistanis excited!
Excellent @fawadchaudhry https://t.co/Za2fU1yiqk

— Ali Zafar (@AliZafarsays) October 23, 2020
Actor Asad Siddiqui found the initiative to be great:
This is great. Hope it creates many opportunities for everyone. @fawadchaudhry https://t.co/Rfixbifo7n

— Asad Siddiqui (@AsadSiddiqui_) October 23, 2020
People were suggesting that PTV's content be digitized as the first step:
To start, digitise PTV's old content and put it on.

— Sikander F. Bhadera (@SikanderFayyaz) October 23, 2020
We hope so too!
Wow! I hope we ll have a huge list of dramas, movies & documentaries to browse thru, both domestic & international! https://t.co/yAJA53jcby

— sana wasif (@sanawasif) October 23, 2020
Suggestions were pouring in:
please add Alpha bravo Charlie, Ankaboot, Ainak wala Jin, Beti, Dil se Dil tak, Dubara and others old PTV drama serials https://t.co/t0oMkuk1jO

— He. (@twixsid) October 23, 2020
Great initiative !
Please put all the old and classical movies and dramas on it. https://t.co/Me5NUqHwgD

— Khurram Sheikh (@khurramfakhar) October 23, 2020
Iconic!
Imagine streaming ABC, Dhuwan and all old PTV content https://t.co/xNBtqsFpbC

— big sad (@KhaNuBya) October 23, 2020
People were hoping for the best:
Let's hope it's worthwhile and original https://t.co/8PuaWzO1FQ

— HyperSalon (@hypersalon1) October 23, 2020
Well done & best wishes https://t.co/oq8jj8XJlu

— nali (@iszu95) October 23, 2020
People were loving it!
GREAT NEWS FOR PAKISTANIS. KEEP IT UP CH SAHIB https://t.co/q5bvU6aU92

— kaschif barakzai (@kaschif45) October 23, 2020
WHAAAATTTT OMG https://t.co/fHIMdTwIzA

— . (@0_fuzz_0) October 23, 2020
Hahaha!
PTA has already taken notice, and Ansar is readying his tweets about spreading Fahashi as we speak https://t.co/qpRpvrTfsy

— Arhum (@arhuml92) October 23, 2020
I guess we'll have to wait and watch:
Looking forward to it.
Hope it will come out as a great opportunity for independent content creators. https://t.co/vT6qZvLALy

— Usman Ali (@iamusmanali7) October 23, 2020
People were lauding his efforts:
That's a very good step. Surprisingly, Fawad Chaudhry had turned out one of the most effective ministers of PTI government. Credit where credit's due. https://t.co/CniW5TurJE

— Minhal Raza (@Minhal512) October 23, 2020
And while many were excited for the venture, others had their reservations:
As much as I like this idea, don't you think an online subscription based service should be free from the crutches of PEMRA? Because the doesn't necessarily need the same level of censorship as TV. This would allow our industry to be more creative and original

— Glorified Mazdoor (@EdBasheeran) October 23, 2020
People were just not amused:
Sounds exciting! Our very own platform of heavily censored and regressive content! The question is, will it be open to showcase the diversity within Pakistan or stick to the outdated saas/bahu crap! Cannot wait to read #PEMRA's guidelines… https://t.co/A51BasAYVV

— Ali Hafeez (@_alihafeez) October 23, 2020
People were demanding that the platform gives creative freedom to creators:
sir agar is per bhi regulations hi lagani hain toh phir kya faida 🙁 pakistani creativity needs to be shared without limitations, koi EK platform toh dein 🙁

— meltdown dealer (@fay_alif) October 23, 2020
People were disappointed:
its totally useless if its controlled by pemra. it will be just another tool to manipulate public opinion or sas bahu soap opera…People watch netflix bcoz they offer high content and original shows

— Mo Kloppistani 🇵🇰🏆 (@fedupPakistani) October 23, 2020
Some had questions:
Govt. Ministry making people pay for content when we already pay PTV taxes on our utility bills? https://t.co/GPyHB2MDny

— Owais Ahmed (@GoStudyOwais) October 23, 2020
Paid streaming service lene walon ko Bill main PTV ki license fees maaf hogi? https://t.co/aXiB9Cv6Kj

— SLEAZY MALE OPPORTUNIST (@hinasafi) October 23, 2020
Some had their speculations:
You know what this means.. .Netflix will be banned soon so people are forced to watch whatever this is https://t.co/dJnAdedUJ1

— Bissmah Mehmud (@bissmahmehmud) October 23, 2020
Some were of the opinion that it'd be better to shift Pakistani content to Netflix:
Wouldn't it be much easier to just have Netflix and have Pakistani content shown on that. Would save a lot of money, time & would have larger audience than any new software/channel. @fawadchaudhry https://t.co/lWMJC3mJ9W

— D. (@DiryasSyed) October 23, 2020
I mean…
Ab Saas or bahu ke phadday dekhnay ke liye paisay deny hon gay? https://t.co/BIU9klNgSN

— Wajahat 🌚 (@aby_saaley) October 23, 2020
What do you think about this initiative? Let us know in the comments below!