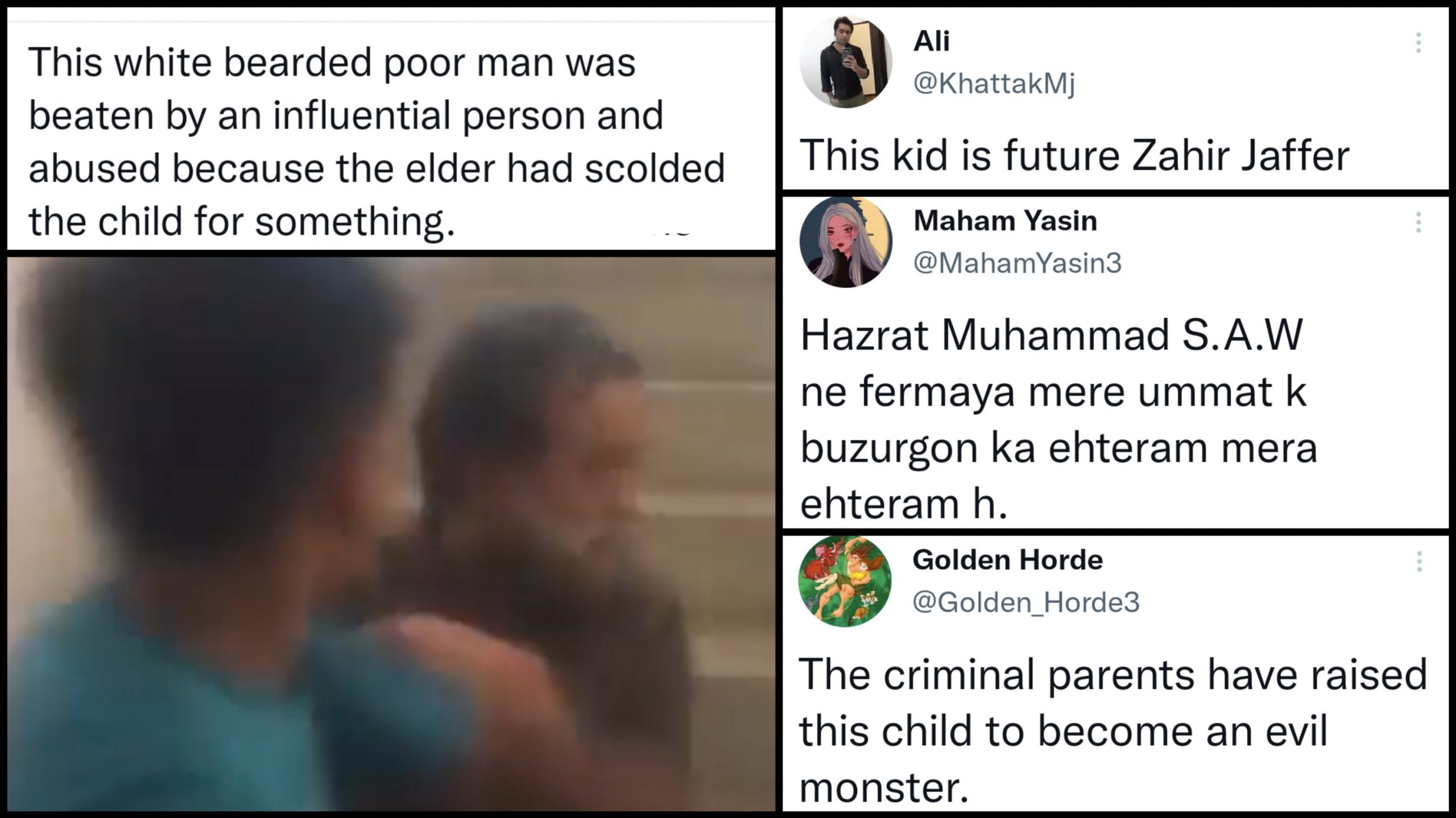 A video of a father telling his son to beat the elderly man who scolded the son has surfaced the internet where the hardly 10 year old kid can be seen slapping the old man over and over again while the father threatens and humiliates the man verbally. The video is reportedly from DHA, Karachi:
اس سفید ریش غریب کو ایک بااثر شخص نے اپنے بچے سے پٹوایا گالیاں دیں وجہ یہ رہی کہ بزرگ نے بچے کو کسی بات پہ ڈانٹ دیا تھا اس شخص کا فرعونی لب و لہجہ سنیں " مجھے جانتے نہیں ہو کیا " یہ واقعہ کراچی ڈیفنس تھانے کی حدود میں پیش آیا بچے کی جس قسم کی تربیت ہے کہ کل کو باپ کو بھی مارے گا pic.twitter.com/4tE8xX6Bxl

— Faizullah Khan (@FaizullahSwati) September 14, 2021
The video has outraged netizens and they want the father to be arrested!
اس شخص کو بس بد دعائیں ہی دی جا سکتی ہیں کیونکہ اوّلاً تو قانون کسی با اثر شخص پر ہاتھ نہیں ڈالے گا اور اگر ایسا ہو بھی گیا تو اسے ایک دو دن سے زیادہ جیل میں نہیں رکھا جا سکے گا، ضمانت ہو جائے گی یا غریب صلح پر مجبور کر دیا جائے گا۔ https://t.co/vDZ7XC4mVr

— Iqrar ul Hassan Syed (@iqrarulhassan) September 15, 2021
People were losing faith in humanity:
Humanity is dead inside us. We are training our next generation to be rude, don't care about anyone.
We are teaching Pharaohism to our children but don't forget that tomorrow is our turn because time does not stay the same, it turns upside down.@ImranKhanPTI @ShkhRasheed https://t.co/tLe4zOxWNV

— Muhammad Nauman Saleem (@Ch_Naumansaleem) September 15, 2021
People were sharing how this kind of upbringing will come back to them:
Good parenting has nothing to do with these pieces of crap. The same little brat will treat this crap head father in similar way someday . Because this upbringing will infix in his mind and habits . https://t.co/IghFeDLzDP

— half blood girl 🇵🇰🤝🇵🇸 (@ObnoxiousBrat) September 15, 2021
People were calling him the future Zahir Jaffer, Noor Mukaddam's murderer:
This kid is future Zahir Jaffer https://t.co/uqO1U2XaMq

— Ali (@KhattakMj) September 14, 2021
People were disgusted:
The guy in the video is saying the uncle hit the child first, which is absolutely wrong. But this in no way justifies what he asked his minor to do. Disgusting privilege show of from both sides. Should have dealt with the man himself. https://t.co/g4SUl0uqtK

— Aisha Randhawa (@HariMirchein) September 14, 2021
It surely will:
This will return one day with more intensity. https://t.co/erd8MSzZA1

— Kashif Zaheer (@KKamboh) September 15, 2021
People were hoping the father would meet the same fate someday:
He should wait for the day when he himself will get the same from the same child….. No offense he deserves this bad'dua….. https://t.co/i2s6vMrjTz

— Maryam☘️ (@Marium_43) September 15, 2021
People wanted the perpetrators to be behind bars:
Where this incident happened? These law violators should be behind bars!@DCLahore @dcislamabad @ShkhRasheed https://t.co/Hnu6oUqJ6x

— Naseer ul Islam (@naseer2abbasi) September 15, 2021
People think they deserved public lashing:
The father & the kid both deserve public lashings 😡 https://t.co/ruiIP1Movb

— Azam (@AzJ001) September 14, 2021
People were sharing what the Holy Prophet (SAWS) left us with:
PROPHET MUHAMMAD SAID:
"HE IS NOT ONE OF US WHO DOES NOT HAVE MERCY ON OUR YOUNG AND DOES NOT RESPECT OUR ELDERS."

We are Muslims By Name and Actually we are not Human Beings because our actions are worse than animals……
Shame Shame Shame https://t.co/utFP1lsQtj

— Ayesha Masroor 🇵🇰 (@AyeshaMasroor56) September 14, 2021
Hazrat Muhammad S.A.W ne fermaya mere ummat k buzurgon ka ehteram mera ehteram h. https://t.co/fWxFCopAk9

— Maham Yasin (@MahamYasin3) September 15, 2021
People had questions:
Shame on such parents, they are the reason why their kids turn into the radicals. You are infiltrating hatred and attitude in their innocent minds.
Where are the so called political liberals now???? https://t.co/L4tGRZzK6C

— Pakistani Raven (@PakistaniRaven_) September 15, 2021
People were angry:
What is he teaching his son? It's okay to be violent, it's okay to disrespect your elder, it's okay to verbally and physically abuse less advantaged. Shame on him, he is not fit be a human being, let alone a father 😡😡 https://t.co/vGDRao67Zp

— saiqa (@saiqa99192675) September 14, 2021
People wanted the nation to boycott the family:
The criminal parents have raised this child to become an evil monster.
Whole nation should boycott this evil family. Please retweet.#boycottevilfamily https://t.co/ayVC2Sa0XM

— Golden Horde (@Golden_Horde3) September 15, 2021
People were tagging the officials to get their attention:
The guy let his kid beat the old man over some conflict. This is how you raise monster. I bet this stupid kid will beat the crap of his own dumb father in future. Till then please take some action against this low life pathetic man! @ImranKhanPTI @ImranIsmailPTI @MuradAliShahPPP https://t.co/N09GCtUO7x

— Kashif Sarmad Khalid (@kashifkhalid786) September 14, 2021
People wanted the duo to pay:
No I don't know u personally, but I do know that you deserve a nice long jail sentence and your child needs a juvenile detention center. https://t.co/JAR2wkUez5

— Back in Black (@LordHades05) September 14, 2021
ZQ appealed that the Sindh Police look into this matter:
can @sindhpolicedmc8 investigate this plz and ensure the perpetrator is fined, named & shamed publicly and put behind bars. @murtazawahab1 Kindly look into this matter and update us here like @hamzashafqaat does🙏🏻 https://t.co/dcmPlmezZe

— Zainab Qayoom~ZQ (@zainaconda) September 15, 2021
What do you think of the situation? Let us know in the comments below!