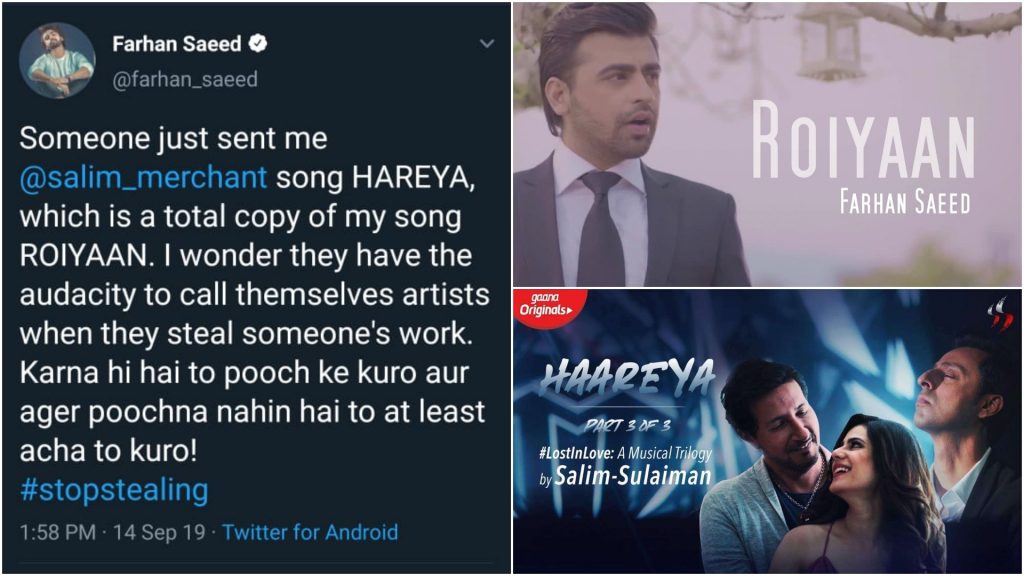 Farhan Saeed who is celebrating his birthday today was sent a clip of a song which has an uncanny resemblance to that of his song Roiyaan that he released back in 2014:
Farhan Saeed accused the Indian singer Salim Merchant for plagiarizing his song Roiyaan:
Someone just sent me @salim_merchant song HAREYA, which is a total copy of my song ROIYAAN. I wonder they have the audacity to call themselves artists when they steal someone's work. Karna hi hai to pooch ke kuro aur ager poochna nahin hai to at least acha to kuro!#stopstealing

— Farhan Saeed (@farhan_saeed) September 14, 2019
Farhan Saeed also continued to say how people who call themselves artists have the audacity to blatantly copy songs and release them under different name, in this case from Roiyaan to Haareya:
Farhan Saeed also threw major shade at the artist saying:
"Karna hi hai to pooch ke kuro aur ager poochna nahin hai to at least acha to kuro!"
He ended his tweet with the hashtag #StopStealing. The singer Salim Merchant replied to Farhan calling it a mere coincidence:
Farhan I just heard your song. It's a mere coincidence that the chorus of Haareya is like your song. To be honest I've never heard it before. It happens many a times when notes have a natural progression from each other. @Sulaiman & I have a track record of never plagiarising.

— salim merchant (@salim_merchant) September 14, 2019
Salim Merchant also stressed that he's never plagiarized anyone's work and has a clean track record with Sulaiman Merchant. Farhan also believed it could have been because of fact that they shared the same lyricist Kumaar:
@salim_merchant if you say so! Another co incidence is we have the same lyricist! Anyway good luck !

— Farhan Saeed (@farhan_saeed) September 14, 2019
Salim Merchant then suggested that Farhan checks in with their lyrcist Kumaar, and also assured him that had he heard Farhan's song first he would have gladly made changes in his composition and ended the tweet hoping that Farhan would understand:
Why don't you check with him!
If i had to copy, I would have done that way long back in my career. I really wish I had heard your song before I made mine. Would have surely made changes to our composition to make it sound different from yours. Anyway, Hope you understand..

— salim merchant (@salim_merchant) September 14, 2019
Fans stood strong with Farhan and agreed that it was indeed a copy of Roiyaan, that too a bad one 😂
I've heard that song and indeed it is one bad copy of Roiyaan

— Ushna_ox (@OxUshna) September 14, 2019
Fans assured him how no one cam beat his original number:
No can beat your roiyan wese bhi india ko choriyan kurne keh ilawa ata hi kiya so chill bhai 🤣 inshallah his version will be flop vert badly

— Rabbia Nouman (@Rabbia_Nouman) September 14, 2019
Farhan your song is in my library from many years, believe me no one can sing 0.0001% batter than you. Love it #Rohiyan

— Muhammad Rizwan (@mu_rizwan) September 14, 2019
No merchant can beat you at this bro. Keep excelling and let the rest follow (or copy..)!

— Abdullah Tariq (@abdullahtaq) September 14, 2019
Many called the Indians 'fail artists' who thrive on stolen work:
Hahahahaha. They are failed artists. Bechare chori hi krengy na.

— Out Spoken (@Whatever90905) September 14, 2019
People were shocked at the revelation:
Salim suleiman bhi chor niklay tobaah wasn't expecting this. Shame!!!

— Muzammil Mughal (@ladlamughal) September 14, 2019
Some suggested that Farhan sues the duo:
You should definitely sue them. The song is my personal favorite and he ruined it. Why do Indians have to copy our music

— Fizza (@Fizza18876947) September 14, 2019
@farhan_saeed sary coincidence inhi logo k sath hothy hn claim copyrights…. #roiyaan k sath koi compromise nhi

— Amna_harshad (@amnasoh05153438) September 14, 2019
Some dug up an old tweet from Salim Merchant, which in this case is simply ironic:
I may be a bit late in expressing myself about the remakes of old songs that almost every film has these days.
Are they really working ? Haven't we had enough already ? There is so much talent out there. Why not make original songs please!

— salim merchant (@salim_merchant) July 26, 2018
People were feeling bad for him to have to go through this on his birthday:
imagine waking up to this on your birthday!! the world is full of losers!! yeh dunia jhooti log luterey

— . (@brownsycophant) September 14, 2019
People were pointing out how India had lost it's originality long time back:
Agar wo bhi nahi karna tuo atleast copyrights ho dey doo, these BW singers have nothing left to do. Puranay songs ko remix or Pakistani songs ya singers ko copy karna hi bass ata ha ab. Originality is lost!!

— Nayab Fatima (@Nayab_fatima7) September 14, 2019
People were lashing out on Bollywood for being the dheet nasals they are:
What else you expect from an Indian? They are born to steal and copy. Majority of bollywood movies are total copy of Hollywood movies.

Dheet Naslain Hain!

— Dr Ayesha (@Dr_AyeshaNavid) September 14, 2019
Fans of the Indian singer too were sad to find out about the plagiarism:
India bhot sare song chori karta pakistan se or movie chori karta hollywood se liken afsos tab hota jab ap ka fav singer bhi is tarah ki chori kare sir @salim_merchant ider pakistan mai sab ap ki izzat karte hai q k ap deserve karte hai or ap bhi choriyan karne lage

— Abdullah Khan (@True_Amazing) September 14, 2019
And while both Farhan and Salim have somewhat addressed the situation, there has been no word from their lyricist Kumaar.
What do you think about the similarities between the 2 songs? Let us know in the comments below!