With the 22nd Lux Style Awards proving to be a night of glitz, glamour, and jaw-dropping moments, it was no surprise that fashion was the focus point through it all. Some shined and others simmered – but almost everyone had that red carpet moment they were hoping for! Amidst all of them, however, one designer shined! Or shall we say, his clothes did the talking?
If you don't know, who we're talking about, then the name you should have on your lips is menswear designer, Emraan Rajput.
That's right. It seems that the renowned Pakistani menswear designer managed to make quite the splash at this year's Lux Style Awards, with his creations gracing the red carpet in full force thanks to a list of celebrities and influencers who elevated their style game with the designer's iconic designs being under the limelight.
Which of your favourite artists donned on that ER ensemble? Diva explores…
Bilal Abbas Khan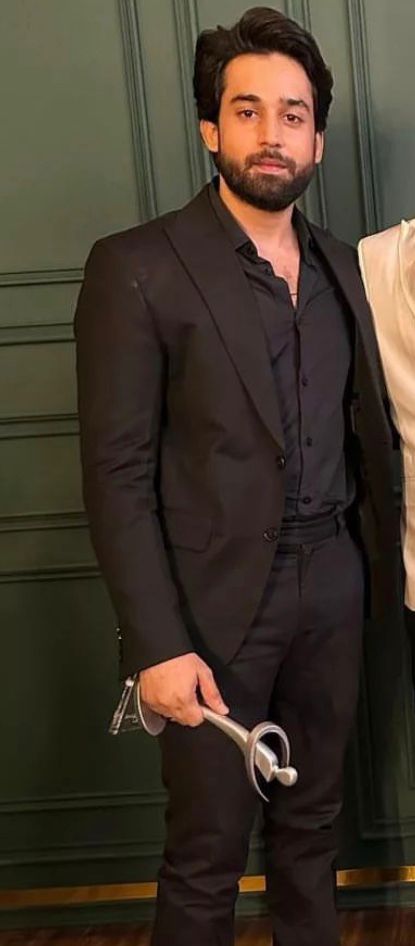 You may know him for his impeccable acting skills, but what we will now remember him for is how Bilal Abbas Khan turned heads as he walked the red carpet in a stunning all-black Emraan Rajput ensemble. The actor exuded charm and sophistication in a tailored suit that perfectly embodied the essence of Rajput's designs.
Kaifi Khalil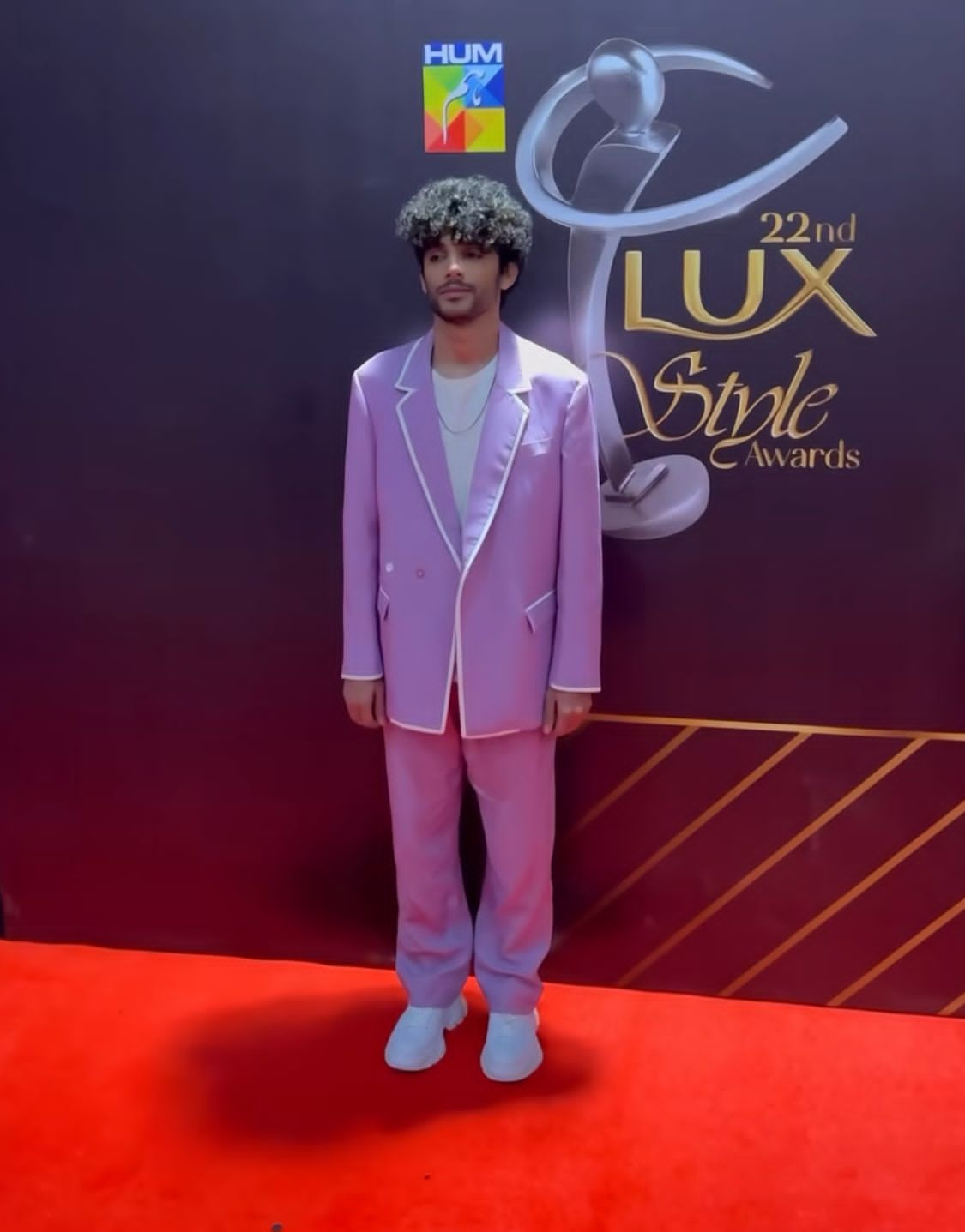 Kaifi Khalil, who turned out to be a big winner at the awards chose an Emraan Rajput creation that showcased his unique sense of style during his stint at the red carpet. His outfit not only complemented his singing prowess but also made him a standout presence at the awards night in the classy lilac manner Emraan Rajput envisioned.
Umer Aalam

The rising star Umer Aalam has been making it big across social media for a while now, and his bold fashion statement in an Emraan Rajput ensemble just added more pzazz to his personality. His blue self-print coat exuded confidence and style, solidifying Rajput's reputation as a go-to designer for those who dare to be different.
Usama Khan
An actor who is quickly winning over the critics for his exceptional acting skills, chose an Emraan Rajput creation that elevated his red-carpet presence. His glossy black velvet outfit exuded sophistication and charisma, capturing the essence of Rajput's designs while making him stand out from the crowd!
Maliha Rehman
While Emraan Rajput may have made his name with menswear, Maliha Rehman, the acclaimed journalist, proved that a statement can be made with her Emraan Rajput outfit. Her choice of attire with a decadent sherwani was a testament to the designer's ability to create fashion that transcends gender boundaries, empowering women with style.
MHM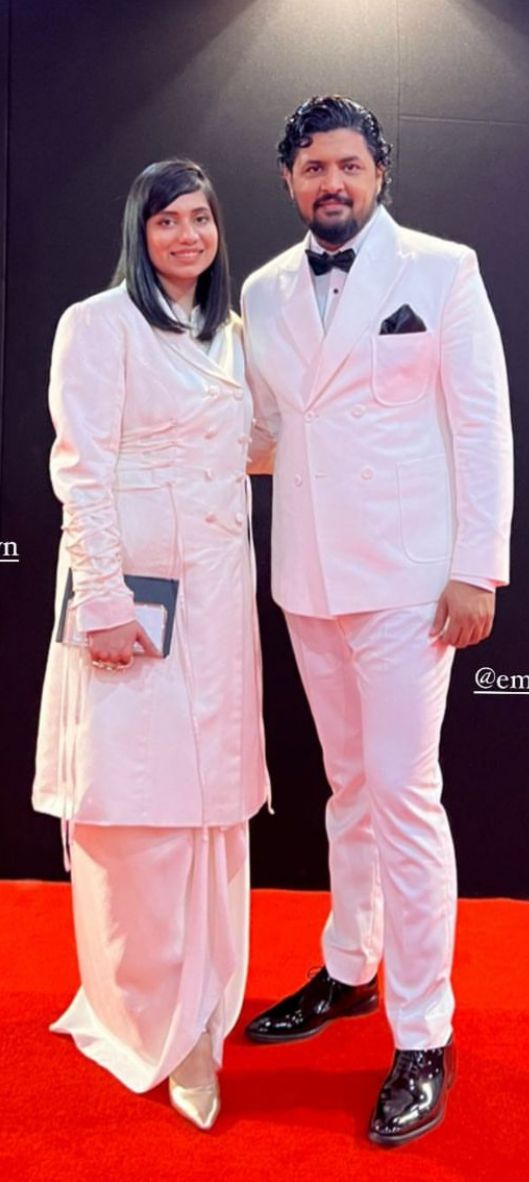 Who doesn't love an all-white look! MHM, the talented photographer, was a picture of grace in an Emraan Rajput creation. His ensemble not only reflected his artistic sensibilities but also emphasized the versatility of Rajput's designs which shined bright quite literally in all of its white glory!
Sauban Umais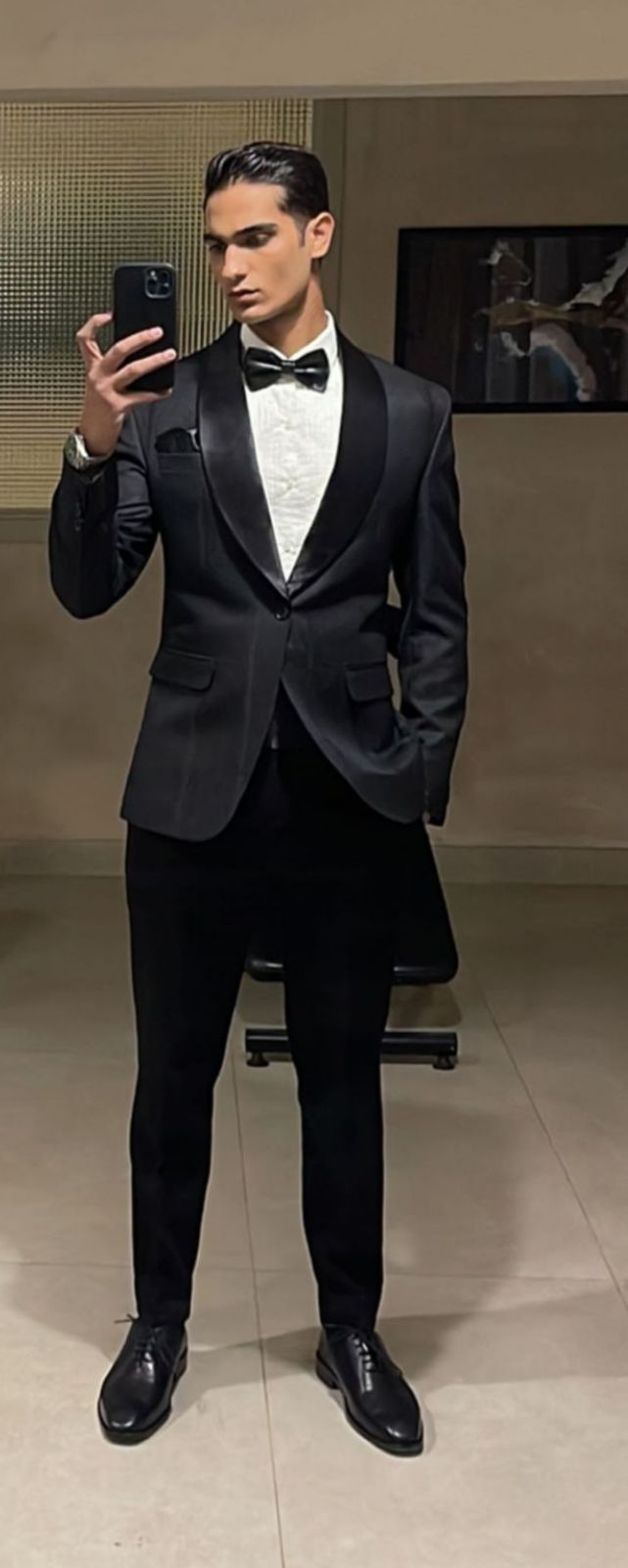 Sauban Umais, the striking male fashion model, strutted his stuff on the red carpet in an Emraan Rajput masterpiece. His presence embodied the designer's commitment to redefining the standards of male fashion.We couldn't stop loving that white tux shirt especially!
Saeed Rasheed
It seems a classy black suit was the memo for the show! Saeed Rasheed, another notable photographer, chose an Emraan Rajput classic black suit which reflected his style. His attire exemplified Rajput's ability to cater to the diverse tastes of the fashion industry. We like!
Arshad Khan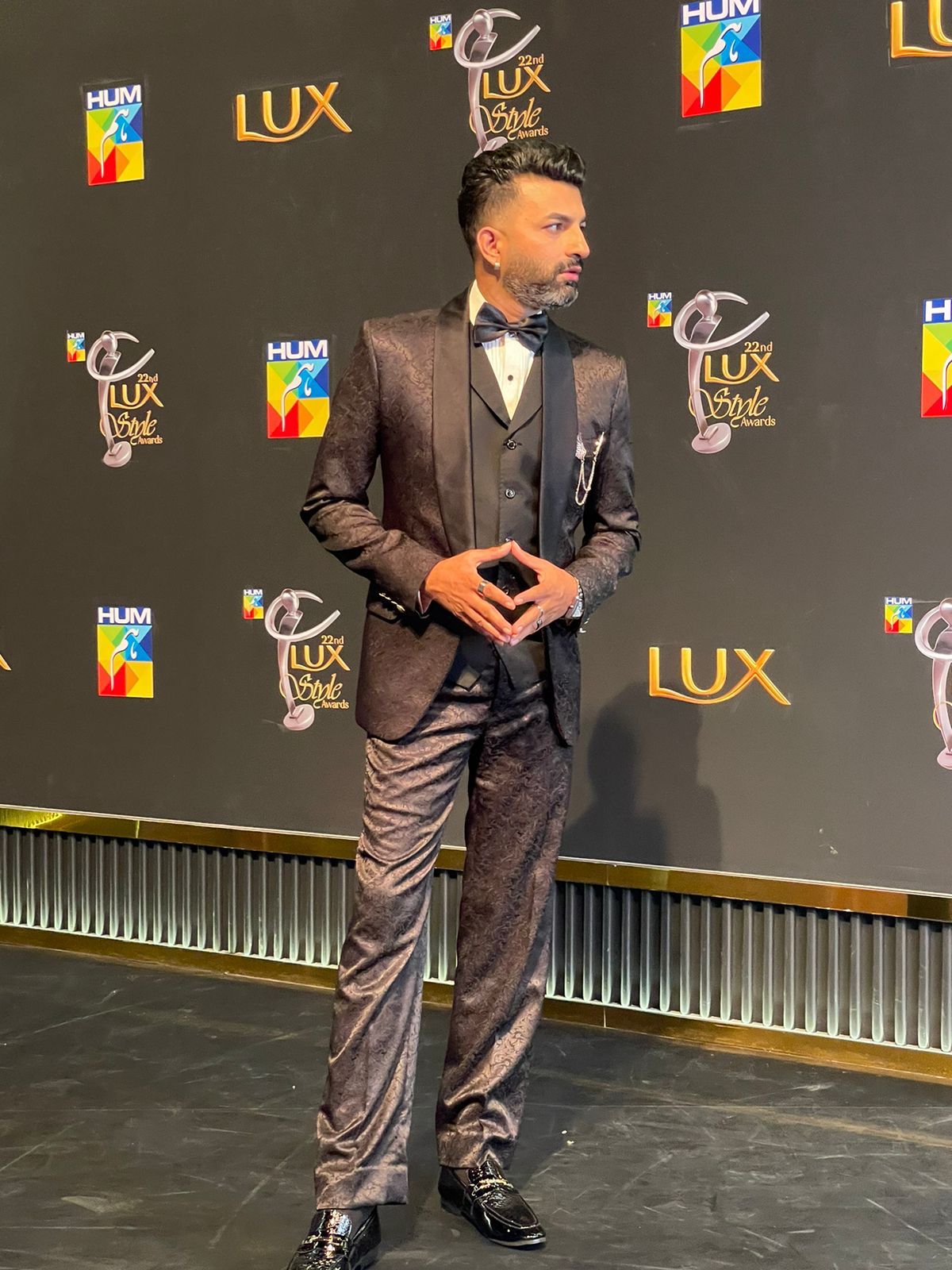 We love when men play with different prints – even if they are done in an understated way. Arshad Khan, the makeup artist extraordinaire, looked dashing in an Emraan Rajput creation which featured a self-printed suit. His ensemble was a testament to the designer's expertise in crafting outfits that make a statement both on and off the runway.
Hassan Choudhary
From the Haute trail to the red carpet, Hassan Choudhary, the journalist, opted for an Emraan Rajput ensemble that exuded elegance. His choice of attire was a testament to the designer's ability to cater to a diverse clientele and make them look as good as the film stars!
Qasim Ali Mureed
We have said it before and we'll say it again, houndstooth is as dashing as it goes. And Qasim Ali Mureed, the acclaimed director, made a powerful fashion statement with that in an Emraan Rajput creation. His outfit perfectly complemented his creative vision and artistic flair.
Arsalan Naseer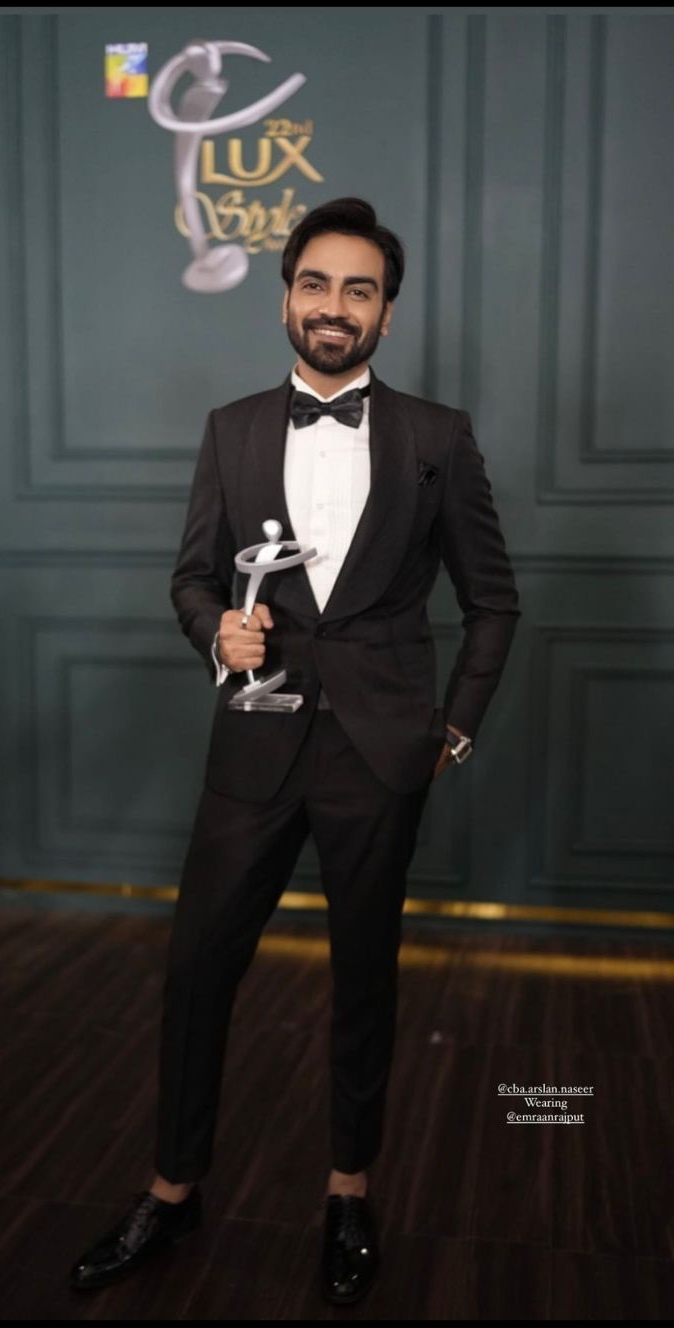 From the days of humour to the red-carpet for his acting skills, Arsalan Naseer, the versatile actor has come a long way. He donned an Emraan Rajput outfit that epitomized his unique style. His choice of attire was a testament to Rajput's ability to cater to diverse tastes and personalities.