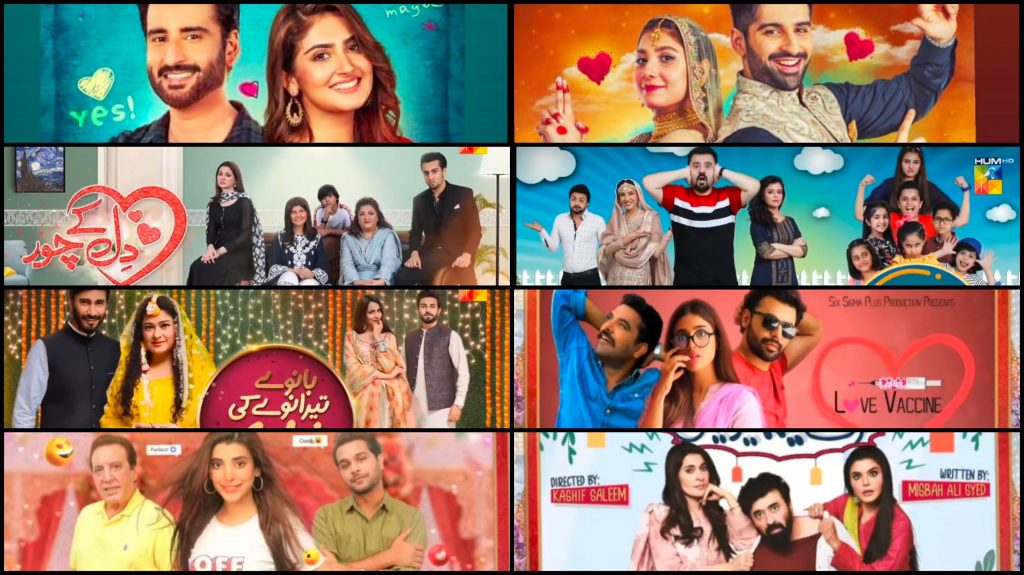 Eid this year is going to be yet another stay-at-home holiday as the pandemic continues. So while we're all trying to keep safe and socially distant, we've got way too many Eid telefilms to catch up on, here are the ones we're excited for!
Dil Ke Chor – HUM TV
Featuring the ever so bubbly Hania Aamir alongside Momin Saqib who's intense acting as Isa has taken everyone by surprise, it seems that Dil Ke Chor will have us all giggling as the match apparently made in hell will light up our screens! The telefilm also marks Shazia Wajahat's directorial debut.
92/93 Ki Shadi – HUM TV
Featuring the stellar Sania Saeed, Ejaz Aslam, Zarnish Khan and Ali Ansari in a theme that we don't see all that often and we're here for it!
2 Batta 8 – HUM TV
They say bachay 2 hi achay for a reason, and 2 Batta 8 is just that take on 8 kids in one very chaotic house which is nothing but a recipe for disaster!
Love Vaccine – ARY Digital
In an attempt to become a crore-pati, two friends decide to opt for a shortcut to being rich, crorepati ka pati ban ke, only to realise that they've been played! Featuring Farhan Saeed, Sonya Hussyn and Yasir Hussain pivotal roles we can't wait to see how the story unfolds!
1970, A Love Story -ARY Digital
With Javed Sheikh lamenting the side effects of smart phones and how it's affected relationships today, featuring Asim Azhar and Urwa Hocane, it's an interesting take on love and we just can't wait!
Uff Yeh Biwiyan – ARY Digital
Nida Yasir, Yasir Nawaz and Shaista Lodhi are returning to television, not in a morning show, but in a telefilm! Nida is finally ready to make her comeback after a decade and while the teasers hint that Nida and Shaista are Yasir's wives, it'll be fun seeing the twists and turns the telefilm has in store for us!
Filmy Siyappa – GEO TV
Wanting a bit of action on their boring wedding, all hell breaks loose when Nial and his dulhan end up getting way too much adventure than they hoped for! Featuring Hina Agha and Muneeb Butt, this telefilm's all set to make you LOL!
Zoya Ne Haan Kardi – GEO TV
Battling for a house the two like, Hiba Bukhari and Agha Ali are all set to fight over it! And from the title, we can tell that Zoya has said yes, either to the house or the man, or hey, who knows both?
What telefilm are you most excited to watch? Let us know in the comments below!