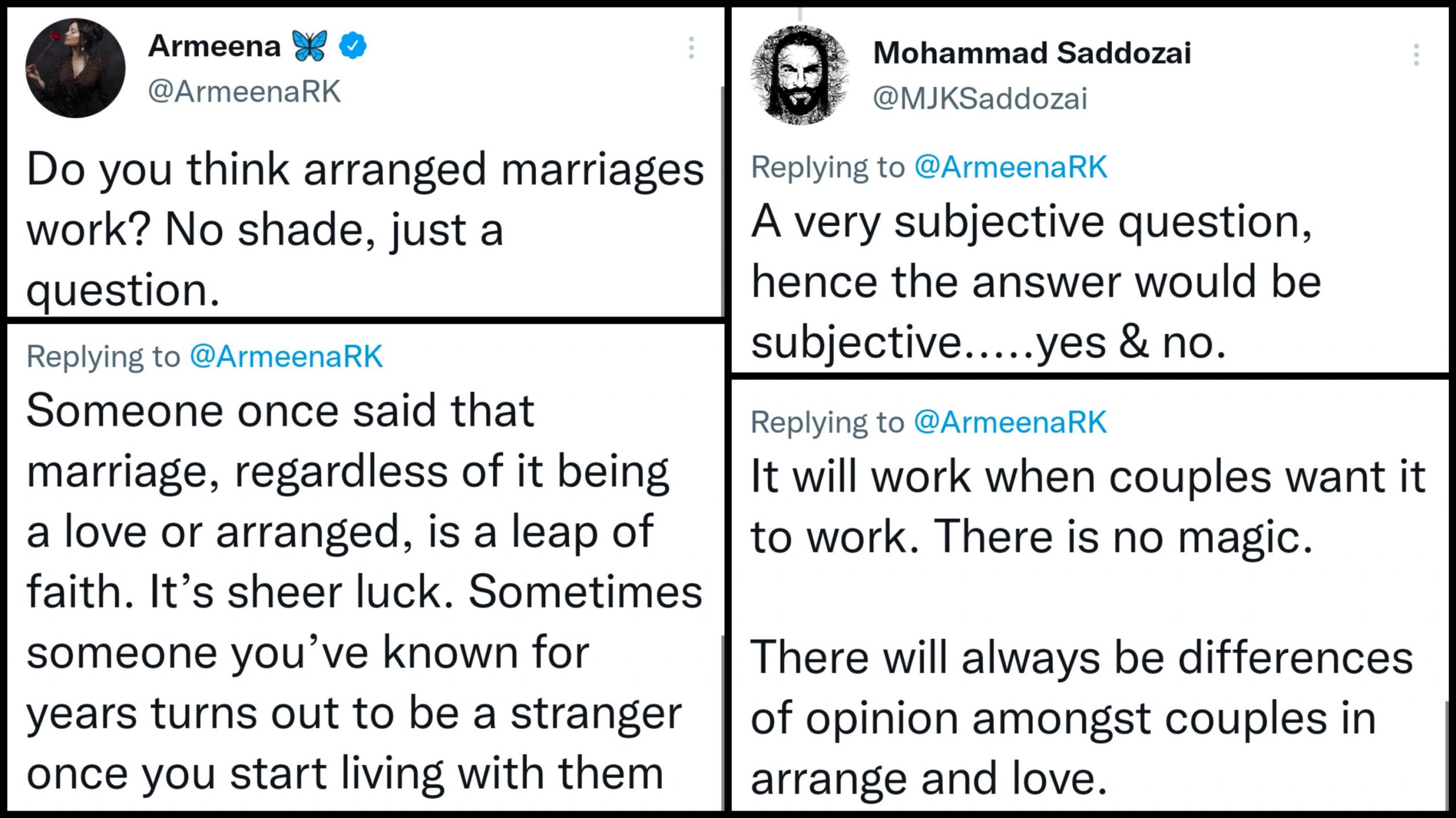 Actress Armeena R. Khan had a question for her twitter followers, she really wanted to know if and how arranged marriages work:
Do you think arranged marriages work? No shade, just a question.

— Armeena 🦋 (@ArmeenaRK) September 27, 2021
And the twitterati have a lot of tea to spill!
Of course it works When you are in a strong position https://t.co/WYC4Gs4qY2

— Mr Khan (@MrKhan18877) September 27, 2021
Makes sense!
It depends because with arranged marriages things can be hidden from either partner and it's like getting married to someone who you don't know. Either love or arranged, things shouldn't be rushed. Also both should know of their habits beforehand. https://t.co/i6OTfgrqDp

— Sam (@S4M33R97) September 27, 2021
Some thought it works most of the time:
Most of the times! https://t.co/cLE1LVBfI1

— معیز (@moiez_syed) September 27, 2021
Jo baat hai!
I think arranged marriages can work if you ask the right questions from your partner from the get go & make sure compatibility is there. It really depends mainly on your religious & culture values. Without that…no marriage can work. Period.

— Saima Qureshi (@Saima_Q) September 27, 2021
Ah, the real tea!
by the time you get to know your partner you've already had a child. and by the time you hate them you've had 3 more children, attended 7 weddings and 18 other family functions. so yes

— ammar (@ammar_balti) September 27, 2021
Hmmm!
No, I've yet to see an actual successful arranged marriage https://t.co/Mm5RlezjgF

— Ahmed (@DataNotWifi) September 27, 2021
Spot on!
Marriages will only 'work' when women are made to compromise. Because men don't ever have to compromise. On anything. For women it's a gamble. Doesn't matter which type it is.

— perpetually tired (@naheinyaar) September 27, 2021
So, compromise because everyone's feelings will get hurt otherwise?
Arranged marriage or love marriage. Both are kind of a gamble. But arranged marriages work more because I think too many people and their feelings are involved. Love mein everyone is like pooch lia hota.

— Simmy A (@SimmyA6) September 27, 2021
Only the privileged ones:
But I do feel like women are outgrowing the male dominating mindset so that's definitely something men need to get over.

— Saima Qureshi (@Saima_Q) September 27, 2021
Some believed it wasn't a simple question:
I mean of course SOME work….but that opens the door for much malpractice too…

But the answer to the question in a Vaccum is yes !

— Mr D'Arcy (@The_One1001) September 27, 2021
A very subjective question, hence the answer would be subjective…..yes & no.

— Mohammad Saddozai (@MJKSaddozai) September 27, 2021
People were sharing their recipe of a good marriage:
I believe for any marriage to work, key ingredients include common trust, compassion and empathy and side ingredients include shared responsibilities and caring for the spouse. Whether its love or arranged marriage.

— Qasim (@qasimfaraz) September 27, 2021
Absolutely!
Someone once said that marriage, regardless of it being a love or arranged, is a leap of faith. It's sheer luck. Sometimes someone you've known for years turns out to be a stranger once you start living with them & sometimes a stranger will turn into your best partner with time.

— Harinder (Heer) (@harinder_virk) September 28, 2021
Some believed that compromise is the only way to make any marriage work:
Both kind of marriages required sacrifices… Sacrifice of your ego, opinions, most importantly apni man maani ka sacrifice. Both has own advantages but to live through one must be determined to adjust his/her life in accordance with partner.

— Hamas Malik | حماس ملک | 🇵🇸 🇵🇰 (@im_hamas) September 27, 2021
Some had their own theories:
History says a large num of arranged and small num of love marriages have been taking place both have a ratio of success and failure but now a days since people are more educated instead of mitigation of failure it has been quadrupled so far due to the broken Family System

— Adil Wahla (@AdilWahla9) September 28, 2021
Agreed, mutual respect is important:
Honestly it depends like if 2 people are willing to make it work then yes it will, any marriage can work if put aside our ego or attitude and try to understand one another.Many times marriage doesn't work becuase 2 beings lack mutual respect and growth for one another 🙂

— Anamta Hakeem (@AnamtaHakeem) September 28, 2021
There is no guarantee for any marriage to work, arranged or love. Yes it can work if both people have entered into it wilfully and learn to have mutual respect and love for each other over time. Marriage is not all about love, when there are other things pyaar ho hi jata hai

— 🌻 (@thecommonrarity) September 27, 2021
Some shared how marriage is a process of continuous adjustments:
Successful relationships transform from "I" to "We". Many married couples fail in this transformation. Marriage is continuous process of adjustment & readjustment! Sometimes,one should be a mouth & sometimes,an ear,sometimes,goat & sometimes,knife! Temperament must be controlled!

— Engr. Mumtaz Ali (@MumtazPoweEngr) September 27, 2021
Some believed that all marriages, love or arranged, end the same way:
shadi chahay koi be ho us waqt tak chalti ha jab tak dono compromise kartay rahai jab ek akr jata ha to ultimately dusray ke kbi na kbi bus ho he jati ha and at that point … divorce
P.S. arrange and love marriage shadi sy pahlay tak k chonchalay hai.

— Salman Wahid (@SalmanW54210030) September 27, 2021
Very important!
As long as there is respect, honesty, and you back your wife up where needed such as if your sister, mother, aunties make fleeting comments which are unnecessary and hurtful. If you stand up for her once, early on, they won't do that again. Always give each other time and space.

— Sikandar🇵🇰 (@Talib_Al_Haqq) September 27, 2021
True, nothing comes guaranteed:
In my case, yes… 11 years n counting…
Generally it depends, either of the marriages may fail n vice-versa!

— Aasma Shabir (@la8jG1bPv70xtHz) September 27, 2021
There are no guarantees even in love marriage. Though risk of not developing understanding is high in arranged marriages. But it doesn't mean they don't work.

— Aşkim Rumi (@Askim_Rumi) September 27, 2021
People were sharing their personal experiences:
For me, the arranged marriage has proven the best.
Literally the best, Alhamdulillah.
Seven years have passed and many more to come In Shaa Allah.
It is all about understanding your partner and giving him/her the righteous space he/she deserves.

— Malik Waqas Latif Dogar (@waqasdogar1989) September 28, 2021
Umm, okay:
yes they work.
this is not written anywhere that marriage should be love.
If they are happy so love will automatically be there✌️✌️✌️

— Zukhruf🦚️ (@Zukhruf71148250) September 27, 2021
Some believed marriages can turn into headaches:
Depends on the will of both parties (the couple). If they don't have anyone else in life, they can accept it easily and convert it into love marriage and it lasts forever. Otherwise, it becomes a headache.

— Ghulam Rasool (@G_R_Mughal) September 28, 2021
People were sharing first hand experiences:
Out of we three sisters, eldest one is happiest in her married life Masha Allah and hers is totally arranged marriage. I have cousins who are happy with their arranged marriages. But There are few 'compromise' cases too.

— Maryam Malik (@Maryam_Malik84) September 27, 2021
True!
Just like love marriages, some work some don't work.

— JaY (@yehzbat) September 27, 2021
Man thinks he's up to something:
It's more kind of "Opposites Attracts" in case of Arrange marriegies because it's takes times to get to know each other and adjusting to each Others life style. While in Love both are on the two end of See saw trying to out power each other (short term).

— Malik Danny 🖤 (@danial_daud43) September 27, 2021
That's what the question is…
It doesn't depend on love or arrange…its about how your relationship is after marriage

— Faryab 🇵🇰 (@Faryab2) September 27, 2021
Facts!
It will work when couples want it to work. There is no magic.

There will always be differences of opinion amongst couples in arrange and love.

— Ahsan | أحسن (@ahsan2nasha) September 27, 2021
This!
Yes they work same as love marriages may work. Doesn't matter if love or arranged. It's how you deal with things after marriage

— Zunairah Iqbal (@zunairahiqbal4) September 27, 2021
A lot of people believed that the reason arranged ones work is because there are low expectations:
Marriage is something you can't imagine until you get into it. There is nothing to do either love or arranged. But somehow Arranged marriage is more successful cz you have less expectations.

— Amna Ammad (@amnakhaleeque78) September 27, 2021
I think one's expectations are less from arranged marriage so it works. On the other hand, by the time you really know if someone isn't for you, you have already spent too much time. Then family reput / children makes it difficult to quit.

— د – ج (@daaljeem) September 27, 2021
Interesting!
To me no marriage is good and no marriage is bad, whether love or arranged. The problem is giving space and learning coexistence.. if that is lacking, no marriage is good; learn it all all marriages are blessing!

— Inti (@intikhab1100) September 27, 2021
What do you think? Let us know in the comments below!