Cricket means so much more than just a game in India and Pakistan, we bleed cricket, we breathe cricket! And both the countries have given us phenomenal players over the years that have a great fan following on both sides of the border.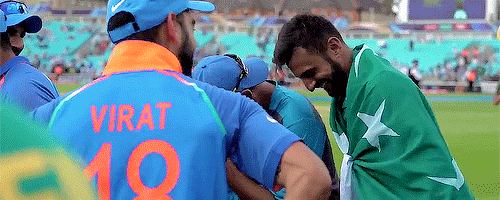 Recently, a man wearing a Pakistani jersey with Virat (Kohli) written on it went viral on Twitter!
THE BEST PHOTO OF #CWC19: Virat somewhere in #Lahore pic.twitter.com/gXy3lDN8PH

— Shiraz Hassan ਸ਼ੀਰਾਜ਼ ਹਸਨ (@ShirazHassan) June 9, 2019
As soon as the picture went viral, comments started rolling in from both sides of the border. And surprisingly the comments were full of love and support rather than hate:
True champion will always be appreciated all around the world..👏 👏 Going to fast also. Probably end up in oval 😁 😁

— amir hussain (@Iam_amir86) June 9, 2019
All for constructive criticism:
There used to be many Indians who were fan's of Pakistan bowlers like Shoaib Akhtar, Wasim Akram etc but lately Pakistan cricket hasn't been able to produce such cricketer's.

— Frodo🌈 (@fortheorlingas_) June 9, 2019
He does, rightly so!
He has so many fans in Pakistan

— Zee (@precioussssgirl) June 9, 2019
Yaaaas, we love cricket!
@imVkohli this is love for u from Pakistan. Doesn't matter u are from india or some other part of the world, we love cricket

— Zohaib qureshi (@Zohaib124) June 10, 2019
People immediaely started comparing this to the incident where a fan wearing Afridi's jersey was arrested in India
Indian fan jailed for wearing Afridi shirt wants to meet star all-rounder
People started questioning
We keep are grounds separate, I think this can only be happened in Pakistan as we are more tolerant society than indians, while in india minorities are being killed or victimised unnecessarily.. @adeel_azhar @Khalistan2020 @Khalistanpost

— Qazi Sheeraz Ul Haq (@SheerazQazi) June 9, 2019
Just Imagine Indian citizen wearing any Pakistani player's Jersey. Would have lynched to death or sent to Pakistan through Wagha Border.

— Usman🦄 (@Low_Key61) June 9, 2019
And Indians themselves drew a picture of what could have happened had the incident taken place in India:
1. In India, a man wearing a Pak jersey would get lynched on the street

2. news channels would say, 'sad, but dint he deserve it? Why was he cheering for our enemy?'

3. right wing will say, 'Jai Hind, he deserved it'

4. left wing will say, 'he almost deserved it'

— Jas Oberoi | ਜੱਸ ਓਬਰੌਏ (@iJasOberoi) June 9, 2019
It is very common to wear blue shirt in Pakistan. It is not india where Afridi fan was locked. In Pakistan majority wear Dhoni jersey no 7

— Dil Sher (@Adi_dil_khan) June 9, 2019
We do!
Rest assured he won't get #lynched in Pakistan … we respect talent beyond geograpghies

— Ahsan Shafiq (@Ahsan_Shafiq) June 9, 2019
If only…
Haha and a Pakistani flag. If only we could all live such simple lives

— Liz (@xephyrmania) June 9, 2019
Indeed!
Cricket has no religion

— Sandesh (@sandesh_26) June 9, 2019
But the tweet made sure a lot of people shared their love for cricketers of the opposing team on both sides of the border
A fan is a fan is a fan.
Till today Akram, Waqar remain fast bowling gurus in India.
I still remember innings of 72 by Salim Mallik in 1980's….He won it for Pakistan from brink of defeat single handedly..

— @Ary (@___singh) June 9, 2019
People from India couldn't stop praising the team:
Wah! This pic needs to be shared more. I was a fan of Inzibhai & Wasimbhai during their playing days. What a team you guys had!

— Hemang Shah (@hemang25shah) June 9, 2019
So many fans from India!
Wasim Akram has been my favourite bowler for all time. Sports heroes transcend boundaries for sure.

— Y R Sunil Kumar (@R_S_Kumar) June 9, 2019
Legends for a reason!
just like @shoaib100mph & @wasimakramlive Bhai most loved in india !

— Sııdharth Sııŋgh (@devilsidx) June 9, 2019
People even wished well to Imran Khan as a PM:
So was @ImranKhanPTI the cricketer . Wish his politics was like that of a true sportsman

— Anil Girotra 🇮🇳 (@anilgirotra25) June 10, 2019
These are the tweets that we live for!
There have been legends in Pak team-Wasim Akhtar, waqar Younis, Shoib akhtar, Aqib Javed, Inzi, Youhana, Afridi etc. Putting all the politics aside, people who are true cricket lover have praised these players for their amzing game.

— डेमोक्रेसी 🤔 (@mindtwister242) June 10, 2019
Yaaaas? Yaaaas!
Many cricket fans in India just like me are huge fans of lots of pak legends like shoaib akhtar, younis khan, yousuf, misbah, waqar, wasim.. In this team malik, wahab and Amir.. Illogical fans will be there on both side..

— deepak ranjan (@deep157) June 9, 2019
Even Pakistanis expressed their love for Indian players:
Virat is the greatest especially his fighting spirit. Wish we had someone like him in Pakistan

— Amir Altaf (@AmirAltaf5) June 9, 2019
There is many lover of Indian players… I miss @sachin_rt too

— Shahid Ur Rahman (@sur656) June 9, 2019
Virat Kohli is a great cricketer. Sports should be above out political differences. I have always been a fan of Gavaskar, Kapil Dev, Srikkanth, Dravid, Yuvraj etc. Cricket is a sport.

— Hammad H (@HammadHusain1) June 9, 2019
There was love for Amir and Wahab too!
Similarly we love Amir and Wahab Riaz.

Love from India. 🔥

— Shuvayan Das Gupta (@ShuvayanDasGupt) June 9, 2019
A spell that'll be remembered for decades!
From an Indian fanboy — Don't remember a more passionate spell in recent times than the one from Wahab to Watson. As a fellow desi, felt really good and proud to see him giving a fitting response to an arrogant Aussie!

— Sanjay Khan Nagra (@SanjayKhanNagra) June 9, 2019
Agreed!
No doubt @imVkohli is very good & skilful batsman.
More appreciation for u Mr. @imVkohli

— Tufail Raza (@shaheen11223) June 9, 2019
Love has no boundaries!
Cricket , art, music, fun have no boundary

Just chill indian bro
Guly guly me apko virat our dhoni k fan mulen g

I am biggest fan of @imVkohli & @msd7official
Love from Pakistan

— Anwer Ismail Rahimoo (@anwarismail72) June 9, 2019
Ummm, no.
Will he be termed as Anti -National??

— Hasin Choudhary (@hasin_ahmed) June 9, 2019
Absolutely!
yea its not something strange for us pakistanis coz
1. v hv sportsman spirit
2. v r not fanatics

— sap (@Fireball12fdm) June 9, 2019
India ki baat ho aur chai ka zikr na ho? Not possible :p
چائے پینے آیا ہے کیا… ؟؟

— Sahibzada Jawad Nizami (@SJawadNizami) June 9, 2019
One of the tweeps expressed how partition should never have taken place:
Partition was wrong in every way.
Few men sitting in a room decided the fate of millions. It resulted in the biggest genocide of mankind. The blood of those innocent lives is on hands of those so called policy makers. But now the divide is too much to fill.

— Sahil Dogra (@SahilDogra1) June 9, 2019
A lot more than you think!
How popular are @msdhoni and @imVkohli in Pakistan?

— Shreyansh Nanda (@shreyansh_1997) June 9, 2019
Only yesterday Virat Kohli won over a lot of fans globally after he asked the Indian crowd to applaud Steve Smith instead of giving him a hard time by calling him a cheater. The gesture was loved by thousands of people around the world, who are Virat fans now, including us!
With India fans giving Steve Smith a tough time fielding in the deep, @imVkohli suggested they applaud the Australian instead.

Absolute class 👏 #SpiritOfCricket #ViratKohli pic.twitter.com/mmkLoedxjr

— ICC (@ICC) June 9, 2019
Virat Kohli on why he asked crowd to stop chanting at Steve Smith.

"He didn't do anything to be booed. With so many Indians in the crowd I didn't want them to set a bad example. I asked sorry to him on behalf of the crowd"

Respect! Indian captain 💙

— Broken Cricket (@BrokenCricket) June 9, 2019
Virat Kohli is not only a great cricketer he is also a great human. Respect for King Kohli. 👏 https://t.co/xWd9wWJ1w4

— Mazher Arshad (@MazherArshad) June 9, 2019
Like someone said, cricket has no religion and art has no boundaries, we stan the love both countries share for these amazing cricketers! What cricketer is your favorite? Let us know in the comments below!