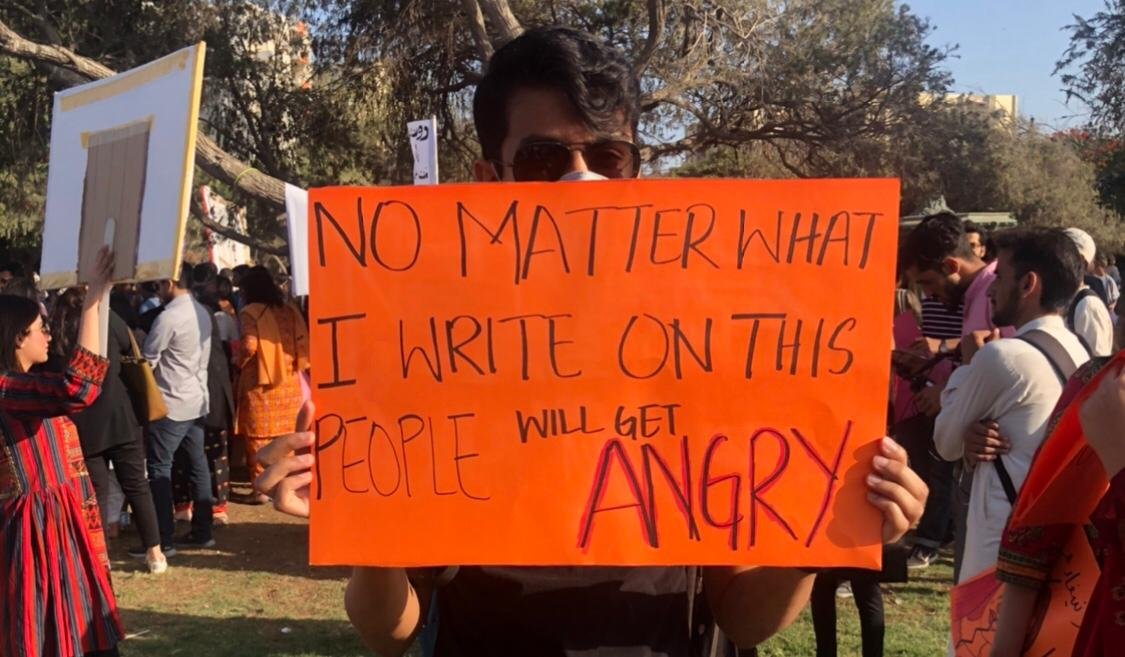 Yesterday was nothing less than revolutionary as women and men from all walks of life came out to march for women. A number of marches took place all over the country and the turn out was insane! Despite the march being hijacked in Islamabad the spirits of these women did not even flinch! And today we're sharing with you our favourite posters from the Aurat March!
Because 85,000 female doctors are not practicing in Pakistan. This one's for women in medicine #AuratMarch2020 pic.twitter.com/vig7l16C4M

— Maryam (@maryamful) March 8, 2020
This handmade shirt has our heart, so simple and yet so impactful:
Today I marched for all the victims of sexual violence and abuse. I stand with you. I remember you.

This shirt is handmade with markers to highlight the age range of the victims. #AuratMarch2020 #AuratMarchLahore pic.twitter.com/WS0uC4yiTr

— Javaria (@JavariaWaseem) March 8, 2020
All that matters:
Mahira Khan winning us over, yet again!
Why should we be paid less for the same work?
Pay gap in Pakistan is 40 percent. On aggregate women are paid 40% less than men. The reason for this is underrepresentation. Only 20% women work in Pakistan and hence even lesser reach higher positions. This costs 30bn$ to Pakistan's GDP. #AuratAzadiMarch pic.twitter.com/UfYFO8UWcN

— 𝘙𝘪𝘻𝘸𝘢𝘯 (@ChupShaa) March 8, 2020
Straight up facts!
Favorite most @fay_alif pic.twitter.com/6HMcfACyz8

— . (@PsychedSam) March 8, 2020
#ParentingGoals:
— ✨ (@bxreeeerrrrrrah) March 8, 2020
My feminist family is off to the @AuratAzadiMarch – I am proudly a feminist today because my parents gave me the courage, support and vision to be one. I march today for all the daughters who did not have this support. #WhyIMarch #AuratMarch2020 pic.twitter.com/aiKvIkSVoh

— Sehar Tariq (@sehartariq) March 8, 2020
Consent matters, every single time:
A woman is not an object to satisfy your lust irrespective of her choice. She is a human before she has a gender and humans should have the choice over their bodies even after marriage. If you don't believe this, there is no difference between you and an animal. #AuratMarch2020 pic.twitter.com/sDcV17UAvI

— 𝘙𝘪𝘻𝘸𝘢𝘯 (@ChupShaa) March 8, 2020
To all the innocent women who were murdered, abused and tortured for not bleeding:
Aurat march Quetta came thruuuuu pic.twitter.com/6Ux5p9umTb

— ﻡ, (@naheinyaar) March 8, 2020
Mubarak ho, Allah ne Rehmat se nawaaza hai:
Open for surprise pic.twitter.com/3HpAZW5P4O

— heer (@mafkaroyar) March 8, 2020
— 𝙰𝚕𝚒𝚣𝚋𝚊𝚑 (@callmeallu) March 8, 2020
Some very strong ones from Quetta:
Aurat march quetta! pic.twitter.com/NJZOcGAer6

— ﻡ, (@naheinyaar) March 8, 2020
Say no to domestic abuse:
My sister went to aurat march too!!! and took these. We stan#AuratAzadiMarch2020 pic.twitter.com/aLEfCCZIMx

— bears beets battlestar galactica (@sooploops) March 8, 2020
And that's all a girl should be: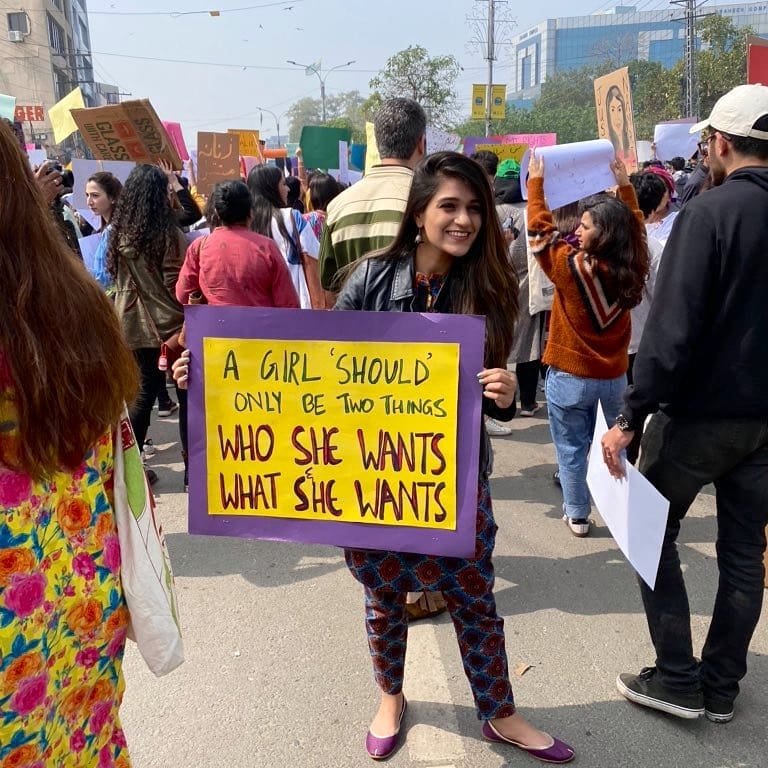 Jaidad mei hissa humari haq hai!
One of the most valid point, Islam gives all the rights but do Muslims and society also enforce them? #AuratMarch2020 pic.twitter.com/hB5AUw8sju

— 𝘙𝘪𝘻𝘸𝘢𝘯 (@ChupShaa) March 8, 2020
Our heart ❤️ https://twitter.com/NajibShaikhs/status/1236613397862629378?s=19
Because biwi ko importance dene se uske ghulam ban jaatay hain:
JOIN US AT AURAT MARCH 2020 pic.twitter.com/QFvp04XA0T

— Akrama (@AkramaMianoor) March 8, 2020
Hum toh boleinge:
Aurat March preps. pic.twitter.com/oOyUWclW93

— Uzair (@funkobunko) March 8, 2020
For all the introverts who stepped out: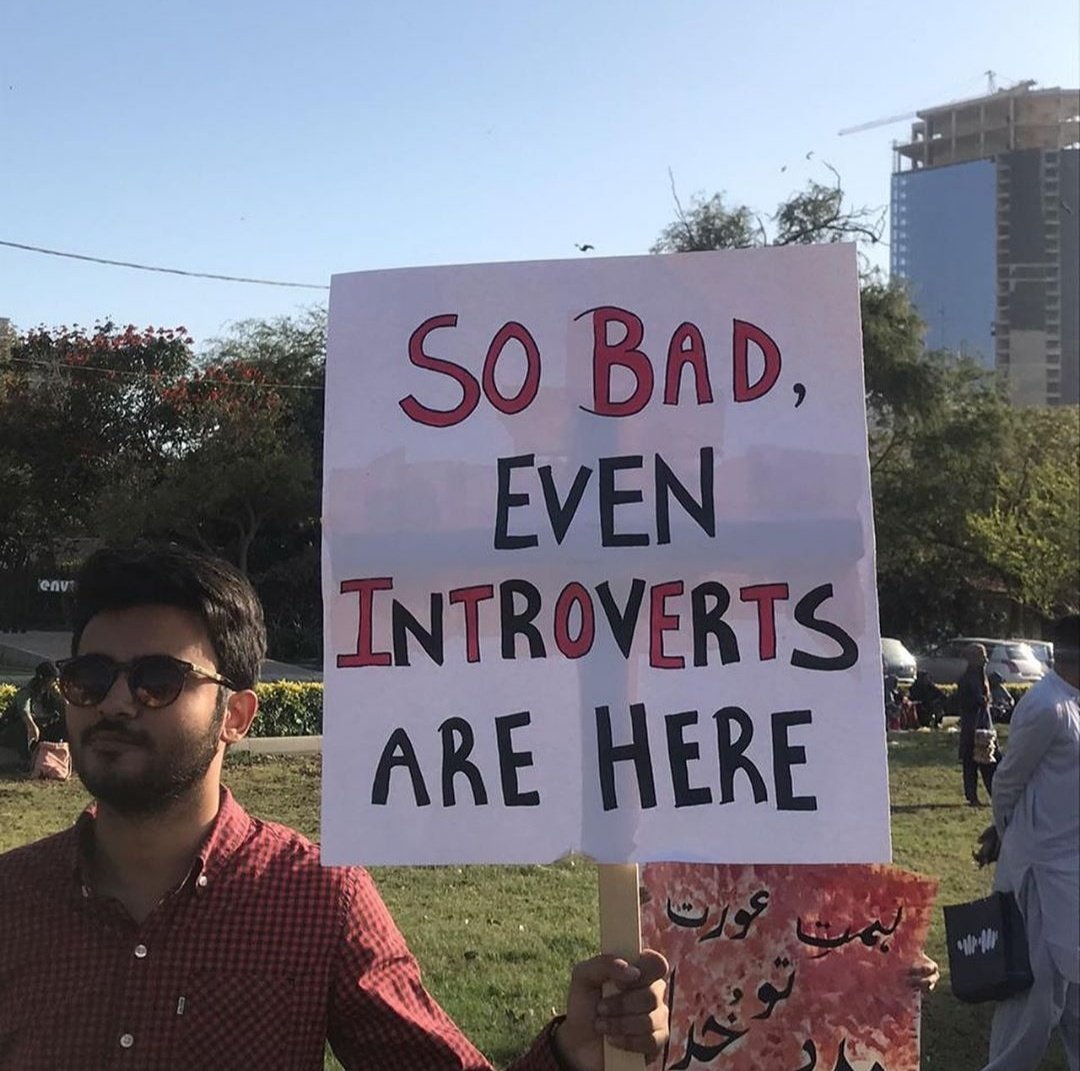 Shayad ab samajh ajaye lougon ko yeh baat: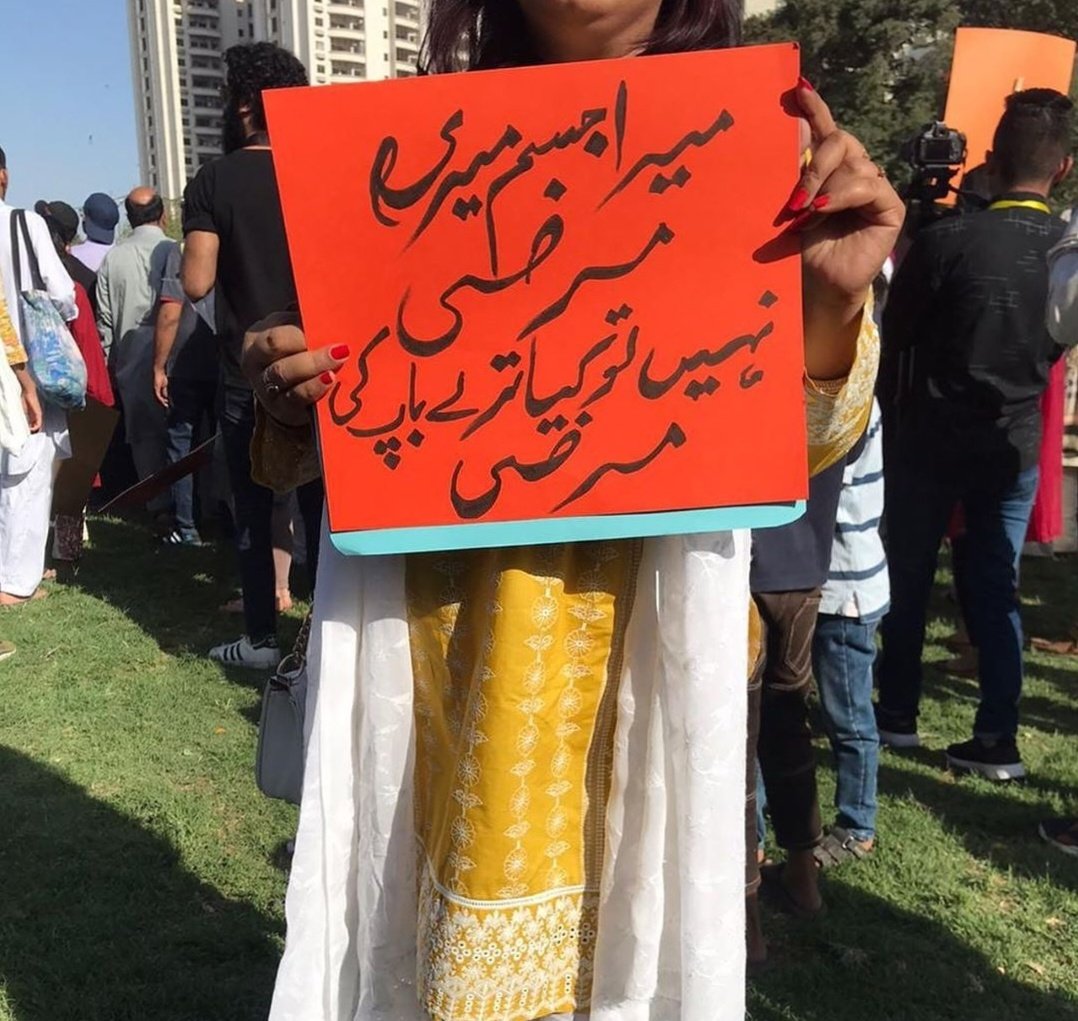 It's as simple as that:
My favorite placard …. #AuratMarch last year. pic.twitter.com/nnwcOrwBgp

— فرصت (@S_Ahmed4) March 8, 2020
And we have a winner:
Excuse me we have a winner pic.twitter.com/oYoHP07iF3

— Ushnaa 🐾 #AuratMarch2020 (@Lanaschild_) March 8, 2020
What posters did you like the best? Let us know in the comments below!