Diva Rating: 4.5 out of 5 Stars
This Eid-ul-Fitr is a pure delight for cine-goers as a plethora of Pakistani stars are all set to be a part of silver screen history with more than 5 releases! Amongst them, with all the comedies, romances, and thrillers, there are a few that have won our hearts, with Wajahat Rauf's directorial Parde Mein Rehne Do topping that list by a long shot!
Starring an ensemble cast with celebs like Hania Aamir and Ali Rehman Khan in lead roles, the film does away with just being another no-brainer and goes beyond with a social commentary wrapped up in a pure masala entertainer genre!
What all did we love about the film? Diva has the lowdown…
The Story
Evolving with time is always a great thing, and we're so happy Wajahat Rauf does exactly that with Parde Mein Rehne Do and its larger topic at hand. The story explores the life of newly-weds Nazo and Shani and all they have to deal with when it is revealed the latter maybe infertile. What ensues next is a hilarious yet poignant mix of comedy and drama where emotions and stress runs high. Without getting too preachy, the film gets the message across loud and clear – just the way you'd like to see it.
The Cast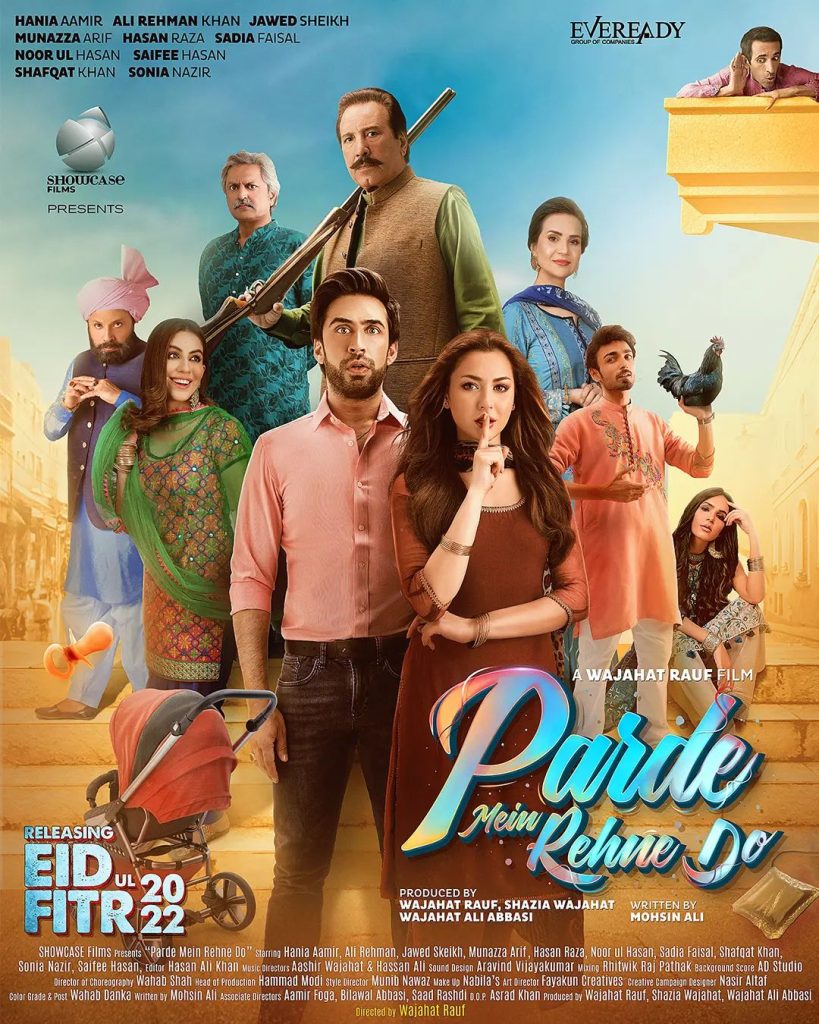 It takes a village – and it holds completely true for Parde Mein Rehne Do. Apart from the  lead roles portrayed by Hania Aamir and Ali Rehman Khan – who both hold their own spaces quite brilliantly and showcase strong on-screen chemistry – the film also features the acting talents of names like Jawed Sheikh, Sadia Faisal, and Saife Hassan, who each add their own flare to the characters they play.
The Music
Amongst all the releases that were slated for Eid-ul-Fitr, Parde Mein Rehne Do can proudly claim its music to be the best out of them all. Composed and created by Aashir Wajahat, the original soundtracks for the film are all exceptional. There's a right amount of oomph to tracks like Peela Rang, while the background scoring and brilliant hot-takes on cinematic situations are all complementing. There's a really bright future for Aashir as a composer, we can bet.
The Production Quality
A film that ensures that each part of its visual imagery is impeccable, Parde Mein Rehne Do is a vibrant delight. The production design – the sets et all – along with the way it's all been shot prove that a strong cinematographic skill is behind the camera. The film feels like a complete package, where every situation in front of the camera has been well-constructed. One cannot help but give kudos for it.
The Message
Eid releases are often flooded with no-brainers and leave-your-mind-at-home type comedies, but Parde Mein Rehne Do is a great respite from all of that. Putting the topic at hand at the centre of the film, it does not attempt to caricatureize the important yet taboo topic. It breaks the bounds of what people think of infertility and all that it entails and instead shows it in a progressive manner. From the start to the end, the 90-minute long saga is fresh, forward-thinking, and en-pointe.
Also read: Wajahat Rauf's Parde Mein Rehne Do Touches on a Vital Subject and Promises Laughter on Eid – Here's What the Team Had to Say About It!
With all that we saw, we can bet it is a sign that a new wave of Pakistani cinema is now ushering in, where a great topic takes the spotlight. Amidst all that is out there, there's a reason we give our vote of approval to this one – and that is that a Pakistani film too can be crisp, meticulous and captivating!