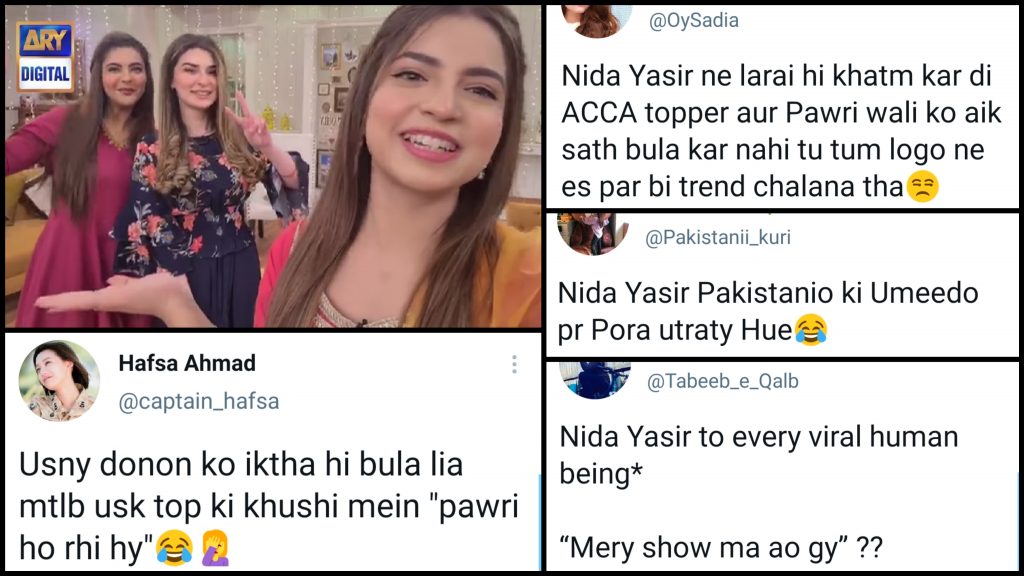 The last couple of days have been all about the #PawriHoraiHai girl and the ACCA topper Zara Naeem, some loving the two, some comparing the two and some waiting to see who makes it to Nida Yasir's morning show!
And whenever someone goes viral, they're always found at Nida Yasir's show but what surprised the netizens was when both the girls were invited together:
Seeing the two together, the netizens have a lot to say!
Nida yasir k show me jane k liye ab sirf dajjal or yajooj majooj hi reh gay hn 😌

— Rimsha Javaid 🇵🇰 (@Its_Rimsha) February 18, 2021
People shared how Nida has fulfilled their expectations:
Nida Yasir Pakistanio ki Umeedo pr Pora utraty Hue😂 pic.twitter.com/D5YwPs9T9L

— Simi_Tweets🥀 (@Pakistanii_kuri) February 18, 2021
True that!
Nida Yasir ne larai hi khatm kar di ACCA topper aur Pawri wali ko aik sath bula kar nahi tu tum logo ne es par bi trend chalana tha😒

— Sadia (@OySadia) February 18, 2021
Haha!
' Koe bulaye na Bulaye, Nida to bulaye ge'. 😂😂🌚#PawriHoRaiHai #nidayasir pic.twitter.com/fnGBxhCExs

— A L I N A (@chup_kro_yaar) February 18, 2021
Nahi:
Ik faaltu trend chla ho or Nida Yasir ne usy apne show pe na bualaya ho?? Aesa kabhi hua ha??

— Mahi (@Psychopattth) February 18, 2021
Yar 😂
Nida Yasir to every viral human being*

"Mery show ma ao gy" ?? pic.twitter.com/Nu3so3iGvW

— Asim Mukhtar (@Tabeeb_e_Qalb) February 18, 2021
Darr kyun tha?
finally Nida Yasir fulfill over expectations. Jis ka Dar tha wohi howa. #PawriHoRahiHai pic.twitter.com/q57cTNEsFu

— 𝙈𝙖𝙡𝙞𝙠 𝙈𝙪𝙗𝙖𝙨𝙝𝙖𝙧. (@Mubashar_says) February 18, 2021
Never!
Nida Yasir will never Disappoint you.😂 pic.twitter.com/gNtMgxbwWU

— JahanZaib (@JahanZaibb_) February 18, 2021
The only person who meets your expectations 😂😂😂 ……. Expecting from her will never hurt u 😂🤣

— رخ (@khanrabiasays) February 18, 2021
Memers were quick to take credit:
Wesy ager hum memers na hon tu ye nida yasir b berozgaar ho pic.twitter.com/1s42EWwrLR

— 𝘽𝙞𝙨𝙢𝙖𝙝 𝘾𝙝𝙖𝙪𝙙𝙝𝙧𝙮🦋MR.AB 🎂 (@Ghbrana_ni) February 18, 2021
People had their own interpretations:
Usny donon ko iktha hi bula lia mtlb usk top ki khushi mein "pawri ho rhi hy"😂🤦‍♀ https://t.co/O27y5cjTNf

— Hafsa Ahmad (@captain_hafsa) February 18, 2021
Lmao 😂
Ye dajjal ko BHe bulai ge dekh lena https://t.co/DtneKEP4na

— Hassan Syed © (@chlo_thk_hai) February 18, 2021
People were anticipating next move would be a bridal shoot:
Nida yasir ne bhi bula lia ab bs Bridal shoot reh gaya ha inka🤔 pic.twitter.com/lDYwcw6EFM

— joblessdost❤💯🌸 (@joblessdost) February 18, 2021
Some people weren't too happy with the media:
Our media badly needs to learn this now that who deserves the fame and who not bcoz nowadays in Pakistan people dont need to work hard or do something amazing to get famous and i think thiss not a very good sign! https://t.co/0ivLcxZPWl

— Albatross🕊 (@Faiza_Iqbaal) February 18, 2021
Did you watch the show? Let us know in the comments below!