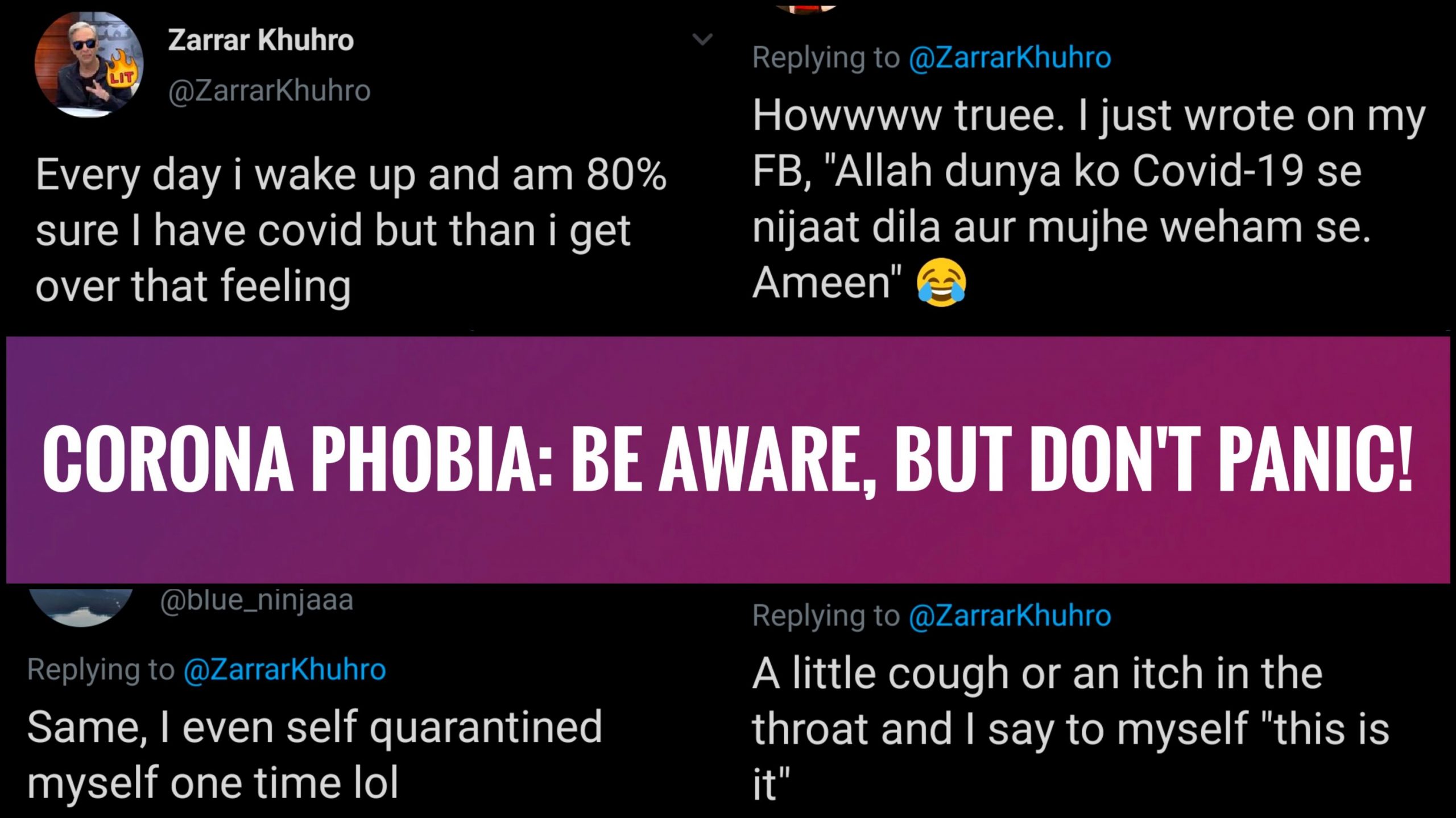 Feeling so hot you're sweating? Struggling to breathe? Got a mouth dryer than the Sahara? Don't let your mind jump straight to 'oh God, I have coronavirus'. You might be having a panic attack.
Feeling anxious amongst the covid19 pandemic is to be expected. We're in scary times with misinformation flying about and a fear of what's going on and what could happen next.
But while you can easily recognise when you're having worried thoughts about coronavirus, you might not be able to identify the physical signs of struggling with anxiety – which, frustratingly, can be similar to the symptoms of the pandemic.
This can cause a dangerous cycle of panic. You worry about coronavirus, so your body creates what feels like symptoms of coronavirus, which you then take as evidence that you do actually have coronavirus… which leads to more anxiety and worsening symptoms.
Every day i wake up and am 80% sure I have covid but than i get over that feeling

— Zarrar Khuhro (@ZarrarKhuhro) March 30, 2020
I wake up aching and think 'okay this is it' and then I realise you're just getting old and unfit zarrar

— Zarrar Khuhro (@ZarrarKhuhro) March 30, 2020
Caught in the middle of their wild imagination and unfit quarantine lifestyle, people couldn't help but agree with him!
A little cough or an itch in the throat and I say to myself "this is it"

— عنبر🌻 (@amberShasan) March 30, 2020
Some had self-quarantined as well:
Same, I even self quarantined myself one time lol

— Kashif (@blue_ninjaaa) March 30, 2020
Corona nahi, wehem maardega humain toh:
Howwww truee. I just wrote on my FB, "Allah dunya ko Covid-19 se nijaat dila aur mujhe weham se. Ameen" 😂

— Faizan Shahzad (@fshahzad99) March 30, 2020
Facts 😭
This is all of us everyday 😂 https://t.co/bz3MolBpLr

— Allergen (@WaterLileee) March 30, 2020
Some had suggestions:
You should stay in isolation until the thought get away.

— سدرہ (@iam_sidrah) March 30, 2020
Our friends feel the same!
Same is the case here and i talked with few of my friends and they also had same feelings, this COVID made us mentally sick 🙁

— Muhammad Adnan Burki (@Adnan_burki) March 30, 2020
Jo baat hai:
The weather's not helping.

— 🅴.🅹 (@ejopinion) March 30, 2020
We do too!
Everyday i wake up and check my temperature.

— Hamza Noor (@hamza_shn) March 30, 2020
Dil behlaanay ke liye khayal acha hai:
I'm only coughing because mom sprayed rose scented mortin to kill machhar it has nothing to do with anything that I don't want to name https://t.co/qcwL43TVy9

— CouchPotaytow (@Ssupernovah) March 30, 2020
It's just so confusing tbh:
A bit temperature+cough and was about to go to hospital for test and asking everyone to stay away#we are no more normal😑😑

— Rabia Zai (@Rabiazaii) March 30, 2020
Okay, now this is actually scary:
Nothing compared to seeing patients with confirmed Corona daily and thinking " am I past the incubation period of the last Corona patient I saw while wearing less than ideal PPE".

— Usaf (@youjam88) March 30, 2020
I think it's a national feeling at the moment:
This the feeling of most of the peoples in Pakistan

— Mushtaque Ali (@ali_bhellar) March 30, 2020
Some spill the beans already, asking for a friend…
How you get over than feeling? Tell me that secret..

— Malik Fahd Ali Awan🇵🇰🇹🇷 (@DrFahdAli) March 30, 2020
Lmao, true that:
Kabhi kabhi lagta he apun hi corona he

— سرکاری بوجھ (@sarkaribojh) March 30, 2020
Sisters always putting us back in our place 😭
I had this feeling a week ago. I was coughing and feeling was being echoed in brain as Convid and just two days ago my sister said to me , take antihistamine its allergy and Now I and my brain both are convoid negative 😂

— Satwat Bashir (@Satwat) March 30, 2020
Sub trigger kerke rakha hua hai corona ne:
shortness of breath is a corona symptom right but you know what also gives me shortness of breath? Anxiety and you know what has been giving me anxiety? Thinking I have corona.

— let me live in early 2000's pls (@BbrownWalker) March 30, 2020
Now that is some serious planning!
I even planned out which room will I be isolated in, what will I do and where will I leave my kid. 🤦‍♀ #SadButTrue

— Mehar Inaam (@MeharInaam) March 30, 2020
How the tables have turned 😂
I am keeping a thermometer handy.
A sneeze used to hear Bless you
Now you sneeze " Oh shit"

— Khalid Saghir (@Khalid_Saghir) March 30, 2020
Must have been an awful scare:
My husband couldn't breathe the other day and we legit freaked out for a good 10 minutes. Turns out he is allergic to the mould buster spray, which I liberally sprayed across our home to clean it. #StayHome

— Annam Lodhi (@AnnamL0dhi) March 30, 2020
Wehem ka koi ilaaj nai hai, someone tell him:
Same here. I even got tested -negative but I am still freaking out. I am taking alprazolam 💊 for panic. 😌

— omer khawaja 🇵🇰 (@omerabdulhye) March 30, 2020
Chalo bhaee:
you can't have covid if you don't test 😂

— Zarghaam Butt (@murpheiy) March 30, 2020
Are you feeling the same? Let us know in the comments below!