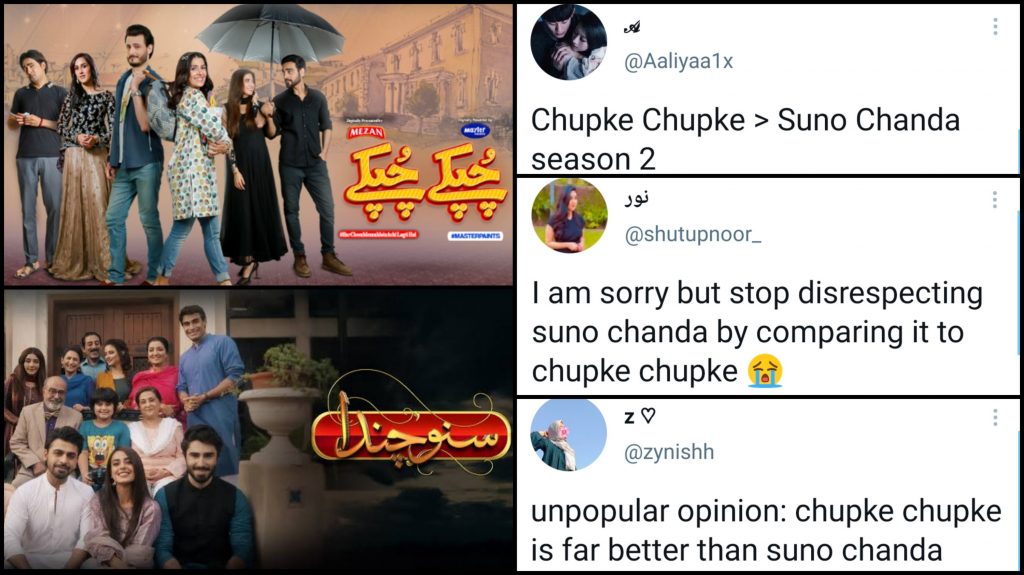 Chupke Chupke has easily become one of the most-watched Ramzan special programs and even we are fully invested in the show!
Looking at the success the show has gotten, people have been comparing it to the iconic Suno Chanda. While both the plays have been penned down by Saima Akram Chaudhry, netizens believe that each drama has a charm of its own! Here's what the debate is all about:
I am sorry but stop disrespecting suno chanda by comparing it to chupke chupke 😭

— نور (@shutupnoor_) April 29, 2021
👀
unpopular opinion: chupke chupke is far better than suno chanda

— z ♡ (@zynishh) April 23, 2021
It's as simple as this:
Why are Suno Chanda fans getting so riled up 😂 arrey khatam hogya bhai Arjiya lived happily ever after move on now its Feenu Hashi era. 🙏

— Norah Bing🌸 (@BingNorah) April 29, 2021
People were getting similar vibes from Chupke Chupke:
Chupke chupke giving me Suno Chanda vibes hope i get some time to watch it🥺

— Nemo💛 (@nimi8964) April 28, 2021
Couldn't have said better!
People need to stop comparing Suno Chanda and Chupke Chupke. Both were quite different shows. Leads in sc were funny, were loud and in cc feenu are soft and cute. Nevertheless I loved sc and now I love cc and there's no way I'm missing sc please it was a show and so is cc move on

— بینش (@beenishmuffinn) April 29, 2021
People were sharing their reasons:
There's no difference in story line of both dramas. First the boy and girl are forcefully married by their family members and when they fell in love with each other. Family goes against the marriage 🤦🏻‍♀️#SunoChanda #ChupkeChupke pic.twitter.com/zXQmwbXKlN

— Angel221B☠💤||🌻🎂||Aqsa Stan Acc 💘|| (@TheeGoldenEyed) April 29, 2021
Yes, please 🙏
PLEASE DON'T COMPARE SUNO CHANDA WITH CHUPKE CHUPKE. THEY BOTH HAVE DIFFERENT PLACE, THEY BOTH ARE UNIQUE IN DIFFERENT WAYS SO PLEASE DON'T DO THIS 🙏🏻#SunoChanda #ChupkeChupke

— ɢᴇᴇᴛᴀɴᴊᴀʟɪ ☾ (@MsBanerje) April 29, 2021
#TeamChupkeChupke gave their reasons for believing in its supremacy:
Both are incredible, but I'd prefer chupke chupke because jiya was a bit annoying at times but ayeza done it perfectly. Her character was at borderline of being cool or being irritating but she's managed to not giving hint of looking disturbing at all! 👏🏽🤗

— AFIFA Not FIFA⚡️ (@lostinmuggles) April 27, 2021
Both the dramas have their own charm! But chupke chupke for the win! So good and entertaining! 🙌🏻

— Mishal Khalid (@Ayesha_Khalid20) April 27, 2021
Both have their own charm but I like chupkey chupkey as in k yahan jiya ki batamzi nhe h atleast.

— Mnahal (@MnahalTahir) April 27, 2021
Chupke chupke is best🔥
Ye jo awaan idhar cmnts mein is serial ko china ka aur over keh rhi hai ye wohi awaam hai jo Big boss bare shoq se dekhti hai, inki psand hi kachra hai.

— roмee yoυѕaғzaι 🌸 (@_Zoii__) April 27, 2021
#ChupkeChupke is the best because its quiet decent no cheap flirtation seen boys are in their limits and seems very well behaved boys and all girls are always ready to work .quiet natural .

— Beautiful soul (@Bushraatif6) April 27, 2021
For me chupke chupke bcz its more relateable than suno chanda 😂❤

— T O O B A 🦋 (@LazyEngr9) April 26, 2021
And while others were busy debating, there were a few who didn't care much for any of the dramas:
Allhamdulliah didn't watch any https://t.co/jjp6xh6KXM

— Ammara (@greyswifaay) April 27, 2021
Do you think it's fair to compare the two? Let us know in the comments below!