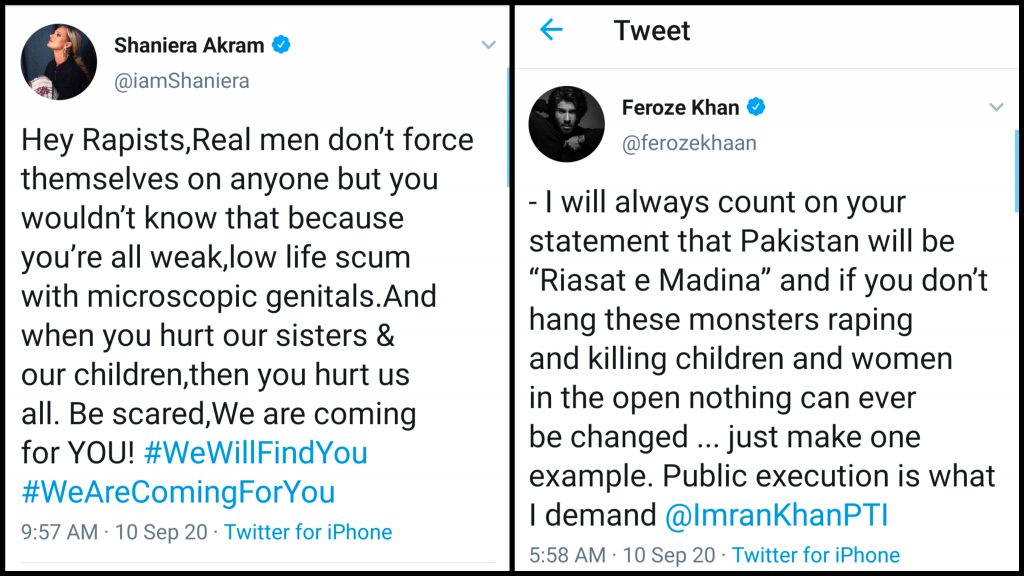 Only 2 days back we were mourning the 5 year old Marwah and yesterday another case of barbarism made the headlines after a mother of 2 was raped in front of her children at the Lahore Highway.
Sick of the heinous perprators, people are demanding public execution of rapists so that an example is made out of these culprits and the movement is also backed by celebrities.


Actor Feroze Khan urged the PM to approve public execution, even presented with suggestions:
– I will always count on your statement that Pakistan will be "Riasat e Madina" and if you don't hang these monsters raping and killing children and women in the open nothing can ever be changed … just make one example. Public execution is what I demand @ImranKhanPTI

— Feroze Khan (@ferozekhaan) September 10, 2020
– a trial in such cases are useless.. it should only be execution every Friday after the Jummah prayer. That's RIASTE E MADINA for me.

— Feroze Khan (@ferozekhaan) September 10, 2020
Actress Ushna Shah too wanted the culprits to be punished:
The irony that I tweeted "im okay with this" to a video of a rapist being stoned to death an hour prior to news of mother raped in front of children on motorway & 2 days after news of 5yr old Marwa shows how deep in trouble we are as a society.

— Ushna Shah (@ushnashah) September 9, 2020
Actress and model Armeena Khan shared how the news had made her feel very unsafe:
This piece of news has suddenly made every woman (including myself) feel unsafe.

— Armeena 🦋 (@ArmeenaRK) September 9, 2020
Shaniera Akram tweeted that we won't share the men who were behind it:
Hey Rapists,Real men don't force themselves on anyone but you wouldn't know that because you're all weak,low life scum with microscopic genitals.And when you hurt our sisters & our children,then you hurt us all. Be scared,We are coming for YOU! #WeWillFindYou #WeAreComingForYou

— Shaniera Akram (@iamShaniera) September 10, 2020
Iqrar ul Hassan prayed that this barbarism comes to an end and that justice is served:
مالک !! یہ وحشت، یہ بربریت، یہ درندگی کیوں آ گئی ہے اس معاشرے میں۔۔۔ پروردگار اِن بدبختوں پر قہر نازل فرما کہ اَب تیرے بندوں سے تو انصاف کی توقع کرنا بھی عبث ہے۔ pic.twitter.com/2EjXOlxSqj

— Iqrar ul Hassan Syed (@iqrarulhassan) September 10, 2020
Aamir Liaquat too pledged that he will present a bill in the assembly asking for public execution of rapists:
ہم کراچی میں مروہ کے لیے دکھی تھے کہ لاہورموٹر وے پر ایک ماں کے ساتھ اس کے دو پھولوں کی موجودگی میں وحشی،درندوں اور زہریلے ناگوں نے انسانی روپ کو شرما کے رکھ دیا اور عصمت تاد تار کردی …اب بتائیں کیا غلط کہتا ہوں جب کہتا ہوں "سرعام پھانسی" !!#PublicHangingOfRapists #Motorway pic.twitter.com/1nrlZNJoIl

— Aamir Liaquat Husain (@AamirLiaquat) September 9, 2020
Osman Khalid Butt wanted each and everyone involved to be investigated:
Please investigate this as well:

'She called the Motorway Police's emergency helpline 130 for assistance. However, she was told by the operator that she could not be provided help as the emergency beat had not been assigned to anyone.' https://t.co/kEAKIEFX0p

— Osman Khalid Butt (@aClockworkObi) September 9, 2020
Waqar Zaka wanted answers:
Motorway rape case, responsible personalities are those who opposed #PublicHangingOfRapists bill and they are @BBhuttoZardari @fawadchaudhry @ShireenMazari1, please answers

— Waqar Zaka (@ZakaWaqar) September 9, 2020
The horrific incident has the entire nation shaken, and they are furious!
Raped in front of her children. Neither one of them will ever be able to forget or move on from this. Lives destroyed. For their justice and for safety of the rest of us women who use motorways/highways, PUNISH THE CULPRITS. #PublicHangingOfRapists

— m (@meemelif) September 9, 2020
Some suggested what punishment should be implemented:
Make this happen in pakistan I can bet on my life you wont see or hear about any rape case. Make them suffer too, they deserve a painful death. #PublicHangingOfRapists #HangRapist https://t.co/5gkc4a3fSE

— Raazberry (@Roarzia) September 9, 2020
People wanted justice:
"MEN" this word disgusts me to such an extent that I wish it didn't exist. The fact that there are monsters living among us performing heinous acts and getting away with it. These are supposed to be protectors of women? Where's justice? #PublicHangingOfRapists

— Shahmeer (@Samyy_here) September 9, 2020
I don't think we are…
a woman? got gangraped? on motorway? in front of? her kids? ARE WE EVEN HUMANS ANYMORE ?? THIS IS SO BRUTAL , MAY ALLAH PAK DO JUSTICE WALLAH UL AZEEM BECAUSE DUNYYA DOESN'T JUSTICE, DUNYYA DOESN'T.#PublicHangingOfRapists

— bella (@zainabqasim_) September 9, 2020
Women had never felt more unsafe:
Yes we're not safe here, we were never, almost every girl i know has been through something like this, we're scared, we're told to be independent but we can't, ah what's this independence, she was mother of 2 and her children were with her#PublicHangingofRapists pic.twitter.com/LBp1KYxOXI

— Alisha💫 (@AlishaRazaa) September 9, 2020
WOMEN ARE NOT SAFE IN MARKETS, WOMEN ARE NOT SAFE IN BAZAAR, WOMEN ARE NOT SAFE ON ROADS, WOMEN ARE NOT SAFE IN SCHOOL, COLLEGE, UNIVERSITIES, WOMEN ARE NOT SAFE IN THEIR OWN HOME, WOMEN ARE NOT SAFE IN PAKISTAN#PublicHangingOfRapists #HangRapist

— Muzamil (@MuzamilSheikhh) September 10, 2020
People were adamant!
Rapists should be hang like this on the middle of streets.#PublicHangingOfRapists pic.twitter.com/bYwSrtIZ7f

— Faisi (@Faisi_Says) September 9, 2020
People were heart broken:
Disgusted, dejected, hurt, heart broken , unsafe, insecure ..
ENOUGH#PublicHangingOfRapists pic.twitter.com/1uvoYWo5kY

— SaadiaS (@Saadia_SSS) September 9, 2020
People were questioning the Islamic Repuplic of Pakistan:
Is this really an Islamic state ?
Can we call ourself muslims ?

Death sentence is the only punishment for these savages.
What are we waiting for ????
Speechless#PublicHangingOfRapists#hangrapistspublicly pic.twitter.com/9n9dq21BTH

— A.🍂🍂 (@Leo__weirdo) September 9, 2020
Rape cases are increasing day by day and sadly our Islamic state isn't safe for women anymore. Hang the rapists and cut their organ into pieces till their soul quite to survive. These rapists have no rights to live more. Even hell is not enough for them.#PublicHangingOfRapists

— Arman. (@AliArmanKhan69) September 9, 2020
People had a lot to say:
If you dont support the public hanging of rapists then im sorry, you're as pathetic as those rapists!!!#PublicHangingOfRapists

— mysh (@gayomarlic) September 9, 2020
While we can't imagine the trauma that the woman and her children will have to bear for the rest of their lives, we do hope that the culprits are punished. Let us know what you think?