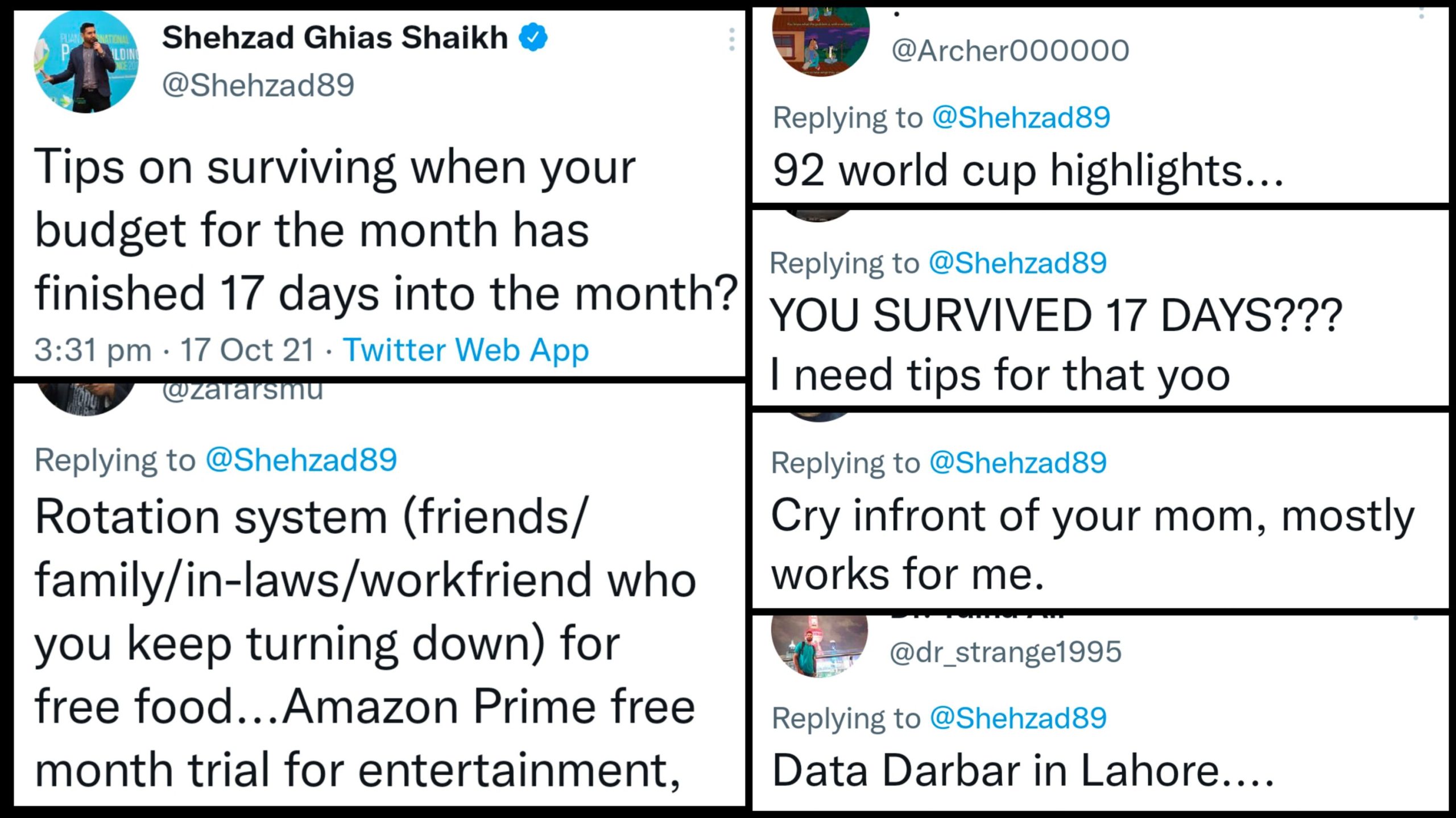 Taken aback by the increase in prices for basic necessities like petrol, roti and daals, citizens are trying to re-adjust their budget to survive the month. And comedian Shehzad Ghias, who has probably blown his budget for the month nearly 17 days into it, asked for expert opinion on Twitter:
Tips on surviving when your budget for the month has finished 17 days into the month?

— Shehzad Ghias Shaikh (@Shehzad89) October 17, 2021
Needless to say, they haven't disappointed!
92 world cup highlights…

— . (@Archer000000) October 17, 2021
Sounds like a good plan!
Rotation system (friends/family/in-laws/workfriend who you keep turning down) for free food…Amazon Prime free month trial for entertainment, Bikea/overfriendly dost for transport…for elec, purchase solar panels under Kamyab Jawan program…baqi paisay IK se nikaalo.

— Usman Zafar (@zafarsmu) October 17, 2021
Do you know how expensive kafan dafan is?
— Samia (@Samiaa_Ijaz) October 17, 2021
Elaborate, but at this point we're down to try anything!
DONT EAT… DONT BREATH….DON MOVE…. GO IN HIBERNATION FER REST OF THE MONTH…BUY A DRACULA COFFIN N SLEEP IN IT FER REST OF THE TYM…ETC ETC…..N YEAH…. GOOD LUCK…!!!!😆😆😆🤷‍♀️🤷‍♀️🤷‍♀️

— Biya (@sgulher) October 17, 2021
Uhhhhh:
Sell your body

— Yasir Jawaid (@yasirjawaid888) October 17, 2021
Yo, same!
YOU SURVIVED 17 DAYS???
I need tips for that yoo

— Strange Supreme (@ShaitanAF) October 17, 2021
Ek hi kidney de saktay hain, kitni bar deinge 😭
— 𝓜𝒶𝐎𝓽𝓦𝐞🔪 (@MaOtWe110) October 17, 2021
Lmao, ignore the bill 😂
noodles
eggs
discount fruits/veggies
yogurts
make your own bread
intermittent fast
raid your flat mates fridge
ignore the bill
walk or cycle

— noman (@nnoomaann) October 17, 2021
😔
Absolute essentials py ajao, bahr ka khana to bhool hi jao, if you have savings, borrow from there and you should be good to go

— Ali Khalid (@ChayePhilosophy) October 17, 2021
Eating out really is expensive!
Lobia chawal until you have money, not going out for eating/chilling,

— Ahsan Atique (@AhsanAtiq01) October 17, 2021
Shots were fired!
Amma abba se paisay le lo. 90% upper middle class millenials aise hi guzara karte hain

— محمد علی (@retroguy02) October 17, 2021
Ab nahi toh kab 🤔
سب سے پہلے تو آپ نے گھبرانا نہیں ہے

— Zainab Hassan (@ZainabHasan1) October 17, 2021
10/10 would recommend:
Think about not having pizza delivered post 4 am??

— H (@Aunty_Disco) October 17, 2021
Spot on!
Thoughts, prayers, instant ramen

— Gibby #FreePalestine 🇵🇸 (@Gibbyk1) October 17, 2021
Fitness ki fitness, bachat ki bachat!
Intermittent fasting, Thank me later 👍🏼

— SAIF | سیف (@thesaifrehman1) October 17, 2021
😭😭😭
Faaqay. Only Faaqay.

— Haseeb Anwar Virk (@haseebvirk) October 17, 2021
Bohat paisa hai bro:
Peeri fakeeri

— Imran (@imranity) October 17, 2021
🤷‍♀️
Data Darbar in Lahore….

— Dr. Talha Ali (@dr_strange1995) October 17, 2021
It really has come down to this:
Cry infront of your mom, mostly works for me.

— Hamza Ali Joiyah (@HamzaJoiyah) October 17, 2021
Okay, wow!
The skill to survive without money is locked with the skill to spend monthly budget before time so no tips are required.

— Kush Lohana ڪش لوهاڻو (@KushLohana) October 17, 2021
All jokes aside, start saving!
Note to self: always save for a rainy day ☔️😅

— Abhi (@abhikaropk) October 18, 2021
What tips do you have to share? Share in the comments below!