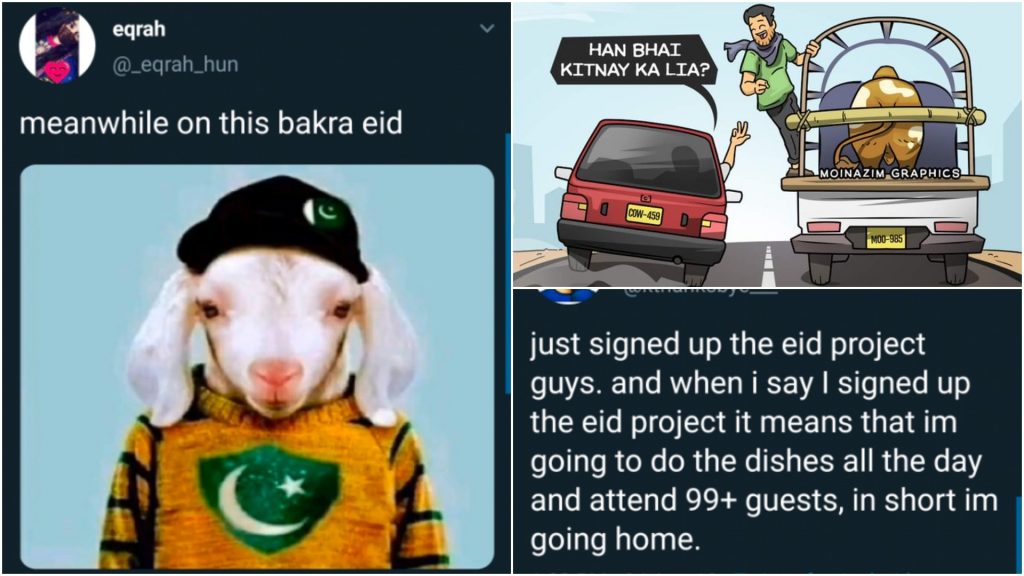 Eid ul Azha is right around the corner which means you'll probably be hearing mehhs and moohs of the sacrificial animals everywhere you go. And while this Eid is all about the boys enjoying their trips to mandi and walking their animals, the internet is really excited for it!
ONLY 7 DAYS LEFT FOR
Eid ul adha pic.twitter.com/UibyLq35Lf

— Z Q U A D ✨ (@_Zaynimam) August 4, 2019
Sis, the only eidi we get is gosht:
AHHHH Muslim oomfs eid is in a couple of days I don't got an outfit yet but whateva WE BOUTTA GET THAT MONEYYY FROM DEM AUNTIES WE AINT EVEN KNOW pic.twitter.com/HY28WRCERO

— Ikram ♡ | LoonaLA (@IkyRamen) August 2, 2019
All the women signing up for the Eid Project *cries*
just signed up the eid project guys. and when i say I signed up the eid project it means that im going to do the dishes all the day and attend 99+ guests, in short im going home.

— A. (@kthanksbye___) August 4, 2019
Many were showing off their animals bought from their own money in this economy:
Onth le liya hai qurbani ka apne paison se😊
AlhamdulilAh#wadi_eid#memesverse pic.twitter.com/75LnJwSbBT

— Sajjad Kang (@pinda_wale_jutt) August 4, 2019
Han bhai, kahan se liya?
The Season 😍#BakraEid😍😍😇 pic.twitter.com/xl1zAY7BOJ

— Saddam Hussain (@SaddamHussayn_) August 4, 2019
Very soon!
"Revenge of the Janwar"… coming soon to an Eid near you… pic.twitter.com/OJ54qhYNcz

— Asiah Malik (@madhumatti) August 3, 2019
People were sharing how we'll be served mutton for every meal for the next few days:
Coming Soon…. 😂#EidulAzha2019 🌸 pic.twitter.com/EjIvFc3ftt

— 🅕🅐🅓🅔🅓 (@_ShadesofLife) August 3, 2019
Preparations are in full swing:
Preparation of #EidulAzha2019 😂 pic.twitter.com/EFyxAs14w9

— 🅰wanZada 🇵🇰 رامیزعوان (@ramiz__awan) August 3, 2019
Haha:
Be ready…😜@IftikharFirdous#EidulAzha2019 pic.twitter.com/XLtnfvl1ed

— Roohullah Jan (@Rjan80) August 1, 2019
Some gave tips on having the full week off:
Eid-Ul-Azha Holidays:

Sat 10: Weekend
Sun 11: Weekend
Mon 12: Eid-ul-Azha
Tue 13: Eid-ul-Azha
Wed 14: Independence Day
Thur 15: National Sick Leave
Fri 16: National Sick Leave
Sat 17: Weekend
Sun 18: Weekend#Barieid#EidulAzha2019

— Shayan Nasir (@Shayan_nasir1) August 1, 2019
Tu cheez bari hai mast mast~
When people visiting in cattle market on #EidulAzha2019
Le people: pic.twitter.com/jM6tVBXoxO

— Babar 👑 🇵🇰 (@Yuckyoubitch) July 27, 2019
Scene on and gaayein down:
Sceans of #EidulAzha2019 pic.twitter.com/WG83MOxVfa

— M U S A Z A I ♈ (@WorldCupHmaraHa) August 3, 2019
Kuch zikar Babar Azam ka bhi hua:
someone pls hide babar azam this eid bcs he's the goat

— stoney. (@dedlad) August 4, 2019
Independence day is also falling amidst the eid holidays and people had a lot to say:
Bakra Eid coinciding with Independence Day so we're going to sing 'ye mutton tumhara hai, tum ho pasbaan iss ke'

— stoopid idiot (@Allisonative) August 3, 2019
meanwhile on this bakra eid pic.twitter.com/Ax6uOTe5ZR

— eqrah (@_eqrah_hun) August 4, 2019
Me: yeh eid sukoon se guzre gi

Baajey for 14 August: pic.twitter.com/boP8ngPhC1

— Maya🕊🇵🇰🎓☜ (@Degree_Chahye) August 4, 2019
Some were appalled at the prices: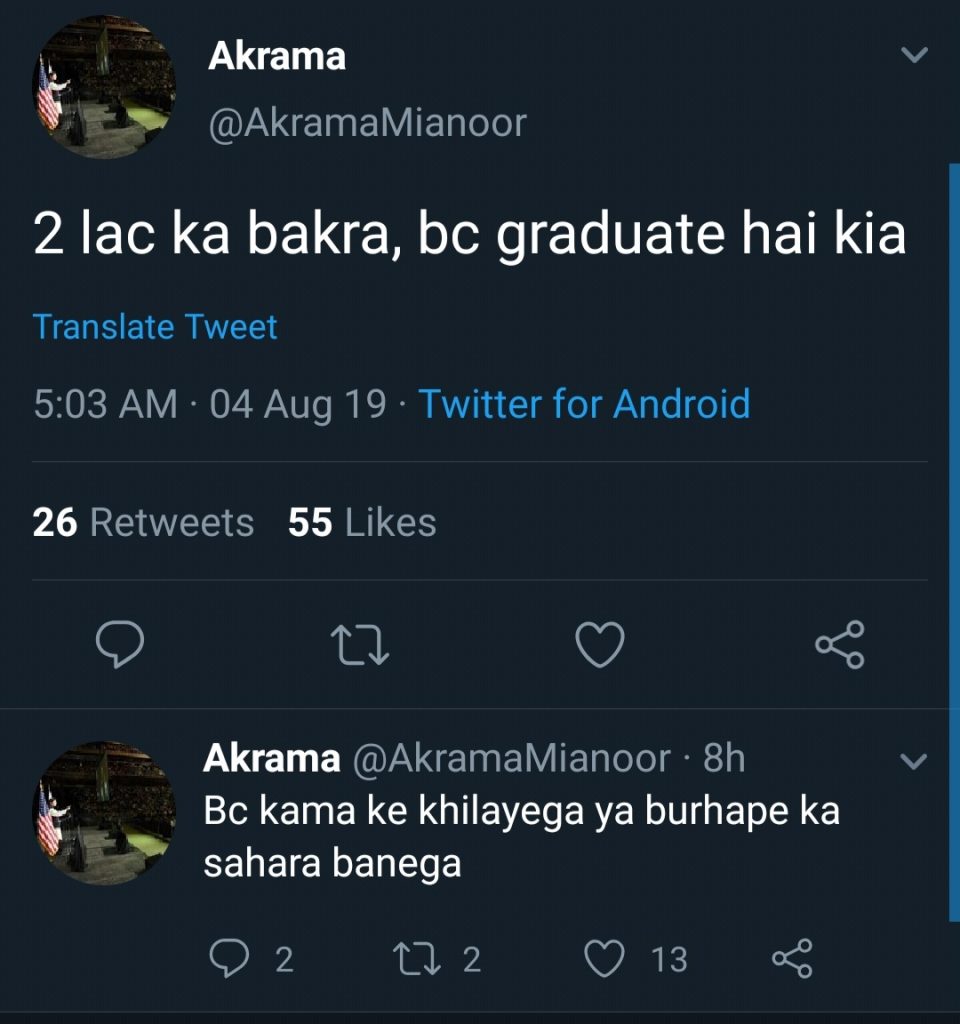 Humain bhi, please, adulting is tough:
Iss Eid mujhe koi bhens smjh ker zibah kerde pls

— Rubab (@RhubarbsnCarbs) August 3, 2019
Kon hain yeh loug?
Khush fehmi

Boht bari khush fehmi

Phr ye keh bakra eid per bhi eidi milegi.

— mevviii (@be_like_mevviii) August 4, 2019
Comparisons were made:
Larkon ki eid ki tyariyan vs larkiyon ki😂 pic.twitter.com/wFMd9ynEIu

— ŘιDα💫 (@Bombaxtic_Ridzz) August 4, 2019
People shared their plans 😂
Faisla kar lia hai. Is Bakra Eid par

Gosht ghareebon kay liye
Khaal Shoukat Khanum kay liye
Hadyan Pak fouj par bhonkne walon kay liye

— Azeem (@Azeem_Views) August 4, 2019
Some had hairstyle ideas for their friends:
To which do you recommend this type of hair cut on this #EidulAzha2019 ? pic.twitter.com/R51ktbcSCE

— Shoaib Sandhu (@shoaibsandhu78) July 27, 2019
And shoe suggestions too, to match with your animal:
New arrivals for ladies on Baqra Eid 🤣#EidulAzha2019 pic.twitter.com/ATgZqBE992

— Mustaqeem.54 (@m5u3s5t4i) July 29, 2019
Any guesses?
Guess the city name?😂#EidulAzha2019 pic.twitter.com/TppYiyQr4O

— ᴍ ᴀ ʀ s ʜ ᴍ ᴇ ʟ ʟ ᴏ [✖‿✖] (@Sohaib_khan112) August 3, 2019
To all the Aroojs in the country:
🐐🐂🐂 Bkra Eid ki tyariyaan Arooj pr hain……
Arooj be like: pic.twitter.com/KfegwYY0g8

— Shaheer Hashmi (@ShaheerHashmi12) August 4, 2019
Are you excited for Eid? Let us know in the comments below!