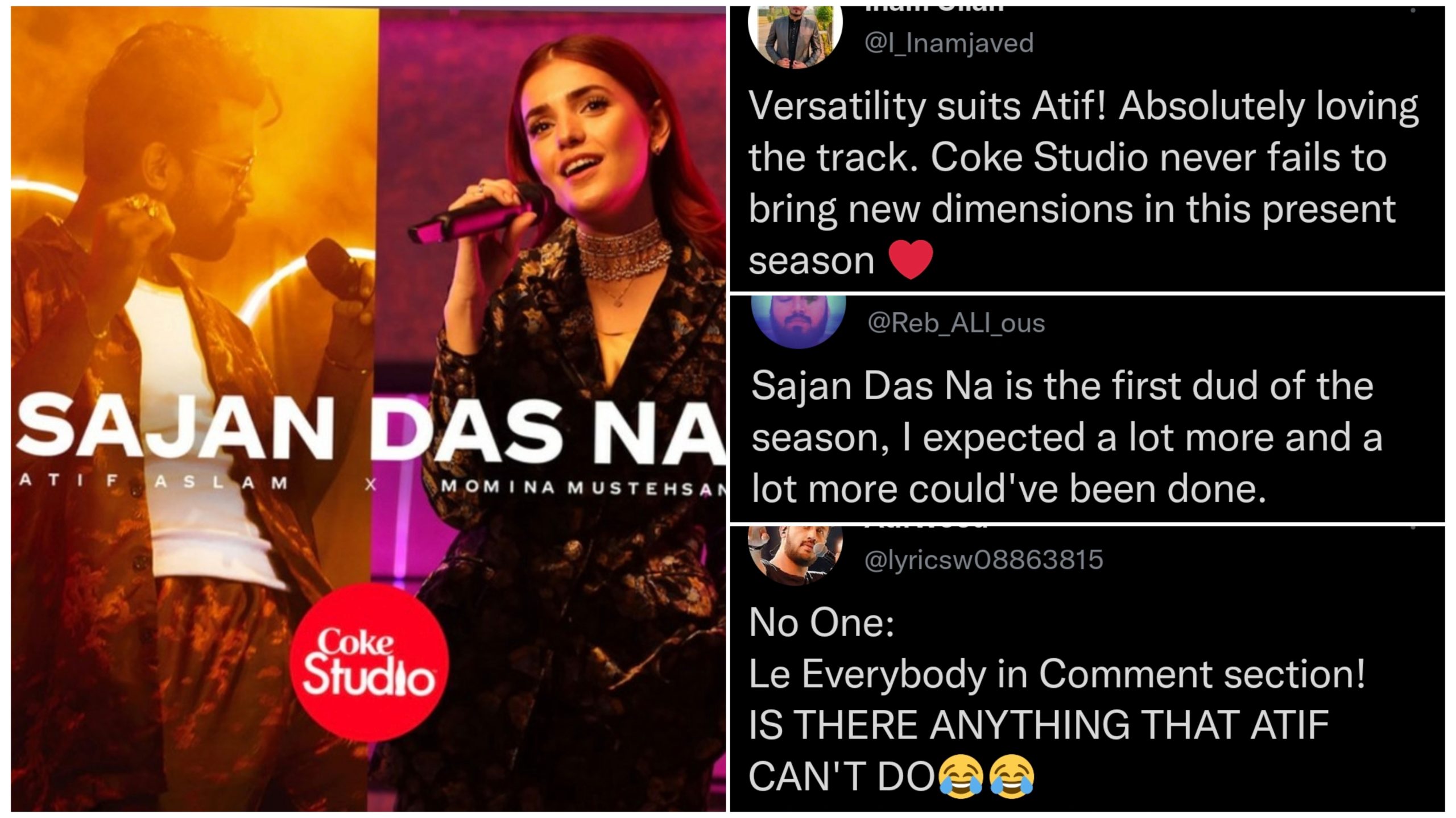 After giving us hits like Tu Jhoom and Kana Yaari, fans were anticipating Atif Aslam's instalment for the season, and there prayers were answered yesterday when Coke Studio dropped Sajan Das Na featuring Atif Aslam and Momina Mustehsan:
The modern-pop number was met with mixed feedback from music buffs and fans alike, some loving the song!
Atif Aslam doing King shit again. That's it. That's the tweet. pic.twitter.com/ugxkvYJuzk

— Alfredo 🍩 (@Marwabuttt) January 23, 2022
❤
Atif Aslam
He can sing any kind of songs. Loved momina's part too 😍

Sajan das na by Atif Aslam #AtifAslam #SajanDasNa pic.twitter.com/Puzls5jbVX

— Imad Ahmad Gegyani (@IGegyani) January 24, 2022
True!
Atif Aslam is one of the greatest things happened to music pic.twitter.com/hvymfB3nTn

— 𝐹𝒶𝓇𝓌𝒶𝒽𝒶𝒽𝒶 💗 (@haseen_dilrubaa) January 24, 2022
Yaaaas!
Atif × Momina finally happened.

Sajan das na by Atif Aslam #AtifAslam #SajanDasNa#CokeStudio14 pic.twitter.com/Qlv8gGT5uc

— Abdul Rehman🇵🇰 (@MR_IKARIS) January 23, 2022
People were sharing their favourite parts:
this part of 'sajan das na' by atif and momina ❤️❤️#CokeStudio14 #SajanDasNa pic.twitter.com/Wbub8ZOr2l

— R. (@awazarhu) January 23, 2022
Fans across the border were in love too!
Haven't vibed to any hindi/punjabi romantic pop song so much..
Unarguably,best from Atif Aslam after the bollywood ban. I love how he's exploring different genres..Checkout #SajanDasNa #AtifAslam @itsaadee @MominaMustehsan is Pakistan's Sunidhi💯 https://t.co/kyNseMGbXf pic.twitter.com/QynjPZIm7n

— Raj Aryan🇮🇳 (@itsrajaryan18) January 22, 2022
Same!
Versatility suits Atif! Absolutely loving the track. Coke Studio never fails to bring new dimensions in this present season ❤️#SajanDasNa https://t.co/rPhyERftGi

— Inam Ullah (@I_Inamjaved) January 23, 2022
That's Atif Aslam for you!
No One:
Le Everybody in Comment section!
IS THERE ANYTHING THAT ATIF CAN'T DO😂😂#SajanDasNa #AtifAslam pic.twitter.com/Zjwcz0Bgg3

— AtifWood (@lyricsw08863815) January 23, 2022
Facts!
Singers come n go but Atif Aslam is forever…
he is on top of his game man 🔥❤
it doesn't even matter what type of song it is as long as we get to hear Atif in it. this man blend so well with literally any genre and also Momina are amazing in this. 💕 #SajanDasNa #CokeStudio14 pic.twitter.com/9FRkquhD59

— Muhammad Wahab 🇵🇰 (@muhammadwahab55) January 23, 2022
Agreed!
Its been 20 years and this man is changing and moulding himself with new diversities and still banging every single track.Atif Aslam is absolute beauty💘❤#SajanDasNa#AtifAslam #mominamustehsan
#cokestudio14 pic.twitter.com/dMYZX8RWph

— Babar Hanif (@Iam____Babar) January 23, 2022
And while others were living for the vibe, some weren't too impressed:
Atif Aslam's first bad song in his entire career

— Momin🪁🌳🚉🚴🏽🏙 (@ShaykShack) January 23, 2022
People were in disbelief!
I think Atif Aslam really gave us a bad song 😐

— b (@KhaNuBya) January 23, 2022
Some believed Coke Studio could have done better!
Leave everything aside, apart from Atif Aslam and Momina Mustehsan's Skills, To be really honest, @cokestudio could have and should have done better. With superstars like #AtifAslam
and @MominaMustehsan, you expect much more.#AtifAslam#mominamustehsan#CokeStudio14#SajanDasNa

— Furqan Wani (@FurqanWani5) January 24, 2022
People found it to be meh:
Idk what to feel about this new song #CokeStudio14 #SajanDasNa with the first two being bangers, this one is just meh. But damn the 14 year old girl in me is all for her childhood crush #AtifAslam loooking 🔥🔥🔥

— MS (@_mxusaab) January 24, 2022
Listened to Sajan Das Na, and meh… Atif likes to experiment which is good. However, Momina's voice doesn't compliment much with the overall vibe. I guess it's time CS should stick to introducing new talent more.#CokeStudio14 #AtifAslam

— Zainab (@lighterleteana) January 24, 2022
People were calling it a dud:
Sajan Das Na is the first dud of the season, I expected a lot more and a lot more could've been done.#CokeStudio

— Muhammad Ali Azlan (@Reb_ALI_ous) January 24, 2022
How did you like the song? Let us know in the comments below!