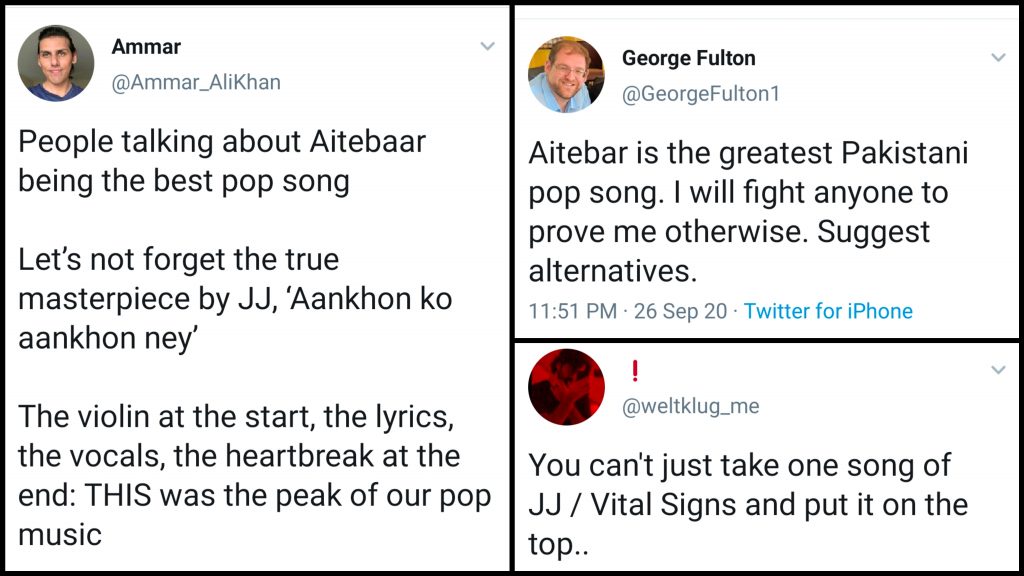 Junaid Jamshed is a name that'll always hold a special place in our heart, from being one of the greatest singers the country has seen to his spiritual journey and beautiful naats, he's an icon.
And today people are looking back at his song Ankhon Ko Ankhon Ne and are calling it the peak of Pakistani pop music in comparison to Aitebaar:
People talking about Aitebaar being the best pop song

Let's not forget the true masterpiece by JJ, 'Aankhon ko aankhon ney'

The violin at the start, the lyrics, the vocals, the heartbreak at the end: THIS was the peak of our pop music

Others are good, this is at another level! pic.twitter.com/DxSv856grD

— Ammar (@Ammar_AliKhan) October 1, 2020
A few days back George Fulton tweeted how he thinks Aitebaar is the greatest pop song:
Aitebar is the greatest Pakistani pop song. I will fight anyone to prove me otherwise. Suggest alternatives.

— George Fulton (@GeorgeFulton1) September 26, 2020
And the netizens are here to settle the debate once and for all!
My favourite part, THE BASS. Excellent use of thumb slaps. Most of the depth in the track throughout comes from the bass.

— Jibran T. Siddiqui (@jibransiddiqui) October 1, 2020
People were sharing how the violin aspect of the song is so vastly underrated:
The violin at the beginning of Aankhon Ne is such an underrated aspect of that song. The only songs whose violin aspect I like more are Aa bhi ja by Lucky Ali and Aankhein Khuli from Mohabbatein.

— Qasim Mujtaba Naqvi (@TastyKhursheed) October 2, 2020
underrated and that violin 😭

— Hanzo Hasashi 🌈 🌴 🙂 (@friedKebaab) October 1, 2020
That violin part was killer! N the intensity of singing at some parts ufff… one of my most favs

— Hira (@HiraShah163) October 2, 2020
magical violin

— Despicable Peer (@Saadii_DeGunna) October 2, 2020
The violin at the start though ❤ https://t.co/JXoaPIMUua

— Muhammad Umair Tariq (@cricRebel) October 2, 2020
Every instrument was spot on:
I agree, it's the best pop song…violin is great but Tabla was from out of this world…just amazing!! JJ was at his best.

— Shahid Chaudhary (@SChaudhary1975) October 1, 2020
Aptly said!
"Pichle zamanon se jo laut kar aya hai, phir kahin ruth jaye na"

His whole life's biography.

— 30 Beat Khan (@Hoo_Carez) October 1, 2020
Aameen!
Very true. Excellent lyrics n vocals. Always a treat to listen. May Allah SWT bless him.

— s77296 (@s2gri2) October 2, 2020
This was the peak time of him and he left all for Allah, he used to spend 3crore easily and one day he had only 100rs in his pocket, he did some small mistake for which he faced extra hate in whole Pak, beaten up groups, he forgave all. May Allah give him a better place in jannah https://t.co/RLXFvGFSib

— Huzaifa Mughal (@huzaifarafiq) October 2, 2020
People were sharing their favourite lyrics:
'Lehjay main bolne laga hai jo khumaar se, kal tak baaton main na thaa…' FAV

— Syeda Fatima Saba (@sabatadoon) October 2, 2020
Pal do pal dil milny ki bat hai, rasty nikal ayengy.
Beeti hui bato ka ghubar dhul jayega, fasly simat jaingy. https://t.co/V0W3ca32iI

— BenDover (@Musanna_Ahmed) October 1, 2020
People could literally find zero faults within the song:
The violin, the lyrics, they vocal and most importantly The Amina Haq. https://t.co/XwAWn0DamC

— saff (@kianisaif) October 2, 2020
People were calling it the best tweet they'd seen all day:
Omg this is the best tweet i saw today 😭♥️

— مَریم (@maryemwebster) October 1, 2020
Same!
5,6 year old me would sing it with jj

— شہریار (@FriendOfFrends) October 1, 2020
This is my all-time favourite 90s song https://t.co/bqrRsX1J8M

— Grand Duke Bangash (@RunBangash) October 2, 2020
People were calling it a masterpiece:
Definitely a masterpiece!!

چہرے تمہارے پہ جو رنگ ہے بہار کا
پچھلی بہاروں میں نہ تھا
لہجے میں بولنے لگا ہے جو خمار سا
کل تک باتوں میں نہ تھا https://t.co/QFC2YS8lDv

— 𝔹𝕒𝕤𝕚𝕥 𝕂𝕙𝕒𝕟 (@basit_arbi) October 2, 2020
One of my most favourite JJ masterpieces ❤️ https://t.co/811B8Sdr0s

— رے (@RaboRamblings) October 1, 2020
چہرے تمہارے پہ جو رنگ ہے بہار کا
پچھلی بہاروں میں نہ تھا
Truly a masterpiece by JJ. https://t.co/MmLU3k1adL

— L. (@lanalibster) October 2, 2020
True!
Songs aside music videos from this era were on another level
– Aankhon ko Aankho ne
– Udeekan
– Dosti
– Sayonee
– Sajni
– Kaho Ik Din
– Mehbooba
And many many more https://t.co/Isao6ZGdj4

— Haroon (@Haar_un) October 2, 2020
Agreed!
Still gives me goosebumps https://t.co/pWL1guXoPs

— Dr.Mehak Ahmad (@MehakAhmad2) October 2, 2020
Many termed Us Raah Per as his best song:
For me, Us Raah Per (entire album) is one of the finest works of #junaidjamshed as a musician. He was definitely at the peak of his career. Mature composition, meaningful lyrics & melodious yet soulful music.
Pakistani #Popmusic was thriving with youthful & experimental musicians

— Scheff ✏🎬🎸🥁📚 (@shafiqulhasan81) October 2, 2020
With so many of his songs to choose from, many found it hard to pick just one:
You can't just take one song of JJ / Vital Signs and put it on the top..

Each and every song by them is a MASTER PIECE!!

Be it Ab Jiya Na Jaye, Tum Kehti Ho, Tum Duur Thy, Na Tu Ayegi Na Chain Ayega and the list goes on..

YOU JUST CAN'T CHOOSE!!! https://t.co/eB8PNEAP9m

— ❗ (@weltklug_me) October 1, 2020
Do you agree that Ankhon Ko Ankhon Ne is the best Pakistani pop song? Let us know in the comments below!