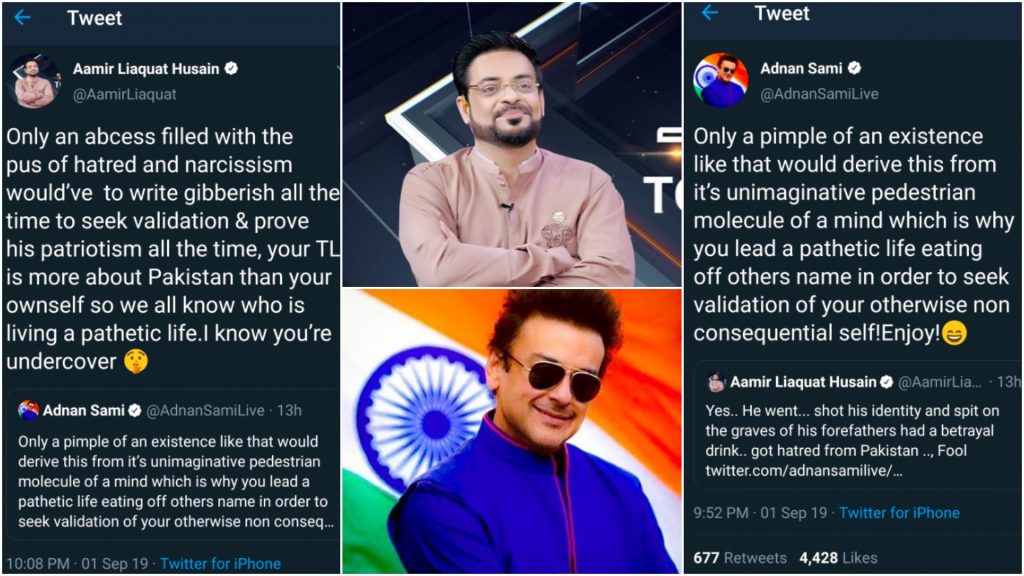 Adnan Sami who gave up his Pakistani nationality to become an Indian has often been criticized by trolls for doing so and Adnan Sami hasn't stopped taking a dig at Pakistan since then. Recently a fan asked him on his thoughts about Kashmir, to which he replied:
Yes… It's one of the beautiful parts of India. 🇮🇳 🥰 https://t.co/YeE2lMu7rI

— Adnan Sami (@AdnanSamiLive) August 31, 2019
And under that tweet, some brought Abhinandan and his iconic tea incident up, which fired up Adnan Sami:
Yes..He went..Shot an F-16 down; Had a cup of tea..came back..Got a 'Vir Chakra'- Cool!👍😉#adayswork #fantastic https://t.co/s0CWsGMYpx

— Adnan Sami (@AdnanSamiLive) August 31, 2019
And that's where Aamir Liaquat jumped in, he took a brutal dig at Adnan Sami calling him out for giving up his Pakistani nationality and also called him a fool:
Yes.. He went… shot his identity and spit on the graves of his forefathers had a betrayal drink.. got hatred from Pakistan .., Fool https://t.co/zOe6MTH4Rb

— Aamir Liaquat Husain (@AamirLiaquat) September 1, 2019
To which Adnan Sami replied in a very graphic way… 🤢
Only a pimple of an existence like that would derive this from it's unimaginative pedestrian molecule of a mind which is why you lead a pathetic life eating off others name in order to seek validation of your otherwise non consequential self!Enjoy!😄 https://t.co/mF7Mt7fCyG

— Adnan Sami (@AdnanSamiLive) September 1, 2019
But Aamir Liaquat being the savage man he is, came back at him with even more graphic details😖:
Only an abcess filled with the pus of hatred and narcissism would've to write gibberish all the time to seek validation & prove his patriotism all the time, your TL is more about Pakistan than your ownself so we all know who is living a pathetic life.I know you're undercover 🤫 https://t.co/BvPOoS1M4g

— Aamir Liaquat Husain (@AamirLiaquat) September 1, 2019
And people went crazyyyy!
Insert mind blown gif
People were lauding Aamir Liaquat for a reply so burning!
May not agree with you many times, but this was an awesome response.

Slam Dunk!!!

— Richard Harris (@HarrisRichard77) September 1, 2019
Yaaaas!
Aamir bhai -1 , major Adnan – 0

— Ali Rafique (@AliRafi97731035) September 1, 2019
Aamir's reply left Adnan Sami lajawaab!
@AdnanSamiLive Bht Time Hogya Jawab Nahin Ayaa 🤣🤣🤣🤣 Lajawab

— Qazi Haseeb (@Em_qazi) September 1, 2019
But Aamir was not coming slow, he took another dig at one of Adnan Sami's now deleted tweet amd honestly, we miss studying science!
My frustrated eunuch!Actually you're the breaking out of a rash on mucous membrane,disease is incurable,you are suffering from Identity crisis that's why doing weird things.I don't know which part of your body is suffering from pimple kapadia &why she is erupting again and again? https://t.co/DxQxYBsuKv

— Aamir Liaquat Husain (@AamirLiaquat) September 1, 2019
Not only did Aamir Liaquat beat Adnan Sami when it came to science but he also beat his followers with his command on hindi:
Vishv mein kewal aik hi kans ko yamrj ney arjun kay hathoun aisi shiksha prapt ki kay woh guru dakshna diye bina narg mein jal raha hai ab is kalyug mein swabhiman kay bajaye apmaan kay liye yadi rawan janma hai jis ka tweetalanka mein upwas kay bina sarwanash ho gaya https://t.co/ZIyVncPMSK

— Aamir Liaquat Husain (@AamirLiaquat) September 1, 2019
A man of many talents for sure!
@AamirLiaquat God gifted Multi talented Man

— Daniyal Siddiqui 🇵🇰 (@Daniyalsalespro) September 1, 2019
People were praising his eloquence:
It is @AamirLiaquat Bhai's command over language. Such #eloquence & such ease with words!

— Ziyad Fayçal (@Ziyad_F) September 1, 2019
Honestly, we're blown away by Aamir Liaquat and his genius replies! What do you think about this tiff between Adnan Sami and Aamir Liaquat? Let us know in the comments below!