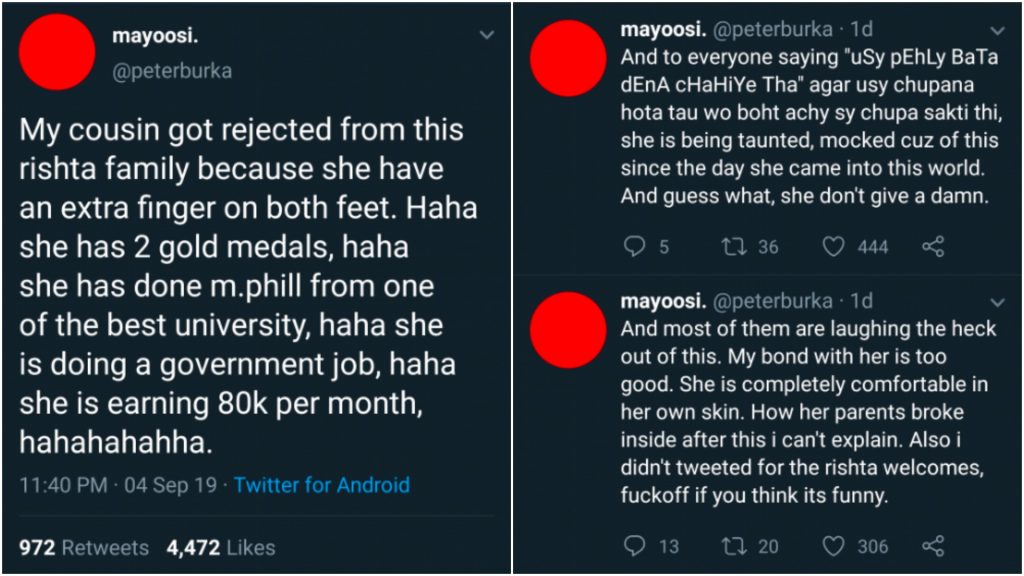 When it comes to our desi society and rishtas, we're the worst! From wanting the perfect gori, chitti, patli doctor bahu to rejecting every other girl who doesn't fit the conventional standards of beauty, it's a problematic society. A girl on Twitter shared a rishta encounter of her cousin, who, was rejected because she had 2 extra toes… I mean it's 2019 and people are still judging people on things they have no control over.
In a twitter thread, the girl shared how her cousin who is doing exceptionally well for herself, was rejected by a rishta family:
My cousin got rejected from this rishta family because she have an extra finger on both feet. Haha she has 2 gold medals, haha she has done m.phill from one of the best university, haha she is doing a government job, haha she is earning 80k per month, hahahahahha.

— mayoosi. (@peterburka) September 4, 2019
Despite having 2 gold medals, an M.Phil degree from one of the best universities, a government job and a good salary, she was only judged on the pair of extra toes she had:
Desi society is tatti. Mera dimagh band hogaya hy ye sun ky. Dil kar raha hai galiyan dun jaky. WHAT THE ACTUAL FUCK

— mayoosi. (@peterburka) September 4, 2019
And while there were people who agreed with her, there were people defending the rishta family…
Everyone has the right to reject someone, we all reject various people during rishta searches. The family , if rejected the girl, might have done so the fingers do not transfer onto the grandkids. Its nothing personal, everyone has a right to decide for themselves.

— name can not be blank (@canidisapparate) September 4, 2019
Are bhai apna apna choice hain. Though it is unfair, you are getting worked up unnecessarily..

— Jahrila Insan (@mitatara) September 6, 2019
Some were blaming her cousin for trying to hide it:
But it's upto every individual what they want. Maybe if your cousin told them before they came for rishta to ye hota hi na

— Mirزa Saحab 🇵🇰 (@imMuhammadAsjad) September 5, 2019
But they were given befitting replies:
And to everyone saying "uSy pEhLy BaTa dEnA cHaHiYe Tha" agar usy chupana hota tau wo boht achy sy chupa sakti thi, she is being taunted, mocked cuz of this since the day she came into this world. And guess what, she don't give a damn.

— mayoosi. (@peterburka) September 5, 2019
The girl also continued to say how she shares an amazing bond with this cousin of hers who is beyond comfortable in her own skin and doesn't worry much about things she has no control over.
And most of them are laughing the heck out of this. My bond with her is too good. She is completely comfortable in her own skin. How her parents broke inside after this i can't explain. Also i didn't tweeted for the rishta welcomes, fuckoff if you think its funny.

— mayoosi. (@peterburka) September 5, 2019
As her tweet viral, a lot of people came forward to remind the girl that this rejection was a blessing in disguise:
If someone rejects you for trivial reasons, just consider it a blessing in disguise. Just be thankful to God for saving you from such horrible people and from a marriage that never would have worked.

— SocialPariah (@Non_granta) September 5, 2019
Some thought living with such mindset would have been a nightmare!
Thank God she's saved from these shitty people. It would've been a total nightmare living with this mindset.

— Fehmeen (@fanwar28) September 5, 2019
Yaaaaas, more power to her!
Your cousin is owning life rn, fuck them rishtas

— the misandrist next door (@amnaaww) September 5, 2019
Ours too, hey!
GOOD RIDDANCE! SHE'S MY HERO!

— Chewing ghum (@manolofatti) September 5, 2019
Many sent a little prayer for the rishta family and their thinking:
Allah unlogo ko hidayat de. Dua hi di jasakti hai. Insan ka taqwa, kirdar, akhlaq, aur qabiliyat dekhne chahiye. mere liye tou honor ki baat ho

— Danish Speaks (@danishspeak) September 5, 2019
Many reminded her how Bollywood actor Hritik Roshan has 6 fingers too!
Bro first of all Hrithik Roshan has a six fingers too.
Second of all in the words of my maami: Allah loved us and gave us five fingers, imagine how much he loved him to give him 6?

— not ح (@jaana_banana) September 6, 2019
Alhamdullilah x 100:
Say Alhamdulillah.

— Mariam's Madness (@mariamsmadness) September 5, 2019
Her cousin became an inspiration to many:
Im proud of her….GOD BLESS HER..SHE IS AN INSPIRATION MASHALLAH!

— Hennah Khan Afridi (@AfreedeH) September 5, 2019
Indeed!
She should pray shukrana. Better be rid of such people from the start. Allah is the best of Planners.

— Ruhina Hashmi (@Ruhinah) September 5, 2019
They better be!
What if they are just intimidated by her accomplishments and are hiding it by pointing at something completely irrational?

— Shubham (@shubhamcl10) September 5, 2019
Some thought the extra toes saved her:
BLESS HER, HER EXTRA TOES SAVED HER wow ✊🏾

— K🌹 (@keya_s14) September 6, 2019
Oh, the burn!
Extra appendage kay bajaye extra intelligence say darna chahye coz then the girl might be unafraid to call out any and all BS

— Zunaira Omar Saqib (@mildly_green) September 5, 2019
We definitely think this was the case:
More like families are rejecting themselves cuz your cousin is way out of their league.

— Sneha (@RainbowChildPai) September 5, 2019
It sure is:
Rejection is God's protection. Frankly anyone who rejects her for this reason alone doesn't deserve her. Achi baat hai us ko to khush hona chahye jaan chuti aisay bakwas logon se.

— Kween TigerLily (@mia__utopian) September 5, 2019
Some told her how people with extra toes and fingers are considered lucky:
Ppl with Extra fingers are thought to be lucky..
My son has six fingers each feet

— Kashif Awan (@lostguy79) September 5, 2019
Just tell her having to two extra fingers shows that you are one of the unique one in this world and you will get a better rishta Insha Allah

— Alyan (@alyan_hun) September 5, 2019
And some suggested she looks for cross-border grooms:
Having extra fingers is considered lucky in india. Advise her to look for cross-border grooms.

— Nipun (@nipungupta14) September 5, 2019
Some were done with the society:
tbh all of you should be so happy the marriage didn't get finalised because imagine living with a family for your wHOLE LIFE who's BIGGEST problem is two extra fingers??? I mean REALLY?? This desi mentality sucks and i hope your cousin finds the BESTTTTT rishta and she's happy❤️

— sTill vENTING (@yusrar_) September 5, 2019
How lame are people. Trust me she is better of that so called rishta family. She deserves much better. Lanat on society with such standards looking down on others for the sake physical appearance.

— Hinna Anwar (@TheHinaAnwar) September 5, 2019
Desi society is so tatti. Yahan tumhare baap, ke tumhari behn yan bhai agar divorce hoga to saale issliyee bhi reject kardete hain

— ZSQ (@PeriShakal) September 5, 2019
It's not the 6 fingers, it's her being a Girl. If it was a guy having six fingers and everything else same, he would have easily got a bride. That's how Desi society is.

— Baba Chamatkari (@BChamatkari) September 5, 2019
Some thought arranged marriages should be banned to put an end to the rishta hunting system:
She deserves better than that. Having extra toes is no big deal and can be removed through a simple surgery only and if only the person him/herself wants to go for the procedure. Personally i think having extra toes makes you different, pretty awesome just like Xmen. 🙂🙂👍👍

— Shariq Khan (@Shariq____Khan) September 5, 2019
parents become soooo mean while finding girl for their "prince" that they look at the poor girl as if buying some goat from market. shame on such parents and shame on that "prince" also who demands a "perfect" girl

— sohail khan (@sohailkhan81) September 5, 2019
What do you think about families rejecting girls on petty things? Let us know in the comments below!