We might have many names in our entertainment industry who could be considered 'famous', but, there's one that always shines the brightest for all the right reasons. From her film choices to her persona on and off camera, there's one superstar in the industry who knows how to handle all that comes towards her, and that's Mahira Khan!
Come rain on shine, this actress has proven her mettle time and again, and in 2019, she was at her finest with her successful stint on the cinema screen. There's a lot that this ever-popular actress has done that others could learn from, and that's why Mahira's on the Diva radar today!
What makes her iconic and a prime example for other actresses in today's day and age? We have the lowdown…
Her Fashion Sense

Mahira Khan has no comparison when it comes to her innate style sense, and her countless appearances are a proof of that. Head to toe, there's that oomph factor in her that you need a superstar to have!
Her Global Representation

Mahira is one of the few names who has represented Pakistan not only locally at various festivals but at iconic international platforms too. Be it Cannes Film Festival or representing the film industry at the BBC headquarters, she's done it all with panache.
Her Friendships

Not many can claim to be as close to their friends as Mahira can and she's proven it time and again. Be it her BFFs like Feeha Jamshed and Sana Hafeez, or her industry-friends-turned-family like Asim Raza and Umar Sayeed, she's known to be super loyal to them all!
Her Celebrity Bonds

Not only is Mahira close to those who she calls her BFFs, but she's also known to develop great bonds with her co-stars! Be it the dazzling friendship Mahira and Fawad Khan shared during the Humsafar days or her friendship trio with Adeel Husain and Sheheryar Munawar because of Ho Mann Jahaan, she's kept all her bonds alive! One could also see that reflecting when everyone supported her during the whole Firdous Jamal fiasco!
Her Brand Choices

Mahira is as smart as it gets when it comes to picking the brands. She can easily say no to the biggest brand if she doesn't want to do it or thinks it's not good for her image! There's never a greed factor here.
Her Social Life

We all know that Mahira's smart, in fact super smart, and that's why she will never be spotted hanging out with random peeps and/or seen at the wrong places! There's always a social life that she carries which is prim and proper!
Her Film Choices

It took a while for Mahira to cement her feet in the film industry in Pakistan, but her overall popularity and zest for acting brought her to the top! 2019 was the year she proved herself even further with a film like Superstar and a role like Noori, and now there's nothing stopping this versatile diva!
Her Dance
While we can keep talking about how great Mahira dances, but we would like her performance to speak for itself! Noori was the prime example of how amazing Mahira can be in front of the camera, and needless to say, we were and still are mesmerised.
Her Choice to Keep Her Private Life Hidden

There's a ton that Mahira could be putting out there, but she chooses to keep it all private! So much so, that even things like who her sibling is or what her familial bonds look like have all been kept pretty much under the wraps! That's always a good thing when you have the public eye on you 24/7 and we can't help but love this obscurity!
Her Social Media Persona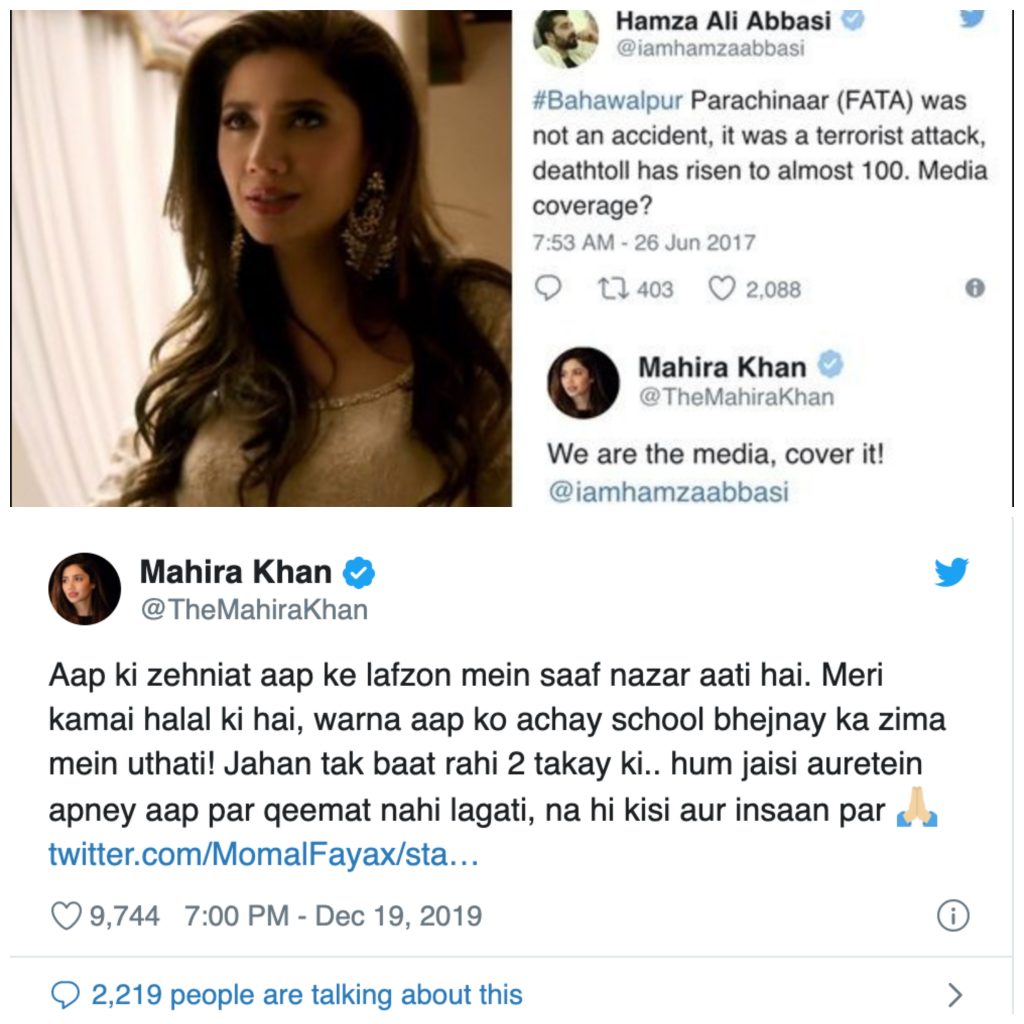 If you thought that this demure diva would let anyone say anything about her on social media, then think again! Mahira's not the one to back down and if someone has to say something about her, she'll make sure to have the last word there. However, she's also smart enough to not jump into everything that's said about her, and we have the Firdous Jamal and Ranbir Kapoor controversies there to prove that!
What do you love about Mahira Khan? Tell us in the comment section below.