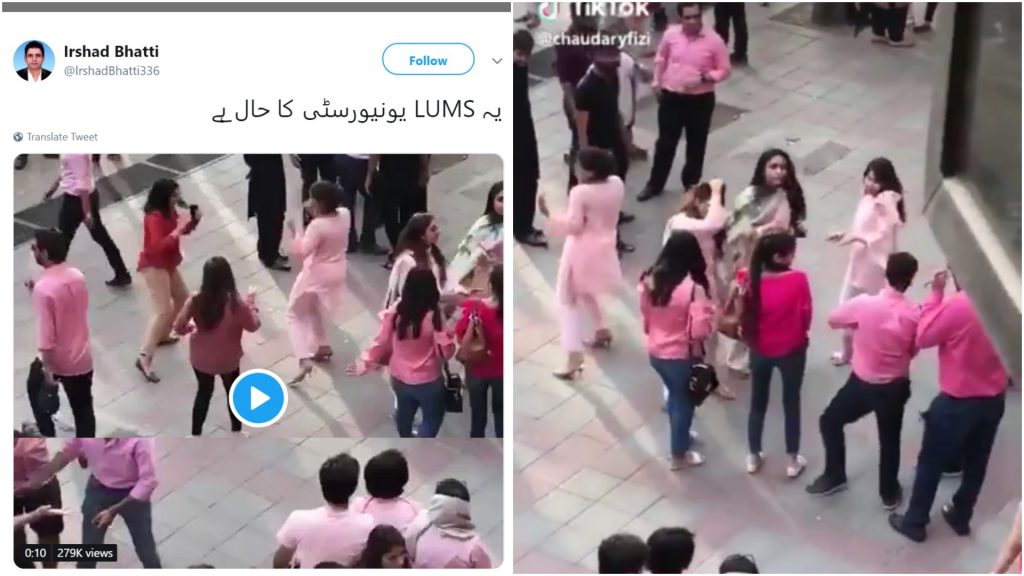 In today's segment of Pakistani-awaam-triggered, we bring to you a 10-second long video from LUMS which has been going viral on the internet and is garnering a ton of feedback.
The video went viral when columnist and commentator Irshad Bhatti shared a 10 second video from LUMS' Pink Day celebrations titled 'yeh hai LUMS university ka haal:'
یہ LUMS یونیورسٹی کا حال ہے pic.twitter.com/cgP8nu7zr2

— Irshad Bhatti (@lrshadBhatti336) May 25, 2019
Soon after the video went viral, #LUMS became the number one trending hashtag on Twitter.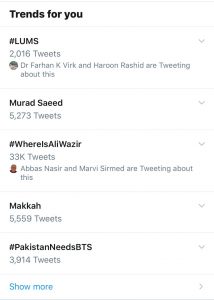 The real story is that the Pink Day was being celebrated to raise awareness for breast cancer in Pakistan and it's a normal practice in many institutions to celebrate these days to create awareness amongst the masses.
Celebrating the Pink Ribbon Day at #LUMS today to raise awareness abt breast cancer. Around 90,000 Pakistani women suffer from it each year.

— Zara Shahid (@ZaraShahid_) March 28, 2013
Another twitter user came forward to clarify that the video was from April, and his thread literally serves everyone right!
Okay so first of all, you guys need to understand that the whole pink day fiasco didn't even happen in Ramadan. Pink day was on the 3rd of April and the color days are something the seniors look forward to before leaving lums so your whole argument about haram cheezain in ramdan-

— Tuaha Nauman (@HaveyoumetTuaha) May 27, 2019
is already a false accusation. Secondly, please for God's sake stop judging people and objectifying women at least in Ramadan. Do you have any idea what these people go through everyday? Phele hamare semester ka depression and then we have to tolerate all this non-sense about-

— Tuaha Nauman (@HaveyoumetTuaha) May 27, 2019
us being "kAnjaRs". I'm not even kidding about the amount of sexual harassment women go through and you guys have the audacity to comment on their character as if they are not traumatised enough. Lower your gaze. Roza srf Aurton ka ni mardon ka b ha. But no wo to hmse hota ni –

— Tuaha Nauman (@HaveyoumetTuaha) May 27, 2019
Thirdly, Jin jin logon ne wo video dekh ke fazool comments kiye hain believe me us rozay ka wese hi faida ni jismain saray jahalana comments or tweets tmhare hathon se likhe ja rhe hain remember that. At last I just wanna say, please let them live and focus on your own ibadat-

— Tuaha Nauman (@HaveyoumetTuaha) May 27, 2019
Even tho I'm one of them and I do not endorse most of the things that the lums community try to impose, I still am accountable for my own ibadat and so are you. Thanks#LUMS

— Tuaha Nauman (@HaveyoumetTuaha) May 27, 2019
But the damage was already done, people were fuming over a couple of students enjoying a brief moment, there were countless judgments, shaming and opinions:
The question is what is being taught in the university these days? #lums
We r Muslims and yes we r not perfect, we have flaws, but this dance party? This is not us, that too in the month of Holy Ramadan.
We need a minute to think about where is it leading us?

— Usama Khan (@UsamaX17) May 27, 2019
Ummm…
What The Hell Is Going On.. On This Islamic State..
Such A Shameful Act By #LUMS
They Don't Have Even Respect For Ramadan….

— Syed Moin ✪ (@moinshah235) May 27, 2019
Culture?
Not only #LUMS but QAU and other universities are following the same line. At least respect your culture if your secular/atheist mind has problem with the religion.

— Kinza (@officialKMI27) May 27, 2019
Tweeted via Twitter, a Western invention, but okay…
when you blindly followed the western traditions, then such crappy things have to happen. "Grotesque" is the word fits upon #LUMS students.

— Kashif Raza (@KashifRazaa) May 27, 2019
A lot of people came out in support and gave befitting replies:
Did not get you about things in trails. It is the culture of this university from the very beginning. You will se students doing tableegh and girls wearing hijab at the same time. Hindus and Parsis and Muslims sharing rooms and meals. #LUMS is above all this.

— Hassaan Anjum (@AnjumHassaan) May 27, 2019
SAVAGE!
Women who will never see the inside of a university and have to take permission of their husbands to breath and here criticizing #LUMS video and saying thank God I didnt get in Lol hunni you wish 🙏

— Khadija Baloch 🇵🇰🇵🇸 (@khadijaali354) May 27, 2019
People also pointed out how LUMS is so much more than the video
You can see the results of Maulana Tariq Jamil's speech. #LUMS Pink Day dance vid.
Wese b Maulana k nazdeek nachny gaanny wale un k bachy hien (however he's also calls himself tableeghi) that's why there is nothing to be surprised. Mic Drop. https://t.co/4mLlg06iKW

— Ismail Bin Sultan 🇵🇰 (@BakwassNaKro) May 27, 2019
Wesay tw #LUMS mein masjid bi hai?? Roz waha 5 times namaz bi parahe jatii hai? Aur ramadan mein iftar bi free mein milta hai rozaydaro koo? Kabi uski video viral nahi howi esa q?

— Sohail Azam (@Sohail_Azam786) May 27, 2019
A lot of people didn't see no issue in the video and shots were fired…
I fail to see the issue in the video? Don't you live abroad and have your children in the academic institutions that might host same type of events. Shouldn't you be caring about that?

— Noni 🎂 (@DearNehal) May 26, 2019
Some put out facts to prove their point and oof, the burn!
Reality check for all those jinka iman khatre mai aa gya hai after that lums pink day video https://t.co/ekD6vvI0PK

— Omer A Rehman (@omerark1) May 27, 2019
Many said that the video shouldn't have been shared with public
Lets some things be secret it is useless to discuss it publicly the time is over for such criticize
They are from elite and in power class and you couldn't do anything to change them .

— Sardar Riaz ul haq (@sriazulhaq) May 26, 2019
Spot on! Where's the law?
Is there a law which says not to dance? There's definitely one against stalking and sharing someone's images online without their consent.

Looks like LUMS is surviving and keeping its freedoms even through the onslaught of continuous moral policing, intolerance and misogyny. https://t.co/Tu3dhdV6mB

— Dawar Hameed Butt (@thelahorewala) May 27, 2019
People were disappointed
As a student and students activist I feel ashamed of our media, we live in a society where a stupid anchor/analyst can viral a video of students dancing but can never talk about ban on students unions, rights of students and how favouritism has weakened our education system#LUMS

— ASAD J. BADVI (@Aj_Badvi) May 27, 2019
Some reminded people how the students in the video were mature enough to make decisions:
Everyone is responsible for themselves. Everyone in the #LUMS video is mature enough to distinct between whats right and whats not. But the QUESTION arises that is invading one's privacy and sharing the video with their consent is right?

— Dur (@duryousafzai) May 27, 2019
Yes please, live and let live!
Those who are trending #LUMS and talking about the dance video and associating it with Ramadan. Well I would just say one thing. In this Ramadan let people live their lives and let Allah only judge people. Stop being Gods 🙏

— ایمان خان (@okemname) May 27, 2019
On point!
The video of #LUMS students dancing, which has started trending on social media is a typical example of what we call moral panic. The country is literally burning, and some fools are worried about a few kids having a bit of harmless fun. 🙄

— Nida Kirmani (@nidkirm) May 27, 2019
Yaaas, girl!
Ramzan main rape hote hain, murder hote hain, children are kidnapped and sold into prostitution uski kisi ko fiqr nahi hai but god forbid a few people danced in #LUMS we truly are a lost nation

— Khadija Baloch 🇵🇰🇵🇸 (@khadijaali354) May 27, 2019
Oh boy, that must have burnt!
If all you weila people invested half the time you waste on twitter daily condemning #LUMS or other non-issues, you'd actually have made it to LUMS or some other equally good university.

STFU and go do something better with your lives.

— Ahmad Mukaram (@AhmadMukaram) May 27, 2019
Some were genuinely worried about the invasion of privacy
why is no one talking about how problematic this invasion of privacy is…? more so from the person in LUMS who posted this video on a public platform w/o consent of those whose faces can clearly be seen in the video #lums https://t.co/mgS4iKIkfy

— hunni no (@s0llicitus) May 27, 2019
I am not on anyone's side but what has made that person to privately capture a video of a private uni event & show it to the whole country? Nah if they are doing wrong preach them,but do not make their private videos to spread it so that every other one can take 'chaskay'. #LUMS

— Shan Ahmad Ch😎🇵🇰 (@PricelessBrainz) May 27, 2019
About time people started talking about the real issues!
Guys,
Stop Criticizing #LUMS
They are dancing. Thats all. We dont raise such issues anymore. World Moved on, way long ago. Please Talk about Bigger problems;Women opression and rape and harrasment and sectarian voilence
All of these shouldnt be a part of ISLAMIC REPUBLIC too.

— 🙄 (@always_opposed) May 27, 2019
DEFINITELY! Infact, every institution should add this course to their curriculum
#LUMS should add a course in their curriculum which is called 'PRIVACY'. I am sure it was a lums student who create this video in this angle and spread it.

— ⏺️ Muhammad Faizan (@mf41z4n) May 27, 2019
People have been speculating that the ones who are fueling hate towards the video are salty LUMS rejectees and the tweets are beyond hilarious!
There have been countless cases of rape in Ramzan but I havent seen it getting as much attention this 10s dance in LUMS is getting.
Hatred #LUMS getting now a days is only because of exasperation from those who didnt get into it.
We seriously need to look into our priorities.

— Sameer Malik (@sameermalik933) May 27, 2019
People are just salty because they didn't make it to #LUMS lol

— ᴍᴏɪɴ. (@HolyMoin) May 27, 2019
Oh god, this tweet wins the internet!
Picture speaks louder than words.
#LUMS pic.twitter.com/luCiz3foHP

— S🌻 (@_malic_) May 27, 2019
Yep!
It is for these reasons & shallow minded people that I am so opinionated about living in #Pakistan. It is about time people understand the concept or #Freewill & Apne Kaam se Kaam Rakhna! Apna admission nai hua tou accept kro apna failure. Let them Live #LUMS https://t.co/yKtFj6uX26

— Hufsa Munawar (@HufsaMunawar) May 27, 2019
Ooof!
NO ONE: All those rejected from LUMS: Mein tu behayaye ki waja se nahi gya. #LUMS

— Waleed Iqbal (@waleeediqbal) May 27, 2019
We stan a good spongebob meme
All the LUMS rejectees right now😂#LUMS pic.twitter.com/8ZNp2dsE2K

— moizza_arshad (@MoizaArshad) May 27, 2019
You can always count on Twitter to bring out humour in every situation!
One more reason to pursue higher studies at #LUMS, I just love the atmosphere LUMS offering to it's students.

— Shafique Soomro (@shafique_soomro) May 27, 2019
Haha, ours too!
WE should be debating that who was showing best moves rathwr than judging their character .

My pick is the pink shirt guy.. driving imaginary motorbike #LUMS

— Psycho (@Solid_Rana) May 27, 2019
The song was lit though!
Me after watching the #LUMS clip!
Literally the music was totally kickass!👌😂😅 pic.twitter.com/0YQ807ZONn

— شہریار عباسی🗣 (@Shari_Yaar) May 28, 2019
To be very honest, the issue wasn't that big. First of all, the video should not have been shared publicly to be made viral without the consent of the students.
Second, facts should have been checked before running a smear campaign against a bunch of students.
And third, everyone in the video is mature enough to decide what's right and what's wrong and are answerable for their own deeds because last I checked we have been promised a judgment day by Allah and not some woke Muslim brothers and sisters on the internet.