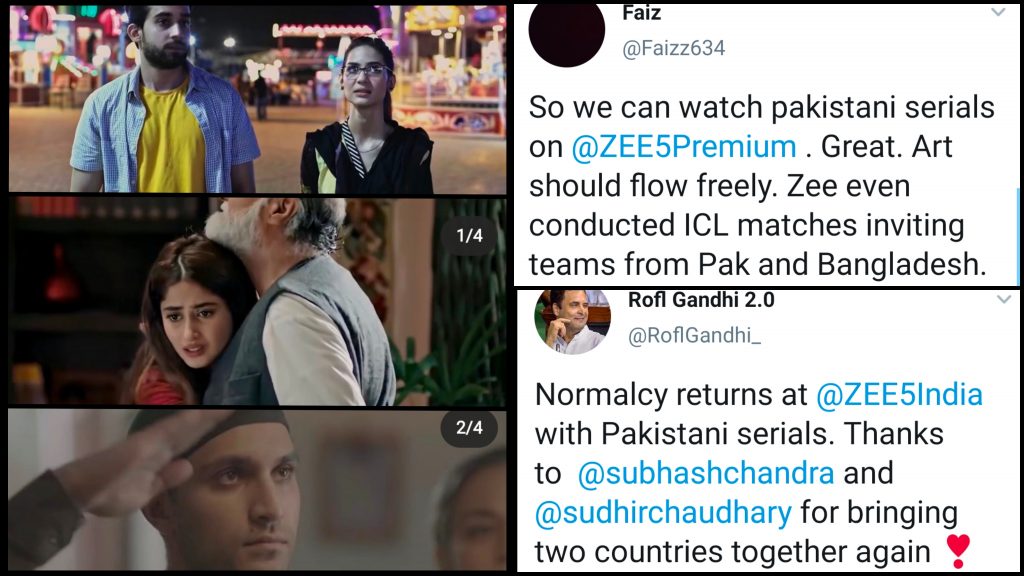 Zee network is ready to revive their Zindagi platform online as Zee5. The channel has been quite popular for introducing Pakistani content in India with shows like Aunn Zara, Zindagi Gulzar Hai, Hamsafar and Dhoop Chhaon.
Zee5 has now roped in some of the most iconic Pakistani serials for their platform including Baaghi, Shehr-e-Zaat, Diyar-e-Dil, Bin Roye and Tum Kon Piya among others. The platform is also planning to launch 5 new original series featuring the Pakistani lot:
Ek saath khil ke jiyenge
Zindagi mil ke jiyenge

Coming soon on ZEE5#ZindagiOnZEE5 #ZindagiMilkeJiyenge #ZEE5Premium #ZEE5 @ZEE5India @ZEE5Premium pic.twitter.com/3oEO1JIKdB

— Zindagi (@Zindagi) July 16, 2020
And fans on both sides of the border are anything but calm!
Oh, great. So, DKD is gonna air on Zee5. That's some good news. I am excited for Sajal, Ahad, Bilal and Sarah…….!!
And all the others as well. https://t.co/Zozh57S9O9

— Aspiramdoc (@DadiKiKulfi) July 16, 2020
People were happy to see Zee5 doing what Bollywood couldn't:
The selective outrage and propaganda against pak content and artists was hilarious. Glad digital could do what Bollywood could never 😊💜 https://t.co/Jzmv7doqrO

— 🌌 (@aestheticallyFM) July 16, 2020
People were remembering how the channel introduced them to Pakistani content:
Channel where i first discovered Fawad 🙂 Good to see you'll back. Looking forward to watching some good dramas.
Ps- I see Sarah, Saba, Sajal, Ahad, Bilal, Humza but no FK 🥺 battle of the bands ki laga do yaar 😆

— Theresa Fernandes (@theresaferns8) July 16, 2020
People were happy at normalcy returning:
Normalcy returns at @ZEE5India with Pakistani serials. Thanks to @subhashchandra and @sudhirchaudhary for bringing two countries together again ❣️💐 https://t.co/sDlOe4zfcz

— Rofl Gandhi 2.0 (@RoflGandhi_) July 17, 2020
Some people had questions:
Oh My God !! Biggest surprise of #2020 but do you think that extremists would let you aired #pakistani content ? Or like before you ll have to shut it down? Anyways good luck !!cant wait to watch our talented actors and epic stores 👍

— Summer (@DadiAmma007) July 17, 2020
Well, keep guessing!
In a shot Samiya Mumtaz is behind Ahad. Is DKD airing on this? https://t.co/1LSUGer0LR

— Sota flower (@AimmySays) July 16, 2020
That's the spirit!
Happy about this. Can't hold on to negativity and grudges. Glad other artists are also getting a wider platform. https://t.co/YMWLNk083k

— Reemz (@FawadFan4ever) July 16, 2020
Heck yes!
OMG was that Ahadd https://t.co/AUMKnWoxzb

— leo 💫 (@tas_873) July 16, 2020
It sure is!
Chalo ji.. So Pakistani content is back on our screens. Zindagi relaunches on ZEE5. https://t.co/HUaraF4CkW

— Harneet Singh (@Harneetsin) July 16, 2020
We say celebrate!
some of the better quality Pakistani content premiering on a totally non-Pakistani platform… should I celebrate or cry? 🤨 https://t.co/NH3iICn76e

— mais||jetlag✈️ (@maissum) July 16, 2020
People were intrigued by all the new projects:
Umera Ahmed original content in it. #EkJhotiLoveStory a web series starring Bilal Abbas, Madiha Imam and Washma from Pyar Kay Sadqay#DhoopKiDeewar a telefim about partition era starring Sajal and Ahad (😴 for cast) https://t.co/OhXNZnkqM3

— undone (@shaat_up) July 16, 2020
Yaaaaas!
I'M JUST SO HAPPY
DHOOP KI DEEWAR IS GOING TO BE SOMETHING BIG
AND I'M SO HAPPY THAT PAK IND ARE COLLABERATING AFTER SO LONG https://t.co/6VhtK92NBJ

— Rabiya (@rabiyatahir_) July 16, 2020
People were all for it!
So we can watch pakistani serials on @ZEE5Premium . Great. Art should flow freely. Zee even conducted ICL matches inviting teams from Pak and Bangladesh. https://t.co/x2ph3RDQCs

— Faiz (@Faizz634) July 16, 2020
People couldn't contain their excitement!
You are gonna air the best content am telling you, super excited for this😀 https://t.co/KfGwx4YKeI

— S. (@justamuggelborn) July 16, 2020
Are you excited? Let us know in the comments below!