Situated in the South China Sea, Vietnam is best known for its bustling cities, breathtaking beaches, war history museums infused with Buddhist art culture music and street food for miles in its old towns. It's actually quite akin to stepping back in time as Vietnam even though at par with Chinese growth rates economically still has a difficult visa regime which means that a lot of it is still not commercialized at all and is dripping with character.
SHOPPING CENTRALE
Hanoi's Old Quarters as they call it, are made up of 36 lanes close to Hoan Kiem lake with names based on the businesses which have resided there dating back to the 13th century where they supplied goods to the Imperial Palace. It's a shopaholic's dream. If you are into antique markets and bazaars full of little trinkets, think Turkey's grand bazaar and multiply it by ten and you will understand just how huge and diverse this market is. With an entire street dedicated to art, painting and paper, we were mesmerized as we stumbled our way through the lanes for a good three hours. Cycle rickshaws although not to our Pakistani taste are a common sight here just as well as tea stalls witl little midget stools to lounge on. These busy streets are a must visit on a stay in Hanoi.

Culture vulture?
The west lake district of Hanoi boasts its largest lake called "Ho Tay" which features most of the governmental buildings, Ho Tay Water Park, one of the four sacred temples Quan Thanh alongside Tran Quoc Pagoda as well as some of the cities best hotels. Both sides of the lake have amazing promenades with benches for pedestrians and lots of cafes and ice cream parlors at the waterfront. One must also visit the Ho Chi Minh museum which closes at 4:30 in the evening so get there quick if you want to check it out.

Soul food
The Hanoi Social Club as this cafe is called is a small soul food place tucked away in a back alley serving fusion food on it's three floors with a rooftop garden to boost. With great food and an ambience which screamed wallflower, this eatery is as cozy as they come. All it needed was a sound track playing in the background, we reckon "dam maro dam" would be a nice fit but this isn't the only one there is Popeyes Louisiana kitchen in Ho chi min city as well as a soul burger joint there which is worth checking out. Soul food is basically food of African American decent and there seems to be a lot of left overs of this from the war with the Americans after they took over Vietnam. Sad premise but amazing tastes for the locals upon parting.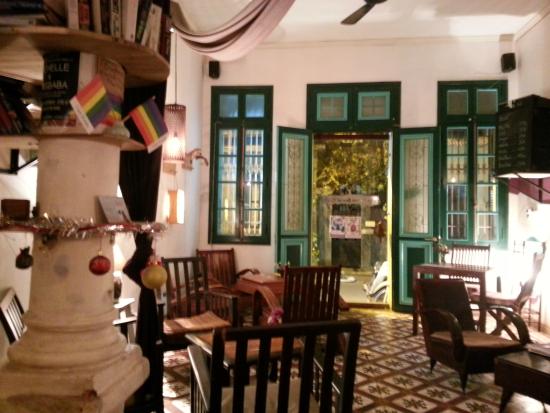 Hills and hill stations galore
Sa Pa was established by the French as a hill station back in 1922 and is currently the tourist center in northern Vietnam. The view and scenery is epic on a clear day, but one must check the weather before planning a visit as the hills are often shrouded in mist. Sa Pa is not the requisite alpine little resort you would think of. As a matter of fact, it's going through quite a construction boom right now but the hill station is not dull or drab in any sense. The colors of the old French colonial villas are present as well as the hues added by the hill tribes which often visit the town. It takes an overnight train journey to reach Sa Pa from Hanoi and the destination is quite well equipped in terms of hotels for any budget.

Cruises to dream about
Ha Long bay is a breathtaking beauty about 3.5 hours drive from Hanoi where one can take a day cruise or stay overnight in many of the modern junk cruise ships stationed there. The legend of the emerald isles, with more than 1900 of them in this body of water is of a great war Vietnam had to fight with invaders from the north. To help them, the Jade Emperor sent down a mother dragon and her brood who not only incinerated their enemies but dropped emeralds from their mouths, which are present in the shape of these islands. Surrounded by mist and water that is at the most 12 meters deep, these isles seem like something out of a child's tale. You would think an army of orcs (Hint: LOTR) would appear on top of one of them any moment!

Beaches and coral
Based in the khanh hoa province, Nha Trang is a bustling but serene beach front known for an amazing certified diver center and a window to explore hard and soft coral reefs for miles. Yah the usual water sports of banana boating and kite surfing are abound here as well as are Uber luxurious resorts like the six senses spa resort and others. There are however plenty of options available for any budget here as well which is something you will find across vietnam they cater to all not just the very rich!!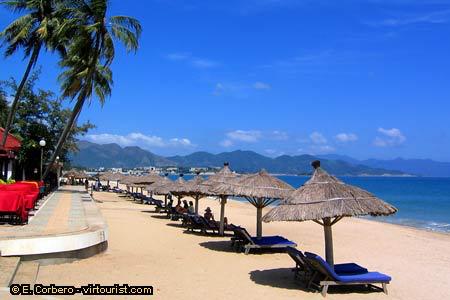 Vietnam thus merits at least a week and is a world unto itself in the diversity of activities and experiences available here. One must always remember though that this country is very polite but not something you want to get on the bad side off so travelers must respect local traditions and no means no not bargain more like it is in some places in the world.
Happy traveling!