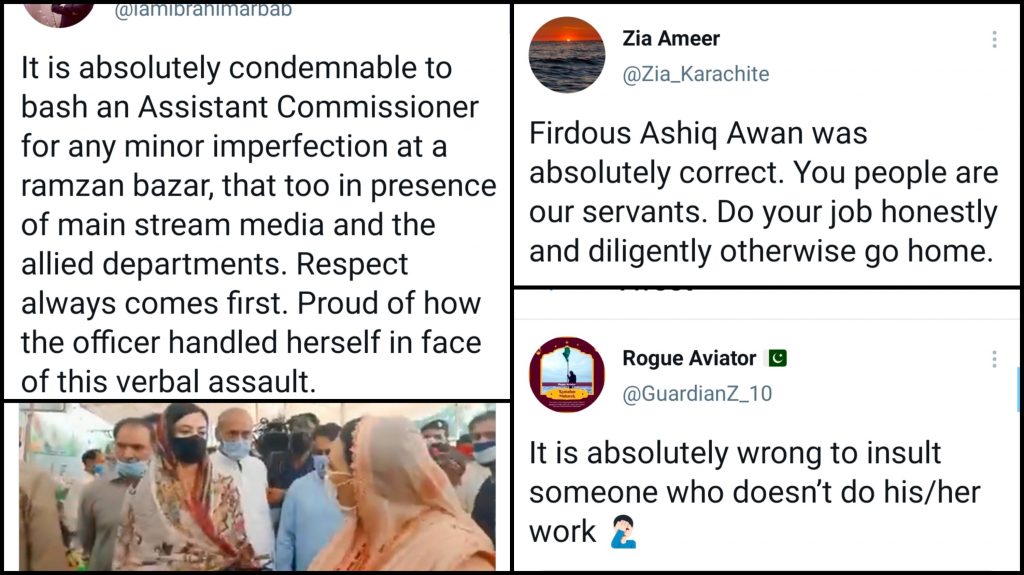 Special Assistant to Punjab Chief Minister, Dr Firdous Ashiq Awan visited a crowded Ramzan Bazaar in Sialkot to inspect the quality of food there and found it to be substandard.
Furious at the quality of items being sold, Firdous Ashiq Awan reprimaded the Assistant Comissioner Sonia Sadaf, who instead of admitting to her negligence, kept arguing with Firdous Ashiq Awan. Upon being chided by the chief minister's aide, Sonia Sadaf could be seen angrily leaving the bazaar.
People at the scene caught this exchange on video and it's been making rounds all over social media, leaving the netizens divided over which side to choose:
It is absolutely condemnable to bash an Assistant Commissioner for any minor imperfection at a ramzan bazar, that too in presence of main stream media and the allied departments. Respect always comes first. Proud of how the officer handled herself in face of this verbal assault. pic.twitter.com/3fttLISON7

— Muhammad Ibrahim Arbab (@iamibrahimarbab) May 2, 2021
There were people who believed that the Assistant Comissioner was served right for her neglect:
Shut Up! Resign and go home. If you cannot serve the people then our tax money is not haraam to waste for your luxury. https://t.co/zdyUIpZ3IB

— Ray (@iKarachiwala) May 2, 2021
People wanted the AC to be sent home:
The CSS or Civil Servants are permanent elite civil service authorities.
These people can't come out from their sense of superiority.
That assistant commissioner needs to be sent home.
pic.twitter.com/Jokak1EIo7

— fouzia Hameed (@fouzi_s) May 2, 2021
People were right by Firdous Ashiq Awan's side:
"Minor imperfections"? Availability of spoiled food on market is a result of incompetence, not minor imperfection. It results in nutrition and gastric issues. Instead of vowing to remove incompetence from your ranks, you are worried about the so-called rEsPecT of your colleague. https://t.co/QYoxmC2lJD

— Rizwan (@Rizwow) May 2, 2021
People were happy that these AC's and DC's were kept under check:
It is condemnable to bash AC but perfectly alright to take bullets for these non performing servants? Though harsh language but ACs and DCs should be kept in check. Sirf Isb walon ki performance q nazer a rae hti ha? Baki offices mein AC lga k sakoon mahool mein htey hein? https://t.co/w6hNxG9UkB

— Haseeb! (@HaseebHassan_) May 2, 2021
People were also pointing out how instead of committing to rectify the neglect, the AC decided to walk out:
She walked away instead of making any commitment to rectify her mistake. Sarkari mulazmeen ko tou extra haram charbi lagi hai. Disgrace!!!! https://t.co/1vLMx1XqnV

— Ayesh (@ayeshmuneeb) May 2, 2021
People were reminding how it was literally their job to regulate food quality which they were neglecting:
Not ensuring quality of goods in Ramadan bachat bazar for the poor when it is your damn job, is what is absolutely condemnable. Kam ap loug karein nahi theek se aur phr bolein k haar pehnao humein. Ajeeb. https://t.co/Ge3CY7wJ50

— Aamna Hassan Fasihi (@AamnaFasihi) May 2, 2021
They have a duty for which they are paid for. Bureaucracy is not lord of this country. They are public servants. They have to perform.#افسر_شاہی_عوام_کو_جوابدہ https://t.co/cSAIwkjSpb

— سہیل | Sohail (@SohailAnwer) May 2, 2021
One can argue on Aapa's reaction, but excuse me how a minor imperfections happens in the first place when your job is to assure it doesn't?

Due to these "minor" imperfections Govt ko ghalyaan par thi hen. https://t.co/WCrQARaL10

— Virk Shahzaib (@VirkSh786) May 2, 2021
Officer of Public service commission means u r here by choice to serve ppl . And u get paid by public money so first of all there shdnt be any 'minor imperfection".. bcoz ur duty is to remove that minor imperfection. https://t.co/PMRuQqjhLg

— Aysha Umer (@itsaysha_umer) May 2, 2021
People were with their #TigressAwan:
Why is condemnable ??? It is there job and any Senior would show this anger especially when there dealing with so much atleast young officers need to step up and they scream at common citizens , insult them and what not so yeah what #TigressAwan said we all say it is right 🙏 https://t.co/nWzxuk0UOn

— •Sugar Bell • 🌸 (@sugarbelz) May 2, 2021
People had questions:
If show offs are public why insults cannot be public?
And lets not forget the kind of civil servants Pakistan has and how they behave with general public. https://t.co/lYExKj80iw

— Rafay (@DaNecromancer) May 2, 2021
👀
Respect comes with work.

Govt and PM is publicly bashed 24/7 on media mostly due to negligences of our bureaucracy. Civil servants aren't holy cows. https://t.co/kRatB5CS5P

— 𝕾𝖍𝖆𝖍𝖎𝖉 𝕽𝖊𝖍𝖆𝖓 (@SShahidrehan) May 2, 2021
Highly disappointed in you @Dr_FirdousPTI . I always liked your dubang way of facing everything but this is abuse of power below the belt. Very sad. #youneedtoapologizeFirdous https://t.co/Gd5c6KPv4e

— Ayesha Noor Iqbal (@AyeshaNIqbal) May 2, 2021
Shots were fired:
All of these "public servants" jo AC walay billon se bahir nikal rahy hain, do you guys remember jab National Tv pr Nawaz Sharif ne Chitral Floods ki breifing pr DC ki class li thi. Did he leave the room, camera bhi tha staff bhi tha on air bhi hua clip. Edday tussi rehnday nai. https://t.co/vfABSVBxfS

— Jawad (@i_J_a_w_a_d) May 2, 2021
People wanted the public servants to be held accountable:
This isn't ANY minor imperfection.
They sit in air conditioned offices and only visit bazars when higher authorities are on a visit.
Firdous Awaan is for sure an uncivilized minister but these public servants need to be held accountable in front of PUBLIC https://t.co/DHnBUZBQR4

— Abuzar (@ZarTweets_) May 2, 2021
And while others found the scolding in public to be completely fine, there were some who did not agree:
If for some reason your concerned department or person isn't working properly then it should be discussed privately. Wherever the heck firdous baji wants to scold her but should be done privately. https://t.co/QyZUMHButS

— Ayesha (@mysticAashi) May 2, 2021
People were not having it:
This is so absurd. Using such harsh words for someone who's just trying to do their work in these hard times is so unfair and disgusting. She is on this high rank just because of her hardwork and nobody has any right to publicly bash her by using foul language. https://t.co/4tAMxfeOnO

— Suman (@sumanshahid6) May 2, 2021
Yes Agree totally 👍🏻this is not a proper way to talk . #RespectCSP https://t.co/fOV7uXFGaL

— Malaika Waqar 14 (@malaika_waqar) May 2, 2021
Some wanted the PM to be involved:
No one, I repeat no one, has the right to disrespect others like this and that too publicly. This melodramatic harangue by Dr. Firdaus Ashiq Awan is highly condemnable. The Prime Minister must rein in his ministers and tell them to treat others with respect! https://t.co/cW4O3uSYWb

— Hassan Aslam Shad (@HassShad) May 2, 2021
People were disappointed:
Yaar this is absolutely disgusting!!!
How could she do that?!
Is baat se andaza kr lein ka ye kitnay jahil log hain!!! And in front of media she is humiliating an "Assistant Commissioner"!!
In ko koi smjhai ka ye apkay ghar ki mulazim nahi hai jo ap is taraf behave kr rahin hain! https://t.co/GsirO5Q7fL

— Amna Farooq (@amnafarooq113) May 2, 2021
Highly disappointed in you @Dr_FirdousPTI . I always liked your dubang way of facing everything but this is abuse of power below the belt. Very sad. #youneedtoapologizeFirdous https://t.co/Gd5c6KPv4e

— Ayesha Noor Iqbal (@AyeshaNIqbal) May 2, 2021
People were bringing in the basic code of conduct and human decency that they think Firdous Ashiq Awan lacked:
As a professional their is a code of conduct i can never abuse or raise my voice on my domestic staff infront of public let alone my junior colleague. This is basic decency which comes with being on position of authority. https://t.co/MtmjCTeAzx

— Hasnat Ahmad (@Hasnat_Yusufzai) May 2, 2021
People had suggestions:
The general rule is that if you want to advise anyone then advise in private. Advising anyone leave alone AC in public in this tone is nothing but insult. https://t.co/WbspTk5zPF

— Tafheem Badshah (@TafheemKhattak) May 2, 2021
People were by the AC's side:
In search of gold, we lost a diamond
Shame on Firdous Ashiq Awan
Stay strong AC Sialkot#FirdousAshiqAwan pic.twitter.com/VtmwT4yTIr

— Anas Shahbaz (@AnasShahbaz7) May 2, 2021
People weren't happy:
Sonia's one of the politest and most professional Civil Servants out there.Publicly ridiculing her for the sake of publicity is absolutely uncalled for and beneath the level of professionalism her office demands.#FirdousAshiqAwan should ask for apology For her Unethical behavior. pic.twitter.com/P2PXiV6eNj

— Wasif UllaH KhAn YusafXai (@WasifKh82070620) May 2, 2021
People wanted Firdous Ashiq Awan to apologise:
#FirdousAshiqAwan should apologize for her bad behavior. #ACSIALKOT @SoniaSadaf786 pic.twitter.com/BaR7Dk8b3E

— Wajid Ali (@wajidpmlnn) May 2, 2021
And while others had sides to pick, there were some who believed that it takes two to tango:
Be honest:
It takes two to tango.@Dr_FirdousPTI was normal till AC Sialkot startd arguing+the bureaucracy is corrupt 2 core.If they start working honestly,can bring Pak back 2 track
On othr hand #FirdousAshiqAwan shud've remaind calm as I've personally found hr vry humble lady

— Anum Sheikh (@Anum_Elahi) May 2, 2021
What are your thoughts on this matter? Let us know in the comments below!