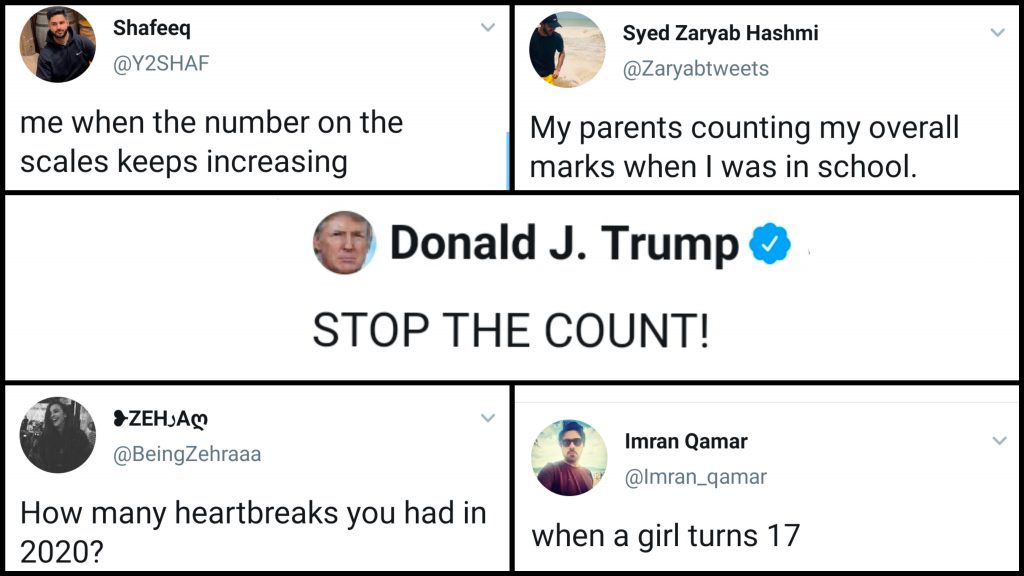 Being one of the most historic elections in the US, the votes are still being counted and results being updated every few minutes. With a minor difference between Joe Biden and Donald Trump, the world's patiently waiting for the results, Trump, on the other hand does not seem too patient:
STOP THE COUNT!

— Donald J. Trump (@realDonaldTrump) November 5, 2020
As Trump demanded the votes to be stopped from being counted, Pakistanis have received the phrase very well, relating it to the most hilarious situations!
me when the number on the scales keeps increasing https://t.co/f2uNk74Zls

— Shafeeq (@Y2SHAF) November 5, 2020
Sorry Ami, Abu 😔
When your parents start bringing the number of times you screwed up coz you didn't listen to them https://t.co/MxpdjKlqZt

— Rizwan (@Rizwow) November 5, 2020
Nahi toh:
Husband: phir tumhara koyi parcel aya hai???

— Noor (@NoorHSumra) November 5, 2020
Ab toh dard bhi nai hota:
How many heartbreaks you had in 2020?
Me: https://t.co/qR3XfScfMb

— ❥ZEHرAღ (@BeingZehraaa) November 5, 2020
Been there!
My parents counting my overall marks when I was in school.

Me knowing I'm fucked : https://t.co/nQcjeYxFl6

— Syed Zaryab Hashmi (@Zaryabtweets) November 6, 2020
Are you that friend too?
Me when my friends remind me how many times I ditched their plans to hangout. https://t.co/bIY53Ou0pZ

— مہوش (@Notfound91) November 5, 2020
Hehehe:
when a girl turns 17 https://t.co/HfeVnkpn6v

— Imran Qamar (@Imran_qamar) November 5, 2020
Football fans were having a blast:
When spurs scored 6 psss United
Le Ole: https://t.co/g7yuyrUdL2

— Umer Aamir ♥️ (@NotUmerr) November 5, 2020
You're gonna make her broke:
Me when mum starts counting all of the things i have eaten in one sitting https://t.co/rmq2g6oS78

— Asam (@Asam__A) November 5, 2020
So apt!
Amma: 1000 tunay mujhse usdin liya tha, 500 tunay foodpanda ko dene k liye lia tha, phir 1200 tunay tcs walay ko pay karne thay, uskay baad..

— 🤩🤩🤩 (@fay_alif) November 5, 2020
Hahaha!
How I leave a ludo game when I know I'm losing 💀 https://t.co/SaNdr1KqkO

— 🕊 (@moonlitcemetery) November 5, 2020
Us when it comes to Urdu ginti after 30:
Me in first grade realizing there's numbers after 100 https://t.co/dn5l9GReu5

— lucifer (@taparware) November 6, 2020
Surprise surprise:
who's gonna tell him if they stopped counting rn Biden is winning.. https://t.co/Rev9A7dz2a

— Sarim (Manaal/Kaneez stan acc) (@ooyehoe) November 5, 2020
Trump ko dhilaasay:
Sir jee bus aapne Ghabrana nahi hai. https://t.co/Xm7C8WBtFE

— الف (@ahmedalitweets) November 5, 2020
People were having way too much fun!
https://t.co/R3dXMZIsBm pic.twitter.com/LF3C3h0Z6w

— Shehzad Ghias Shaikh (@Shehzad89) November 5, 2020
Suggestions were pouring in:
Trump jani dharna day do 126 din ka or idea @ImranKhanPTI se lena. https://t.co/T4GG7LoMlX

— jameel Ahmed (@jameelkhan869) November 5, 2020
What situations do you find the phrase fits accurately? Let us know in the comments below!