Technology never ceases to amaze the human mind and there is always something that will leave us all awe-struck. Artificial Intelligence (AI), for example, is one of the latest feats in the industry that has changed things around us, completely. Not only does it make  computer programming turn almost human-like, it also facilitates art and photo re-creation as one Pakistani instagrammer has proven.
Run by Maheen Sohail, a product designer for Facebook, the Instagram account, Rangeen Pakistan has caught our attention by bringing AI to the forefront for image re-colouring of some classic photographs that capture Pakistan's socio-cultural history.
Which ones do we love the most? Diva has the lowdown…
This Gleaming Image of Quaid-e-Azam and Fatima Jinnah

Never imagined seeing the Quaid-e-Azam or Fatima Jinnah in colour or for their ensembles to have a beautiful white lustre to them? Well, now it's possible .
This Nostalgic Image of Imran Khan and Wasim Akram

Seeing two legends together is always a sight, and seeing them in colour just adds another element to it! P.S. we wonder why were we still taking black and white photographs in the 1990s.
This Beautiful Image of PIA Air Hostesses in the 1960s

Adorned in uniforms made by Feroze Cowasjee, the PIA ladies look even more ethereal in the true colours of their ensembles seen here.
This Memorable Image of the Bhutto Family

Nothing gets more iconic than all the Bhutto siblings in tow, and this coloured image proves it. We can't get over Nusrat Bhutto's beautiful purple sari. 
This Defiant Image of A Women's Rally

Resilience in colour is what it truly is. Seen here is a woman's march in the 1980s against the Zia rules that in many ways hindered women's freedom.
This Patriotic Image of a March

Women of the nation was a major theme during the nationalistic era of the 1950s and 1960s, and we can imagine why after seeing the beauty of the white and green in this image.
This Brilliant Advert for PIA

Nobody was able to beat PIA in its advertising game back in the day, and this advert featuring Bob Hope is proof. Doesn't the image look like a million bucks in colour?
This Still From A Classic PTV Drama

Featuring a still from Ashfaq Ahmed's Aik Mohabbat, Soh Afsanay, the coloured image transfers us back to the starting of PTV's hit shows, which had strong narratives that we are yet to reach the level of again.
This Infamous Advert For Red & White Cigarettes

Pakistan's favourite cigarette once upon a time, Red & White is still etched in our memories. This image just adds to that nostalgia.
This Beautiful Image of Ava Gardner in Pakistan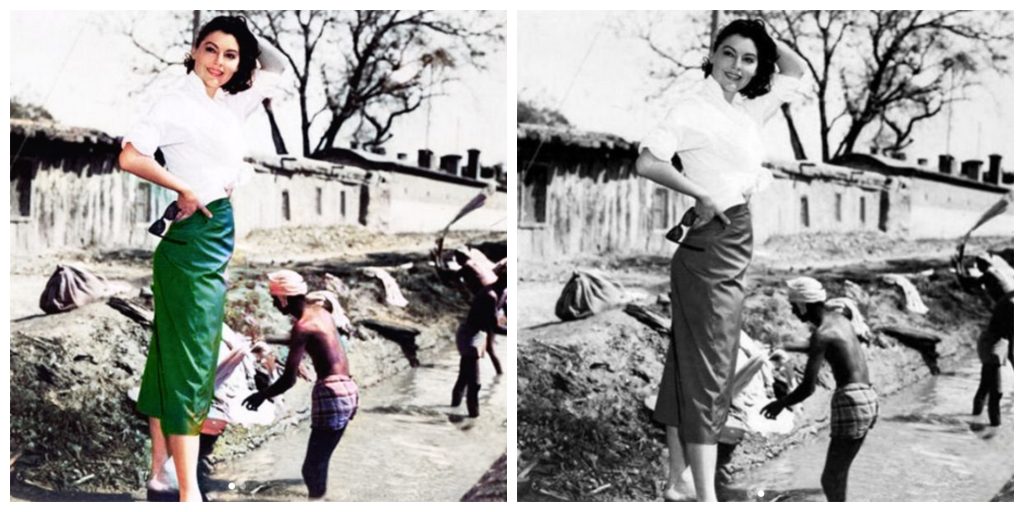 When Pakistan had new become independent, it was still an 'exotic' part of the orient to visit for Hollywood films, and this image of Ava Gardner for Bhowani Junction proves it.
Check out more of Maheen Sohail's work here.