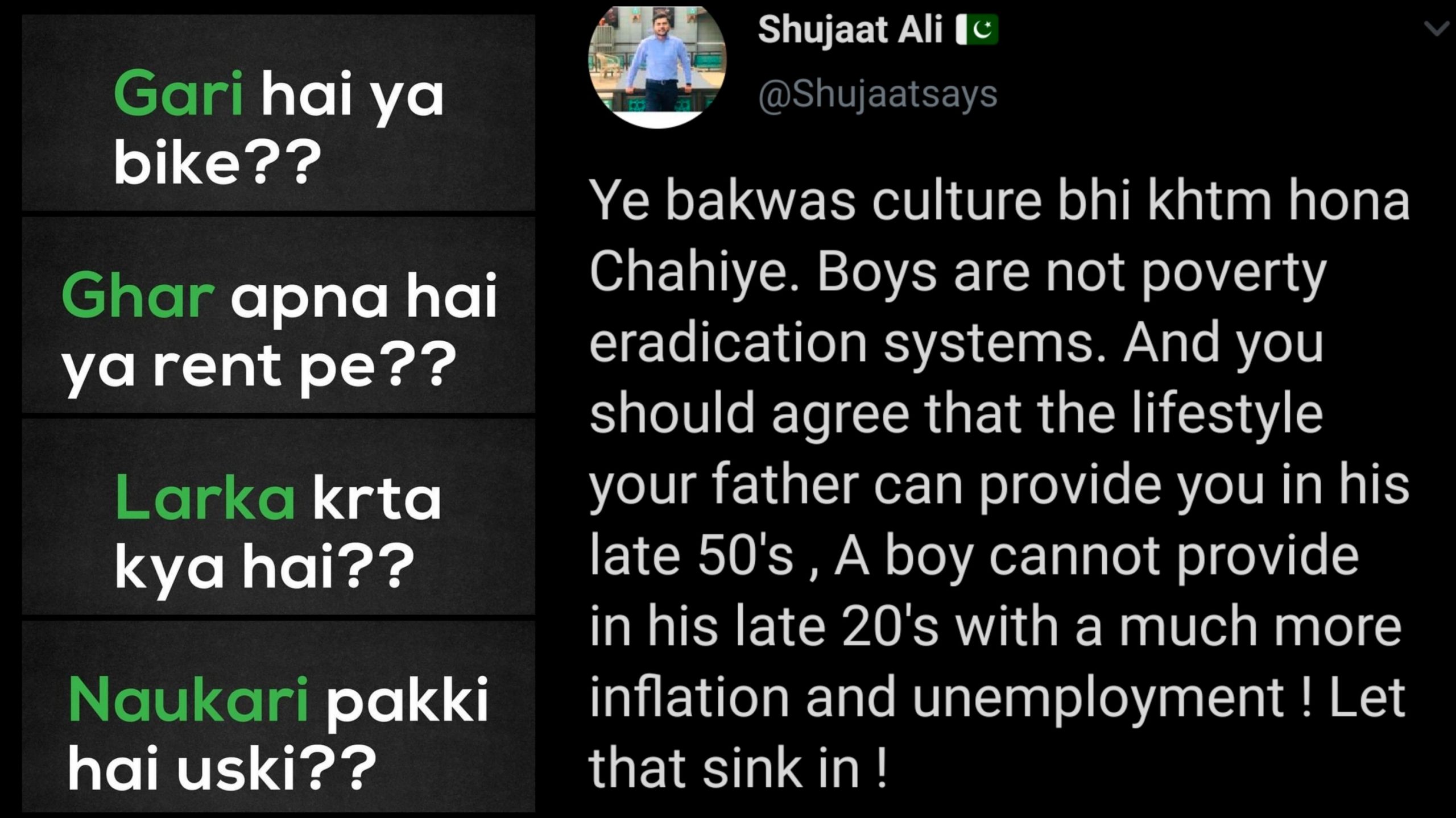 In a society where marriage is seen as the ultimate goal of one's life, people have a ton of questions for both men and women when it comes to the rishta meet ups. And believe it or not, but we've heard the craziest rishta meeting stories with the most absurd questions being thrown around.
And while it's true that women are subjected to way more judgement than men, this guy thinks that men too shouldn't be asked certain questions when being considered for marriage:
Ye bakwas culture bhi khtm hona Chahiye. Boys are not poverty eradication systems. And you should agree that the lifestyle your father can provide you in his late 50's , A boy cannot provide in his late 20's with a much more inflation and unemployment ! Let that sink in ! pic.twitter.com/yfcm4wTfqk

— Shujaat Ali 🇵🇰 (@Shujaatsays) April 17, 2020
And the internet is up for a debate!
Don't you think if we normalized the culture of women working and being equal bread winners of their family, this wouldn't be a problem? Then men won't be expected to provide at all because a woman & a man can together make a home?

— World's Spiciest Ramen (@dezgostang) April 18, 2020
Some thought there was nothing wrong in asking these questions:
Everyone wants a safe future its not a big deal

— whereisthechair (@exhaustedbythee) April 18, 2020
Some were sharing the actual questions that need to be asked:
Such a good approach. Actually Why don't people say ;
*Beti ko khush rkho gay? Bhook pyaas brdaasht kr lay gi lekin Kabhi bewafai to nhi kro gay? Humesha dil k kreeb rkho gay? Aitebaar qaiym rkho gay?*
This is what a girl really need Qasam lay lo https://t.co/HAsG5FMQIK

— CHAI WALI (@Baktawerr) April 17, 2020
Many wanted to know if he'd skip the questions when looking for a guy for his own sister:
these are actually basic questions one asks
how can you avoid these questions?
agar aap ki behn ya beti ho, aap aankhein band kar ke biaah do gy??
the culture isn't the problem, it's you https://t.co/tlxEIe0Xsb

— starboy. (@antisubtle_) April 17, 2020
Many were of the opinion that men are seen as poverty eradication systems by their own parents:
Parents define their own sons in monetary terms (HAMARE BURHAPAY KA SAHARA) as he's going to be a financial asset for them.
Girls are NEVER called that.
So dear men,first tell your parents to stop treating you as POVERTY ERADICATION SYSTEMS so the world can see you beyond that? https://t.co/wk90kK9mJK

— Anza (@dontdmmeplease) April 18, 2020
Some shared how women too face similar problems:
True, btw girls are facing alot more than guys in this society. Why everyone looks for girl from high class, pretty, degree holder especially Dr, must also be Sughar, shareef and alot more?? 🤔

— Laaly ❤️ (@Laalaen) April 17, 2020
Many blamed patriarchy for it:
Aah yes cannot imagine who came up with the idea that a woman's place is in the house and a man's role is to be the breadwinner of the family.

Kero bread win akeley iss economy mein, ab. https://t.co/RrhWr99U4g

— No (@Bluemagicboxes) April 18, 2020
Men made these rules. You stop your daughters from studying, working, and earning and then tell them that the man they marry will take all their responsibility. Then why wouldn't women look for rich men to fulfil their dreams? Men reject poor guys for their daughters. https://t.co/s7JcpmMqCO

— Meph⚓ (@UnitedsFreak) April 18, 2020
Many thought that if women were treated equally as men at home and their workplace, they wouldn't have to rely on men:
Then give women equal respect, equal rights, equal education, equal employment, and equal wage rates so they're not forced to rely on little boys for their financial well-being 🥺

— – (@maulana_banana) April 18, 2020
Some answered him why these questions are important:
Ap apna khercha nahi utha sakte to biwi ka khaak uthaen gey?

— Insight (@insightofinside) April 18, 2020
Many found the question to be fair:
Agree with all those bizarre requirments that should be eradicated from our DESI culture BUT لڑکا کرتا کیا ہے is a Valid question being a husband you'll be serving as a "Sustainer" and "Provider" of your wife so investigating how you'll do this is 100% fair. https://t.co/otRWF101xS

— Anjum Amara / انجم عماره چوہدری/ अंजुम अमरा (@Bint_e_Sadiq) April 17, 2020
these are all genuine question asked by girl parents, grow up and make sure u have reasonable answers to these questions otherwise u don't deserve a girl by merely ignoring these necessities of life. https://t.co/FX7SiW1u9Z

— Usman (@iUsmanaliii) April 18, 2020
Beshak!
What we need is only understanding cuz Allah said *tm fakeer hogy, nikah karo mein tmhy ghani kardoon ga*
Or yahan parents ko phly stability chaye phir rishta dein gy 💔

— Sofia_CR (@Toothfairy_SS) April 17, 2020
Many wanted parents to be more considerate:
Parents should allow their children to choose a partner and then without dating and doing haram stuff, arrange both's parents meeting and get married. But no, our parents are not ready for this conversation

— meme (@m_pluviophile) April 17, 2020
Baat toh sach hai:
If beauty of a girl is not everything, with the same scale the earnings of the boy is not everything…Marriage has to be the easiest thing in society but unfortunately it is not.

— Waqas Ahmed (@WakasRana) April 17, 2020
Many considered these questions to be vital:
In islam, the girl should have same standard of life after marriage as well. These valid questions must be asked otherwise don't get married https://t.co/6K0fGAhCLq

— Salman Ali (@MSalmanAli96) April 18, 2020
Some had very wise solutions to offer:
Rishta dhundtay waqt larkay ka character, uska behavior or achai dekhen. 25 ki age mein har tarah se settle larka dhundna chor den. Allah pe bharosa rakhen.

— Teacher in Lock down¡ (@siddiqee93) November 30, 2019
Some were of the opinion that both the genders should be spared from judgement:
Point to Ponder.📍
Well Said✅
Totally agreeable.✅
This type of culture in our society of judging both girls and boys should put an end to it.🚫 https://t.co/kesnyWDc9V

— TF_99 (@TF9920) April 18, 2020
Many agreed how women face so much more discrimination:
How are people getting triggered by this when it says ye culture BHI khatam hona chahie??

Like how women are seen as showpiece for families in rishta hunts!Dr chahie,dehej bhi lena ha,pari likhi ho,lekin job na kare,age,etc…Of course women face a 100 times more objectification https://t.co/9Y2hV1jmAb

— Ahsan (@Ahsan_Khan05) April 18, 2020
Some agreed how both men and women need to fight this culture together:
This is actually a serious issue and that's why men and women both have to combat patriarchy and capitalism together. https://t.co/4UbDk4wUdw

— Alex 🏳️‍🌈🌹 (@garebaankataar) April 18, 2020
Grow together, earn together, build your life together! Let's get rid of this shit system. https://t.co/r9L7mliIsx

— Esha Khan (@baajiconstant) April 18, 2020
Some believed one shouldn't get married if they can't provide for their partner:
My take on this would be, Not marrying any1 if you're fully ready to take the responsibility. Fk the society n norms. Altho even if the man not wealthy enough(Yet) nd both of them think they'll sustain a better life together. Then i dont really think marrying is a bad option.♥️ https://t.co/AFkcdaFwtn

— Umer Aamir ♥️ (@NotUmerr) April 18, 2020
Some thought sugar daddies were the solution:
A culture of shared responsibility should prevail in which both the partners learn to compromise and encourage.

If girls want such lifestyles, find someone in late 30s or find a sugar daddy, or find someone who is inherited with opulence. https://t.co/VtTi1JBgs6

— Muhammad Usman (@MUsman_TWT) April 18, 2020
Some schooled him how he should quit playing the victim:
One and only standard in our culture where your credibility is some how cross checked against the daughter No it's okay to counter financial status of guy with which the girl have to spend her whole life and it's your job to meet the merit. Stop playing victim and strive for it https://t.co/hB0M1Bg5YJ

— M. (@caffeineandcar) April 17, 2020
Some came back at him with memes:
https://t.co/lRQEgIfQHh pic.twitter.com/d78ofmqHDj

— Sindhu (@Sindhu_Abasi) April 18, 2020
Some thought the tweet was a joke:
A girl marrying you, leaving her family, spending the rest of her life raising children and everything while she cant even expect financial stability lmao theek hai cameray mei haath hila dete hain hahha nbd https://t.co/vh3517bdDa

— suffernama (@Detachedreamer) April 18, 2020
Many agreed how this needed to end:
This happens. This is the truth. If larkay walay reject girls then Iarki walay also do the same. This needs to end! https://t.co/mxkqxGjAkI

— Abdul (@aitembumb) April 18, 2020
What do you think about these questions? Let us know in the comments below!