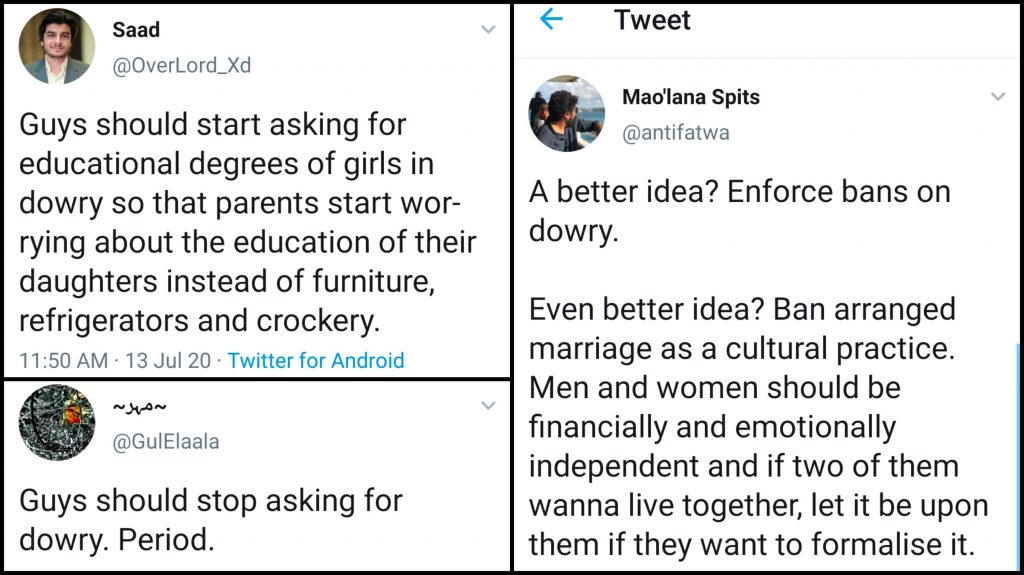 We live in a society where parents save up more for dowry rather than saving up for their girls' education and its rather unfortunate.
In a satirical tweet on having parents invest more in their girls' education, this guy wants everyone to ask for degrees in dowry:
Guys should start asking for educational degrees of girls in dowry so that parents start worrying about the education of their daughters instead of furniture, refrigerators and crockery.

— Saad (@OverLord_Xd) July 13, 2020
And the netizens had a lot to say!
Educated bahu than a bahu with her own bed. >>>>

— Zaynub (@Heydontfrown) July 13, 2020
It reminded many of aunties wanting doctor bahus:
Umm whatbare you on about sir. Ppl are already obsessed with doctor bahus https://t.co/Od9YKR8u9B

— fasaad (@Saaaad95) July 13, 2020
Desi aunties demand a doctor bahu for their sons
Here education is confined to 1 profession only. I wish this mindset gets changed in our generation so we'll consider others educated too https://t.co/6U3VURIdIT

— Abra Ka Dabra (@backbencherdork) July 13, 2020
Yaaaas!
A better idea? Enforce bans on dowry.

Even better idea? Ban arranged marriage as a cultural practice.
Men and women should be financially and emotionally independent and if two of them wanna live together, let it be upon them if they want to formalise it. https://t.co/sJHgUUum3I

— Mao'lana Spits (@antifatwa) July 13, 2020
Definitely!
or 😍 u know 😍 just oppose this system where a woman's worth is tied to her value as a prospective partner 😍 https://t.co/99HhO8zZR5

— backpain (@naarzong) July 13, 2020
The fault in our rishtas:
But of course DO ASK because girls are a material gain nothing else. Also yes, the trend has changed ppl do want an educated wife BUT she can't work because the education is for the future generations to gain from. https://t.co/shNAOoWt9A

— Annam Lodhi (@AnnamL0dhi) July 13, 2020
Society mei boast bhi toh karna hai:
What's the point of an educational degree when we won't let them work? https://t.co/Iek6d82Vp0

— ΛHMΞD (@ElCastillo__) July 13, 2020
Yeh cheez!
Guys should stop asking for dowry. Period. https://t.co/cTyH94HMn1

— ~مہر~ (@GulElaala) July 13, 2020
Some weren't on board:
For what? To ask her to leave her job and stay at home or refuse to help in raising the baby so that she herself leaves her job later? Yeah right https://t.co/XcF8WFbQKz

— Meph⚓ (@UnitedsFreak) July 13, 2020
True that!
there's surely a better way to convince parents to let their daughters study than through another patriarchal hole https://t.co/JED9PbIFid

— Typerioter (@typerioter) July 13, 2020
Sick!
Idk which world you live in,
guy's family do ask about degrees and much more than that.
"Larki doctor ho, lmbi, gori, patli ho. Saleeqa mand ho, milansaar, ghr ko jor k rkhny wali ho, baap sarkari mulazim ho ya businessman, bhai army main hain to good"
Average rishta demand https://t.co/mj9heqDrRV

— – (@jackintrouble) July 13, 2020
Respect for your parents!
I'm glad my parents invested only on our education and never got worried about collecting dowry, properties or maintaining statuses!! But problem is, it's too difficult for us to find people who aren't greedy !! https://t.co/5u8n1fHucG

— LAALY ❤️ (@Laa_aaly) July 13, 2020
How unfortunate:
Haha funny because ladkewale ask for degrees at par with the ladka and salary at par with the ladka and looks at par with film actresses and still have the audacity to ask for dowry after all that lol. https://t.co/J4mvDMuQBF

— सँस्क्रिटम् वडटू 🕉 (@uhnuhgha) July 13, 2020
Heart breaking!
Don't you know that alot of women just choose medical for good rishta? I know alot of such women. This thing is already trending and we should discourage it. https://t.co/7tiHLufpbR

— Shahroz Qureshi (@GhabranaNahiHay) July 13, 2020
Disgusting!
Kuch log kehtay hein k "agr doctor bnaya hai to jahez b doctor ki kamayi jitna hona chahiye" https://t.co/xWYOXH4J0k

— Ayesha Tauqeer (@Utho_anarkali) July 13, 2020
Some offered further suggestions:
Additionally, this positive trend could be further reinforced by committing larger quantum of Mehr for girls with higher education https://t.co/z6jHMMeSNc

— Qazi Humayun (@homijee20) July 13, 2020
True!
Phir degree ke tanay milenge instead of Jahez. Larki ki qadr phir bhi kisi ne nai karni, na ghar walon ne, na susral ne.. https://t.co/2ZN8ZKn6Wb

— Smartly Locked Ennui (@ErumSKhan) July 13, 2020
Exactly!
Lol true!
The girl and her parents should also stand up for themselves. If someone backs away just because you refused to offer them dowry, let him go. He is not worth keeping!

— Maria 🇵🇰 (@med4casm) July 13, 2020
This!
Kya faida jab baad me us degree ki qadar hi nahi karni. Guys should learn to respect the girls career choices before they can ask for that.

— Tayyaba Ahmad (@whatsuptee) July 13, 2020
Yeh cheez!
A disease like dowry will only go away through teaching people about Islam.. not adding another requirement & burden on women to pursue education for marriage..

— Z a🥇n (@saint1day) July 13, 2020
What do you think about this notion? Let us know in the comments below!