Detergent brand Surf Excel has been facing a lot of criticism at the hands of Hindus recently for promoting Hindu-Muslin unity in their latest ad.
In the ad, a young Hindu girl, dressed in a white, chooses to get stained in Holi colours in order to protect her young Muslim friend who has to go to the nearby mosque to pray. Hmm, what could possibly be wrong with this ad? To me, absolutely nothing, in fact this is one of the most heart-warming ads I've come across lately. The ad is a beautiful example of peaceful coexistence of religious sentiments. Just two innocent kids, being friends and promoting inclusivity. The message is loud and clear: people vouch for love, peace, humanity, friendship and communal harmony. Brands often tend to shy away from stories that have religion embedded in them, it's good to see some of them break that self-imposed ban and create communication that speaks to the masses in both the countries. And the positive response from majority of the Hindus shows that not everyone wants war, many of them want peace and communal harmony, just like we do.
And while majority of the consumers loved the idea, there were a lot of mixed opinions on why the ad should be banned. People quickly turned to Twitter after the ad was aired on TV and in no time  #BoycottSurfExcel, #ShameHUL and #BoycottHUL became the top trending hashtags in India, even more popular than the Ambani wedding happening.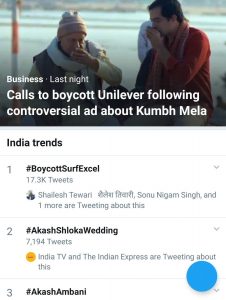 Umm, explain?
#boycottSurfexcel because you also know that the add is humiliating Hinduism. And promoting love jehad. Gender selection and talking holi colour as "daag" is not acceptable by hindu because it is done intentionally. Gender selection could have been reverse also.

— मेरा भारत महान:वंदे मातरम् (@MBMRKDr) March 10, 2019
Yar, matlab kuch bhi?
How will you feel if they showed muslim girl sharing cow biryani with pandit boy. Causing stain on his white lungi then using #Surf_Excel #surfexcelad #Surf_Excel_India

— Bablo Escobar (@Bablo39337286) March 11, 2019
Acha?
One of the worst Ad ever by Surf Excel. It should be rolled back and @HUL_News should apologize for hurting sentiment of our religion.#BoycottSurfExcel

— Dileep Jaiswal (@DileepKJaiswal) March 11, 2019
Abhishek here is the real gangsta!
Today I m going to buy washing powder but definitely will not buy surf excel.#surfexcelad #SurfExcel

— Abhishek Kumar Singh (@aks84m) March 10, 2019
And while the ad garnered a lot of opinions, many tweeted supporting the ad.
Yaaas, girl!
If a display of harmony and friendship is hurting your sentiments, then to be honest, your sentiments deserve to be hurt and offended.

There is nothing in the #surfexcelad to evoke such venom. As a people, we're just looking for reasons to hate and troll the world.

— Ankita (@teeveetalker) March 11, 2019
Same.
Still can't fathom the fact that we are living in 2019. The amount of backlash on twitter and other platforms for such a simple #surfexcelad just blows my mind.
A small request to all my friends, please don't get so blind in supporting these politicians that you forget humanity.

— Shruti (@ShruDee) March 11, 2019
<3
Imagine being angry at someone promoting harmony…… #SurfExcelAd

— Shantanu Chauhan (@shan_hohilwik) March 11, 2019
Point!
Is Baba Ramdev coming up with a desi detergent powder ? Why are ppl so hyperactive aggressive and painting everything with communal color ? Do you ask caste and religion while requesting blood in bank ? #JustAsking #SurfExcelAd

— Debasish Dash (@TheDashd) March 11, 2019
Aur beech mei Microsoft Excel bhi piss gaya.
People went to the MS Excel app on the app store and left 1 star reviews in an effort to bring it down…
@msexcel go do business in Pakistan.

Ye tou haal hai. 🤣#SurfExcel #surfexcelad pic.twitter.com/JpN3DMg7GT

— ANUM KHAN (@AnumZaheerKhan) March 11, 2019
I mean, seriously!
Some of y'all don't have a life on Sundays and work on Mondays and it shows with the way you criticize #surfexcelad
Get a life

— chitra ratnaker (@extra_dhaniya) March 11, 2019
Exactly!
The only thing wrong with the #surfexcelad is its boycott.

— NB (@ennwhee) March 10, 2019
What do you guys think about the ad? Let us know in the comments below.