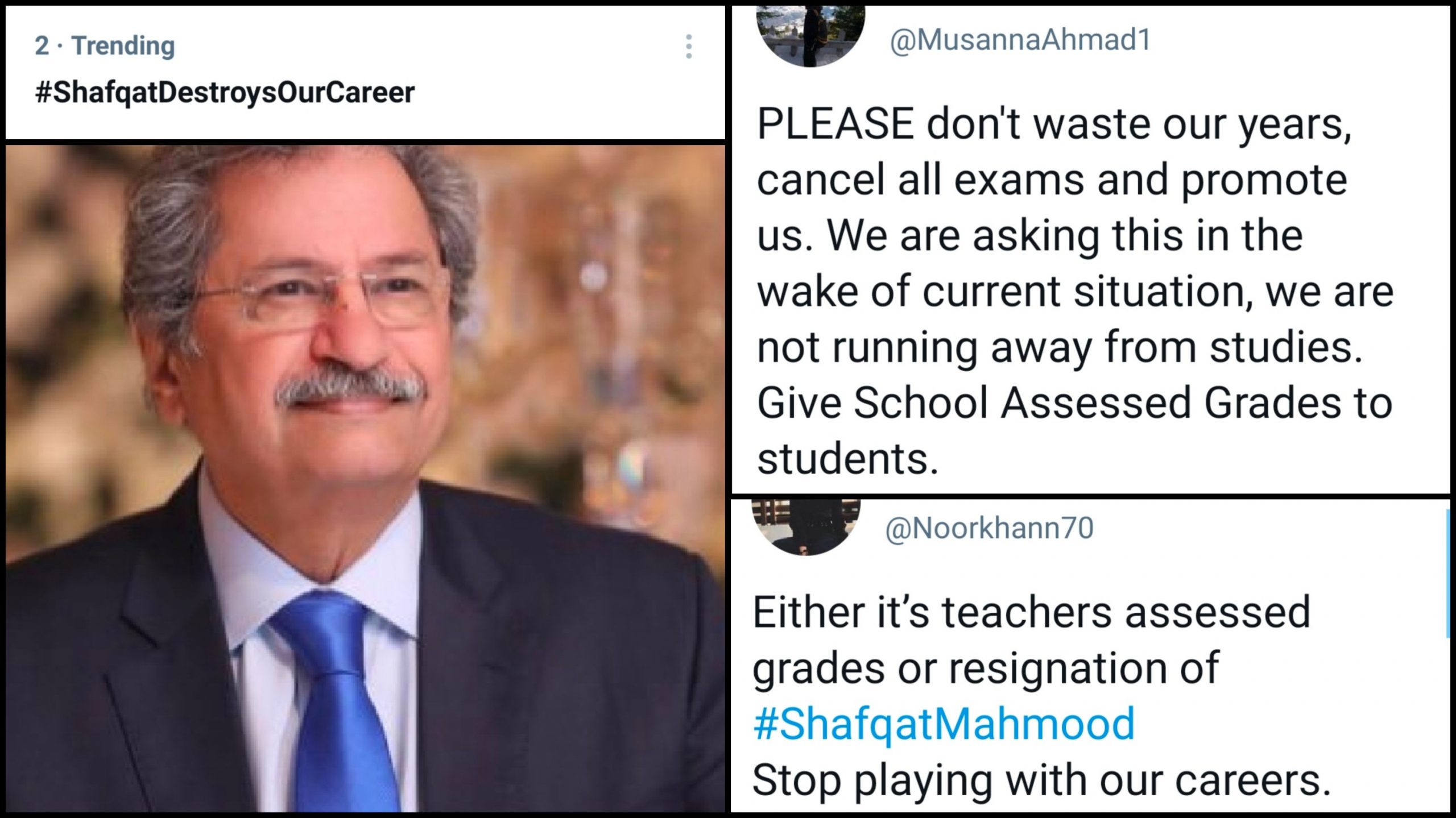 Giving in to student protests, the government decided to cancel all ongoing exams amid the increasing number of coronavirus cases across the country.
But for Cambridge board students, the decision didn't really pan out as they were demanding teacher assessed grades, but what they got was the postponement of their exams. And to make things worse, A2 students were given the conditional option to either give their exams in Oct/Nov or continue with the ongoing schedule.
Furious at this decision, students have been trending #ResignShafqatMahmood and #ShafqatDestroysOurCareer


And here's what they've got to say!
It MUST be teachers assessed grades. #ShafqatDestroysOurCareer #ShafqatMahmood

— Hassaan Niazi (@HniaziISF) April 27, 2021
Students were lost:
#Resignshafqatmahmood You have confused us more than ever now please clearly for once tell us a decision may/june or oct/nov?#ShafqatMehmood #ShafqatDestroysOurCareer
British council is saying something else you are saying something else pic.twitter.com/fx4mSTYLx3

— zzzay (@lottepocopie) April 27, 2021
Most of them felt played with:
#shafqatDestroysOurCareer
Shafqat jani we still didn't got what we wanted…aap ne to bus jaan hi churwai h..phir dekhlen student power ko halka nai lena🙃 pic.twitter.com/GE0QNh4luD

— Ghulam Dastgeer (@GhulamD77027859) April 27, 2021
Students who had planned to go abroad were disappointed:
as someone who's going abroad for A levels WHAT DO I DO!!i can't afford to take a gap year or take exams in Oct/Nov!!I should be given the option for May/June too,at this point I'm mentally exhausted all because of @Shafqat_Mahmood !#ShafqatDestroysOurCareer #resignshafqatmehmood https://t.co/BJzT9jUNOR

— Aleeza Riaz (@riaz_aleeza) April 27, 2021
Students were fearful of the rising corona cases:
Two minutes silence for government stupidity they are still in sweet dreams they still want to take us exams as we broke a record of 200 deaths shafqat please promote us don't play with our lives #ShafqatDestroysOurCareer pic.twitter.com/m0vbJU15Tr

— Ali Raza (@AliRaza1912) April 27, 2021
Students were pleading:
PLEASE don't waste our years, cancel all exams and promote us. We are asking this in the wake of current situation, we are not running away from studies. Give School Assessed Grades to students.@ImranKhanPTI@Shafqat_Mahmood#ShafqatDestroysOurCareer#Resignshafqatmahmood

— Musanna_Ahmad (@MusannaAhmad1) April 27, 2021
Students were sharing how Shafqat Mahmood was making a fool out of himself globally:
Not only in Pakistan but shafqat mehmood is making a joke out of Pakistan's reputation globally by conducting exams and not oping for the safer method (TAGs) when the country is going into a lockdown. Hypocrisy👏🏻 #resignshafqatmehmood #ShafqatDestroysOurCareer @OfficialNcoc

— sophiafahimkhattak (@sophiakhattak1) April 27, 2021
Students weren't willing to settle for anything less:
Either it's teachers assessed grades or resignation of #ShafqatMahmood
Stop playing with our careers. #WeWantSAGs #ShafqatDestroysOurCareer #resignshafqatmahmood https://t.co/nwrW4qDZG9

— Noor Khan (@Noorkhann70) April 27, 2021
Students were sharing their feelings:
#resignshafqatmehmood
Please read it carefully!!!! #ShafqatDestroysOurCareer #ShafqatMahmood pic.twitter.com/wFDOU1BuEt

— Mustafa Butt (@Mustafa48801770) April 27, 2021
A2 students felt being cheated on:
200 DEATHS YOUR STILL HOLDING EXAMS FOR A2 STUDENTS😭!!!@ImranKhanPTI@Shafqat_Mahmood@DrMuradPTI@SaeedGhani1@pkBritish@CambridgeInt#WeWantSAGs#resignshafqatmahmood#ShafqatDestroysOurCareer https://t.co/D4qxtMoBlO

— Raja Abdullah (@Abdulla56879742) April 27, 2021
Needless to say, students were in a lot of distress:
The students of Pakistan are torn between the government's lust for exams and the ongoing COVID-19 situation . Instead of granting relief to the already distressed young souls they're creating a total shipwreck @ImranKhanPTI @iamfahadshahbaz #ShafqatDestroysOurCareer

— Hanzala Nadeem (@HanzalaNadeem12) April 27, 2021
Students had questions!
WHY DO YOU HAVE TO MAKE THINGS SO COMPLICATED? WHEN THE SIMPLE SOLUTION WAS TO FOLLOW OTHER COUNTRIES AND GIVE ASSESSED GRADES! SHAFQAT MEHMOOD YOU HAVE NO BRAIN. #resignshafqatmehmood #Shafqatdestroysourcareer STOP TRYING TO BE OVERSMART @Shafqat_Mahmood https://t.co/0EpmGIQNJZ

— student (@student22769402) April 27, 2021
Students had also found other ministers to blame:
#ShafqatDestroysOurCareer. I think these guys are the real culprits behind this decision.we should not blame @Shafqat_Mahmood for everything.I think that these provincial educational ministers are the main characters in making of this decision pic.twitter.com/u7wTYQ0INo

— Asad virk (@asadvirk123) April 28, 2021
What are your thoughts on this outpour of students? Let us know in the comments below!