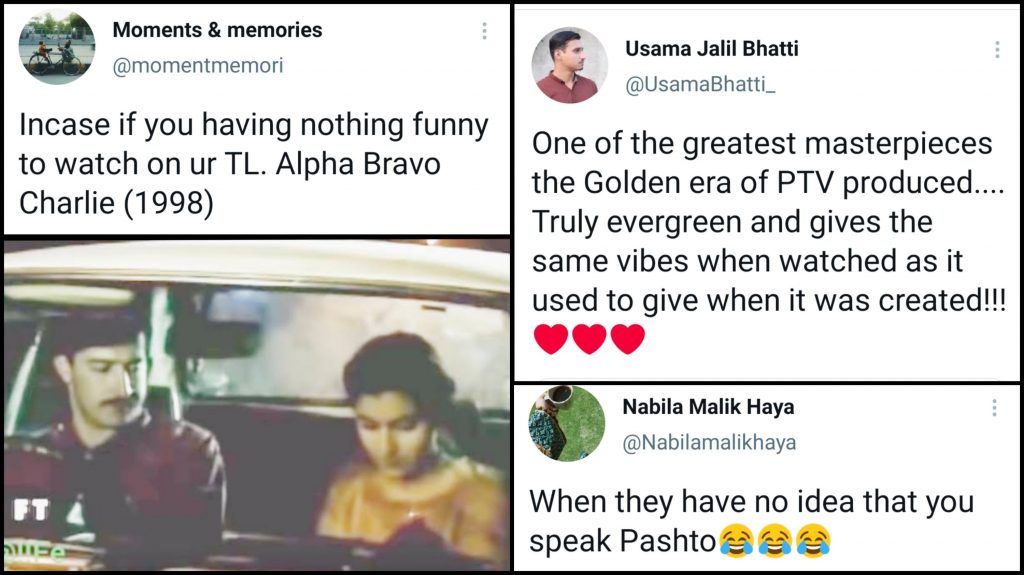 Some dramas tend to live with you forever and Alpha Bravo Charlie is just one of those iconic dramas that we can't get enough of, even decades later!
Someone on Twitter, shared everyone's favourite scene of Gulsher and Shehnaz's first date for a TL cleanse:
Incase if you having nothing funny to watch on ur TL. Alpha Bravo Charlie (1998)
pic.twitter.com/R4whhcBNzy

— Moments & memories (@momentmemori) June 1, 2021
And tweeple just can't get enough!
This scene! This drama will never get old! 🤩 https://t.co/eoYz3MpAH6

— Psy_ko_logistSadaf🇵🇰😎 (@LogistKo) June 1, 2021
People were still as much in love with the drama as they were when they first saw it:
Gold. All time classic. A masterpiece. Love love. https://t.co/HyQFmaWK4f

— Anum Gul (@anummgul) June 1, 2021
One of the greatest masterpieces the Golden era of PTV produced….
Truly evergreen and gives the same vibes when watched as it used to give when it was created!!!❤️❤️❤️ https://t.co/maHGAaouKS

— Usama Jalil Bhatti (@UsamaBhatti_) June 2, 2021
Haha!
When they have no idea that you speak Pashto😂😂😂 https://t.co/g9PaxLg0TT

— Nabila Malik Haya (@Nabilamalikhaya) June 2, 2021
People were calling it the best comedic scene they'd ever seen:
Still the best scene in Pakistani drama history. (Comedy at least) https://t.co/0T2LuHSLaq

— BlackBeard #14 (@SonOfAnarchy_14) June 2, 2021
Omg 😂
Happened to me and my cousin once.
We were in a taxi..discussing a lot of things including the taxi driver. And after about 15 minutes he asked us something IN URDU 😳 https://t.co/i7kitlExxr

— Neurodivergent Khichri (She/Her) (@kool_memon) June 2, 2021
Jo baat hai!
Greatest Pakistani TV show of all-time! Have watched it for a million times https://t.co/IxWqhjHSSf

— A-sad (@asti411) June 1, 2021
Ours too!
One of my favorite shows of all time 🙌🏼 https://t.co/1kfSV9gVy1

— Sarah Daud Janjua (@SarahDJanjua) June 1, 2021
People were really missing Gulsher!
@gulsher34
Sir love you and miss these moments https://t.co/sOvBInidgD

— Haya Suleman (مرآة جميلة) (@hayasuleman764) June 1, 2021
Nostalgia was everywhere!
Damn Nostalgia https://t.co/Sm4HjTK3Br

— Syed Ali Hassan 🇵🇸 (@_alihassann) June 1, 2021
Hainaaaa!
Old is gold #alpha bravo charle
Haiiii innocent Gulsheer 😂 https://t.co/ZUNVKgsgMq

— Sidra Afridi (@khansidafridi1) June 1, 2021
Bilkul ati hai!
Shehnaz ko Pashto aati hai 😍 https://t.co/D1My6wd8P4

— مشتاق حُسین (@_Mushtaq_Husain) June 2, 2021
Where's the lie?
Ahahhaah hair cut sy pata chala 😂 https://t.co/U5Vq0PCFDf

— Rao Hammas 🇵🇰ᅠᅠᅠᅠᅠᅠᅠᅠᅠᅠᅠᅠᅠᅠᅠᅠᅠᅠᅠᅠᅠᅠᅠᅠᅠᅠᅠᅠᅠᅠᅠᅠᅠᅠᅠ (@Hammas_Rao) June 2, 2021
😭😭😭
Childhood sweet memories

They don't make them so good now https://t.co/aBSygLSeK6

— Pakistan stands with 🇵🇸 (@Humbleguy6) June 2, 2021
True!
The master piece of Pakistani drama industry.
Another one is 50/50 https://t.co/H1PpBkNcAL

— 🇵🇸Abu Huraira Arain🇵🇸 (@ArainHuraira) June 1, 2021
People were teary eyed!
@gulsher34 just saw it, awesome drama of my youth. Brought tears to my eyes, lots of love to each n every cast in that drama. pic.twitter.com/6MaW07Igtp

— 🇶🇦🇵🇰🆒عاطف (@atif242) June 2, 2021
Yaaaaaas!
GULSHER SUPREMACY 4EVAAAAAA❤❤

— Noori Poppins (@NuriJaamTamachi) June 2, 2021
People were transported back to the late 90s!
Yrr you took me to that time 😥

— Shah Hussain Soomro (@ShahHussainSoo1) June 1, 2021
What did you think of the clip? Let us know in the comments below!