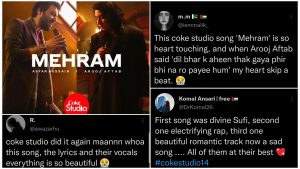 Coke Studio's 14th season has been a hit since the very first song, with gems like Tu Jhoom and Kana Yaari, the season dropped another hit yesterday featuring the Grammy nominated Arooj Aftab and Asfar Hussain's hauntingly beautiful vocals.
And people are loving it!
❤️

Thank you to everyone involved in this sentimental experience. Touched my soul.https://t.co/TPdXY0NZab#aroojaftab #cokestudio14

— Rohail Hyatt (@rohailhyatt) January 29, 2022
Same!
i want this specific part of the song to be playing in my ears on a loop @arooj_aftab i'm in love pic.twitter.com/bOIBVtgtXT

— shaza stan account (@starryenderres) January 28, 2022
Ours too 😭
This coke studio song 'Mehram' is so heart touching, and when Arooj Aftab said 'dil bhar k aheen thak gaya phir bhi na ro payee hum' my heart skip a beat. 😭

— m.m 🇵🇰 🇵🇸 (@iemmalik_) January 29, 2022
Facts!
I am BLOWN away. What breathtaking voices and what a song. Another masterpiece and a must listen from #cokestudio14 https://t.co/efWcOcYWeG

— Carona Mohapatra (@carona_m) January 29, 2022
We don't want to!
Arooj Aftab and Asfar Hussain sound nothing but iconic together in mehram! change my mind!

— redlobiaa (@lobiaa_) January 29, 2022
10/10 would agree!
The only way I can describe this is that this is how I have always imagined a very powerful spell to be like, when it envelops and grips your senses. Undulating, enigmatic and bewitching – this segment where @arooj_aftab comes in is simply spellbinding

— Osama Siddique (@DrOsamaSiddique) January 28, 2022
People had nothing but praise:
I have been listening to #Mehram all evening. Not sure I can listen to anything else for a long time#cokestudio14 #cokestudio14 @zulfiqarjkhan & Abdullah Siddiqui what have you done?! 💘@arooj_aftab your voice just breaks my heart 💔@asfarhussein your voice, your words🌹🔥 pic.twitter.com/261K6zpsgd

— Fifi Haroon (@fifiharoon) January 28, 2022
😭
only @zulfiqarjkhan could've thought of bringing @arooj_aftab & @asfarhussein together for this ultimate ghum hour anthem. #CokeStudio14

From lyrics to vocals to art direction, & video 👌👌 https://t.co/t7FVa9wp1T

— سید شہباز حیدر (@curlybaatein) January 28, 2022
We're living for it!
Arooj Aftab, a Grammy nominated Pakistani vocalist

Asfar Hussain, vocalist of Pakistan's best band, Bayaan

man this collab is fire 🔥

— man. (@AftabBoi) January 28, 2022
A season to remember!
coke studio did it again maannn whoa this song, the lyrics and their vocals everything is so beautiful 😭 #cokestudio14 #Mehram pic.twitter.com/LDRHLsHyZp

— R. (@awazarhu) January 28, 2022
That's Coke Studio for you!
First song was divine Sufi, second one electrifying rap, third one beautiful romantic track now a sad song …. All of them at their best 💖#cokestudio14#Mehram pic.twitter.com/IrEsZWHMpU

— Komal Ansari | free 🇵🇸 (@DrKomal26) January 28, 2022
❤
Mehram is an Arabic word which means a close friend. And surely when you lose someone so close to you it leaves you empty.

I literally love the song #Mehram, it is just so beautiful. The lyrics, the voices! Goddddd amazing! Coke studio never disappoints. https://t.co/8z0pdz8Cot

— Rimsha Tahir (@rumshum12) January 28, 2022
Agreed!
Asfar hussain's songwriting was always top class ever since the bayaan songs but he just outdid himself here #cokestudio14 #Mehram

— Kebriya (@kebysss) January 29, 2022
Sounds about right!
I might be oversimplifying it but it feels as if everyone on the set of Mehram had so much pain to which their hearts had been a vessle for ages. Their insides screaming. And somehow those screams transformed into music.#cokestudio14 #Mehram

— Tanya Khan Suduzai (@SuduzaiTanya) January 28, 2022
Win it, girl!
#Cokestudio is so lucky to have worked with @arooj_aftab. She's very selective in collaborations. Hope she wins the #GRAMMY this year!! #Mehram

— Ranwal Bhutto (@RanwalBhutto) January 28, 2022
People were thanking Xulfi for producing this masterpiece:
I'm in love with this track #Mehram
What a song @zulfiqarjkhan @arooj_aftab ! Thank you for this flavour in Coke Studio! The vibe of this video, the music composition, the lyrics, the art direction…everything is …truly magical.
Listening to it on repeat! ❤️#CokeStudio14 https://t.co/ALtXdXaOW9

— Faraz Ahmed (@CrazeeGentleman) January 28, 2022
What did you think of the song? Let us know in the comments below!