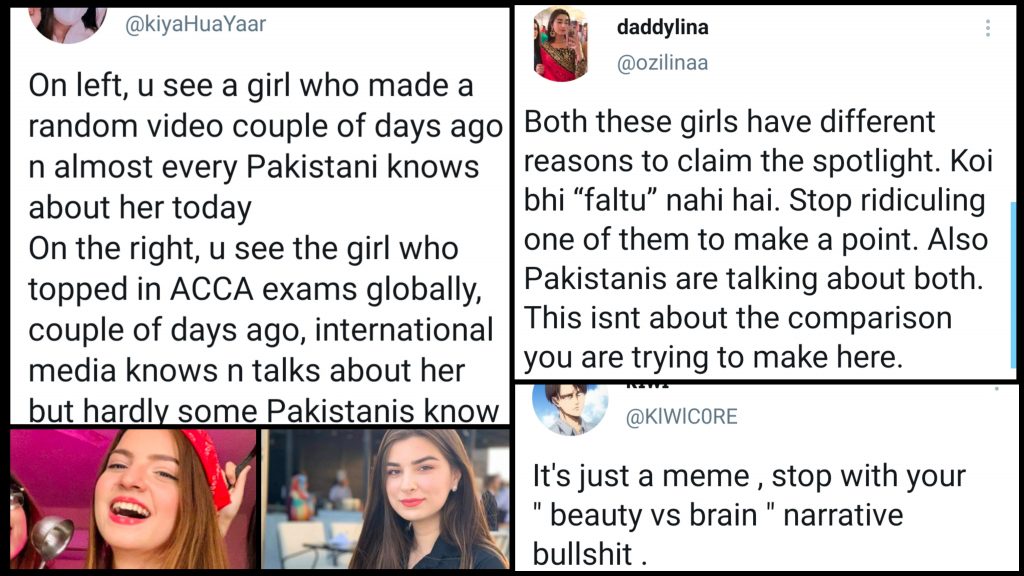 Social media is riddled with the comparisons between the #PawriHoraiHai girl Dananeer who went viral for her video and ACCA student Zara Naeem who topped her Financial Reporting paper scoring a global prize.
On left, u see a girl who made a random video couple of days ago n almost every Pakistani knows about her today
On the right, u see the girl who topped in ACCA exams globally, couple of days ago, international media knows n talks about her but hardly some Pakistanis know about it pic.twitter.com/mF18Rk6lir

— Yes I'm Insane (@kiyaHuaYaar) February 14, 2021
One user on Twitter shared the same sentiment comparing the two and netizens think the comparison wasn't really necessary:
looooool Pakistanis love undermining other people's successes when it doesn't fit their narrative. pls take a break from being so bitter. both women are successful but guess what? the girl with a media break through will be the entertainer? not the academic one. it's v simple? https://t.co/TLMmCvB2la

— billo bandri (@cocainaaaa) February 15, 2021
People wanted her to stop comparing the two:
stop pinning girls against each other and let people enjoy things. https://t.co/IFJak4RdM2

— Maryam (@maryamful) February 15, 2021
FYI You can lift one woman up, without dragging another one down. https://t.co/WTFpdULDrC

— Prince Mini Fingers Stan Account (@mehngifeminist) February 15, 2021
why are we pitting two queens against each other https://t.co/yY69psGj1m

— ferb (@piriformfossa) February 15, 2021
People had questions:
do pakistani people not know what a meme is https://t.co/HoUzPMcxSA

— H E N N Y (@hennaahmedx) February 15, 2021
People wanted her to stop finding excuses to put other women down:
"Parhi likhi qoum ki nishani hoti hai to value their assets" as if people in parhay likhay countries dont go viral for the dumbest shit in human history.. stop finding excuses to put people down. https://t.co/tnAcDKQafe

— jasoosi kernay na aye koi (@donttmindmepls) February 16, 2021
It is in fact very much possible to appreciate the accomplishments of one woman without dragging another one down. Yes our priorities as a society are screwed up with what we make viral , but that point can be made without holding a young girl up for even more ridicule. https://t.co/Mi8bK2I2dL

— Faryal Niazi (@FNiazi31) February 15, 2021
You could've made your point without belittling the girl on the left. Making an issue out of a nonissue https://t.co/xs8C7KyV7y

— Hasaan Noor (@HasaanNoor00) February 15, 2021
I definitely agree that more coverage should be given to hardworking, talented individuals.
But the girl on the left is a content creator, who puts effort in her work you can't invalidate that as well just because she is getting a lot and sometimes unnecessary coverage https://t.co/Sr2d80uQqr

— sq (@BaberMinahil) February 15, 2021
That's one way to look at it:
One of them made us feel better about ourselves.
The other reminded us of all the times we got told off by our parents for getting 92% marks 😅 https://t.co/EczLaVxDJT

— human (@Rhazes_) February 16, 2021
People tried checking the claims of international media talking about the topper but couldn't find any:
searched the internet couldnt find any intl media going gaga for the acca topper

kher apne kya #PawriHoRahiHai 🥳✌️🏻 https://t.co/pREH2TXmu8

— سعد (@saaadmalikk) February 16, 2021
Agreed!
Both these girls have different reasons to claim the spotlight. Koi bhi "faltu" nahi hai. Stop ridiculing one of them to make a point. Also Pakistanis are talking about both. This isnt about the comparison you are trying to make here. https://t.co/d7QC8aqGOj

— daddylina (@ozilinaa) February 15, 2021
People were reminding her how it's just a meme:
It's just a meme , stop with your " beauty vs brain " narrative bullshit . https://t.co/kC1EsvN87t

— ᴋɪᴡɪ (@KlWlC0RE) February 15, 2021
People stated their reasons:
Both are very different circumstances. One got appreciate for her efforts while, other much intended for humourous purpose.
I come on social media to entertain myself. Not find out whos scoring wot. So do many other pple u can't blame someone for their taste https://t.co/Irn9wUgbhA

— Mukhtiar ♠️ (@mukhtiarmalik_) February 15, 2021
Honey, we use social media as an escape from hectic life. So ofc a "meme material" video would appeal everyone. Acknowledging such gems govt ka kaam hai. Hum tou khud yahan 3 cgpa le kar bethay hain! :/ https://t.co/n2oJk1L1Ln

— 𝕱𝖆𝖗𝖜𝖆 (@luciferwaa) February 15, 2021
Live and let live!
Appreciate Zara but not on the expense of bashing Dananeer, enough of this "aurat he aurat ke sab se barhi dushman" bullshit,let both of them enjoy the vibe and the fruits of their work (which might be totally irrelevant for you but no one cares about that,thank you) ✌❤🌸 https://t.co/Lvlnf7Tzxm

— Emad (@banjari07) February 15, 2021
Yar 😂
We dont want to disturb ACCA girl as she has to study more and work harder in real life https://t.co/8h1svVEwaB

— Grey Selfish! (@soulnobody) February 15, 2021
And while many stood against the idea of pitting two women against each other, there were many who shared the same sentiment:
On the left, there is an amateur who got her big break & u will find tons of these in market
On the right, there is a woman with exceptional brain & rare piece
As a man, I will always choose the woman on the right cause Intelligence is far sexier than looks/fame
(btw she's fit😉)

— Kadhimi (@seodtitruh) February 14, 2021
People were sharing how Zara will be remembered for her achievements:
The first girl is soon be forgotten but history will remember the name of such prides like Zara Naeem. Comparisons wasn't required though

— I (@NJ80012047) February 15, 2021
People were calling it the major dilemma of the country:
That's the major dilemma of Pakistani community. The lame stuff gets appreciated a lot and that's where the inspiration lies for the new generation.
No real talent would get fame.

— Nida Zulfiqar (@i_nidazulfiqar) February 15, 2021
People were ashamed:
BOLTY HOWE SHARAM ATI HAI K HUM EK AESIE MULK MAIN REH RHY HAIN JAHAN EDUCATED LOGO KI KOI RESPECT NAHI AUR AUR JO LOG BS VIDEOS SAY HIT HORY HAIN UNKY RESPECT DI JARHI HAI ASAL MAIN SUB SAY BARA JAHIL HUMRA MEDIA HAI FOR EXAMPLE BOL T.V

— umar xaib (@xaib_umar) February 15, 2021
People think it's the reason we're moving backwards:
That's why instead of moving forward we going backword.

— YoungD (@why_alee) February 15, 2021
What are your thoughts on this matter? Let us know in the comments below!