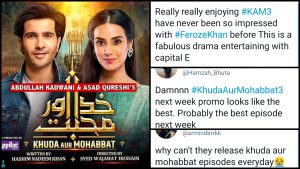 In a sweet and heartwarming episode of Khuda Aur Mohabbat today, we finally see Farhad trying to shoot his shot and Mahi bursting his bubble, with the wedding finally over we just can't wait to see how the story unfolds!
Here's what the netizens have to say about the latest episode:
Damnnn #KhudaAurMohabbat3 next week promo looks like the best. Probably the best episode next week

— Hamzah Bhuta (@Hamzah_Bhuta) March 5, 2021
Same!
Fadi bichary py abhi sy taras aa raha😔😩#KhudaAurMohabbat3

— Rajput2412 (Q A L A N D A R S 💚💚✌️) (@Rajput24121) March 5, 2021
OOOF!
#KhudaAurMohabbat3@ferozekhaan YOU!
MY GOD!SUCHA BRILLIANT ACTOR YOU ARE
LOOKING AT UR EYE EXPRESSIONS INSTANTLY MAKE ME TEAR UP MANN🥺🥺🥺
ITS GONNA BE A ROLLERCOASTER RIDE OF EMOTIONS AND THIS SERIAL IS TRULY LUCKY TO HAVE YOU AS FEEDI,EMOTING ALL THE PAINFUL, INTENSE FEELINGS

— Neeti✨ (@Neeti093) March 5, 2021
So that we have time to recover:
why can't they release khuda aur mohabbat episodes everyday😭

— Arminder Brar (@arminderrkk) March 5, 2021
It's happening!
The journey is gonna be emotional & painful…….🥀#FerozeKhan #KhudaAurMohabbat3 pic.twitter.com/yJUBMZwOM4

— ♡ (@Itx__khadija) March 5, 2021
People were lauding Feroze Khan:
Watching Feroze Khan is a treat for eyes! When I watch other scenes of #kam3 I keep doing other works along with it or just skip scenes. But when Feroze comes on screen,I just hook into it. The aura he has>>>>>>>#KhudaAurMohabbat3

— Orin 🌸🌺🌼 (@MawkishSpirit) March 1, 2021
Really really enjoying #KAM3 have never been so impressed with #FerozeKhan before This is a fabulous drama entertaining with capital E

— Sadaf Haider صدف حیدر (@tomtomatoe) February 28, 2021
Oh he most definitely is!
FARHAAD is in love 🥺❤❤#FerozeKhan #KhudaAurMohabbat3 #KAM3 pic.twitter.com/nrNCn4XDL2

— *Fk* fan (@ferozefkfan) February 26, 2021
Haina, we love the two!
These both together are enough for me to watch them onscreen!!! 3 episode's in I actually didn't realise they would actually look so good together!!! 😭💗
They speaking to eachother and he tilting towards her itself makes my heart warm!!! 🥺💘#KAM3 #KhudaAurMohabbat3 #FarHi pic.twitter.com/oooWqgt1nb

— 𝕚𝕟𝕒.𝕞𝕚𝕟𝕒.𝕕𝕚𝕜𝕒 🌸 (@that_south_girl) February 26, 2021
Jo baat hai!
Another masterpiece by Pakistani TV Industry❤#KhudaAurMohabbat3 https://t.co/eAuO29TWVj

— 𝐒𝐚𝐰𝐚𝐢𝐫𝐚 ♡ (@PhiirLeAayaDil) March 5, 2021
Haha, most of us can relate to it!
Just showed this episode to my brother forcefully and guess what? He was laughing and saying ye toh mera wala kahini hain🤣#KhudaAurMohabbat3 #FerozeKhan https://t.co/B4H2USRLyf

— 🌙 (@ferozexme) March 5, 2021
You were right!
I have a gut feeling that today's episode is gonna hit different ❤ #KhudaAurMohabbat3

— 🌌 (@aestheticallyFM) March 5, 2021
Yep!
Their chemistry >>>>>>
Mashallah They look so good😍❤️#FerozeKhan #IqraAziz#FarHi #KhudaAurMohabbat3 pic.twitter.com/1ac23nD8IB

— ♡ (@Itx__khadija) March 5, 2021
Hahaha, yar!
#KhudaAurMohabbat
3 episode kay bad is ka naam suna pic.twitter.com/uqR2rxLzqE

— Mueez🇵🇰 (@Mueez_88) March 5, 2021
Fans from Turkey we're desperately waiting for the episode to be uploaded online:
Yeni bölümü beklerken ben #KhudaAurMohabbat @ferozekhaan #Ferozekhan #KhudaAurMohabbat3 pic.twitter.com/XwxPRkYpCN

— T….🍁🍂 (@bilmemoylesinee) March 5, 2021
Have you seen the episode already? Let us know in the comments below!